News
Stay informed about the latest enterprise technology news and product updates.
Storage Clips: Microsoft rallies DPM partners
Microsoft unveiled Data Protection Manager and a list of partners to add advanced functionality to the software; HP unveils 4 Gbps switches.
Daily compilation of storage news: Microsoft rallies DPM partners
IT companies across the spectrum announced support for Microsoft's Data Protection Manager (DPM) disk-based backup software at Storage Decisions, Wednesday. Key partners include: CommVault Software Inc., Computer Associates Inc., LeftHand Networks Inc., LiveVault Corp., EqualLogic Inc., Quantum Corp., Hewlett Packard Co., Fujitsu Siemens, Dell Inc., Intel Corp. and Advanced Micro Devices Inc.

Brocade, Microsoft partner for WAFS
Brocade Communications Systems Inc. announced the release of a new version of its Tapestry Wide Area File Services (WAFS) technology to include the ability to provide high-performance access of e-mail-attached files across the WAN, eliminating the need to send multiple copies to each remote site. It also consolidates print, Web and management services. Tapestry WAFS based on Windows Storage Server 2003 is designed to take advantage of the security features inherent in the Microsoft platform. Brocade worked with Microsoft to ensure that Tapestry WAFS is compatible with Windows Storage Server 2003 R2 , the next version of Windows Storage Server expected next year.

Download this free guide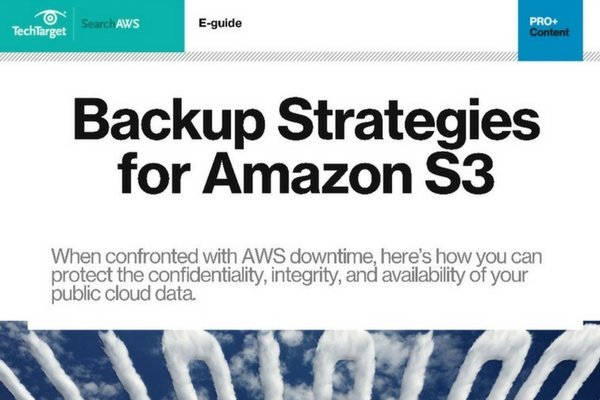 Amazon S3 in the spotlight: Your 34-page backup guide
In this guide curated by the SearchAWS.com editors, you'll evaluate and overcome the DR tradeoffs associated with Amazon S3, with guidance on solidifying an AWS backup plan and securing S3 buckets. Download your copy now.
By submitting your personal information, you agree that TechTarget and its partners may contact you regarding relevant content, products and special offers.
You also agree that your personal information may be transferred and processed in the United States, and that you have read and agree to the Terms of Use and the Privacy Policy.
HP unveils 4 Gbit FC switches
Hewlett Packard Co. (HP) announced 4 gigabit (Gbit) Fibre Channel (FC) switch technology at comparable costs of current F offerings. The new offerings, based on Brocade's 4 Gbps product line, include the StorageWorks 4/8 SAN and 4/16 SAN Switches; StorageWorks 4/256 SAN Director; StorageWorks Fabric Manager; StorageWorks 4/16 SAN Switch Power Pack and 4/256 SAN Director Power Packs; and StorageWorks FC2142SR and FC2242SR host bus adapters. HP claims it has already shipped more than 2 million switch ports and was first to market with 4 Gbit embedded switches for blade servers. As part of its technology roadmap, HP plans to incorporate 4 Gbit technology into HP StorageWorks arrays and tape systems starting in early 2006.
Cisco launches InfiniBand switches
Cisco Systems Inc. announced general availability of the InfiniBand-based Server Fabric Switch portfolio and new VFrame 3.0 data center virtualization software, the latest elements of its Data Center Networking Architecture portfolio. These products are the fruits of its TopSpin acquisition. The InfiniBand switch startup's software now supports all Cisco gear, including Catalyst and MDS switches and firewalls. For companies looking to build server fabrics this means you can provision any server, regardless of the OS, from the network -- giving it the appropriate storage, I/O and security features it needs.
NuView supports NetApp SnapLock for compliance
NuView Inc, announced the availability of the latest release of its File Lifecycle Manager (FLM) software that aligns file data according to its business value in a tiered storage architecture. FLM now integrates with Network Appliance Inc. SnapLock software to support retention and maintenance regulations that require the archival and protection of data for years.
3Par Virtual Copy supports Microsoft Exchange
3Par Data Inc. announced a tool for Microsoft Exchange deployments, 3Par Recovery Manager for Microsoft Exchange 2003. The tool is integrated with Microsoft Volume Shadow Copy Service and works in conjunction with 3Par Virtual Copy to deliver nondisruptive data protection and recovery of Microsoft Exchange databases from hundreds of recovery points.
Softek data migration supports UNIX
Softek Storage Solutions Corp., a provider of nondisruptive data migration software for multi-vendor environments, announced the ability to keep UNIX-based applications on line during data moves. Softek Transparent Data Migration Facility (TDMF) UNIX is host-based data migration software that utilizes patent-pending technologies to dynamically "switchover" the I/O of source volumes to target volumes during the data migration process. Additionally, in the event of an interruption, TDMF UNIX is able to "switchback" to the original source volume with no application disruption
Servergraph offers compliance tool
Austin, Texas-based developer of storage management applications Servergraph Inc., has rolled out its new Compliance Reports Module as the latest addition to its suite of data management tools. It claims the new application eliminates the drudgery of manually sifting through activity logs by providing automated reporting, alerting and monitoring software.
CloverLeaf launches channel program
Intelligent SAN switch maker, Cloverleaf Communications Inc. launched its Connected Channel partner program. New partners include DaVinci Technology Corp., HorizonTek and Incentra Solutions Inc., formerly MSI, which join existing partners Nth Generation Computing Inc. and Prism Technologies as the core of Cloverleaf's North American coast-to-coast sales channel.
Dig Deeper on Backup and recovery software