News
Stay informed about the latest enterprise technology news and product updates.
Double-Take loosens VMware licensing
As of this week, users of Double-Take's replication software no longer have to buy a license for every virtual server.
Double-Take Software, formerly NSI Software Inc. and maker of the Double-Take replication and failover application, announced new support yesterday for VMware servers.

Download this free guide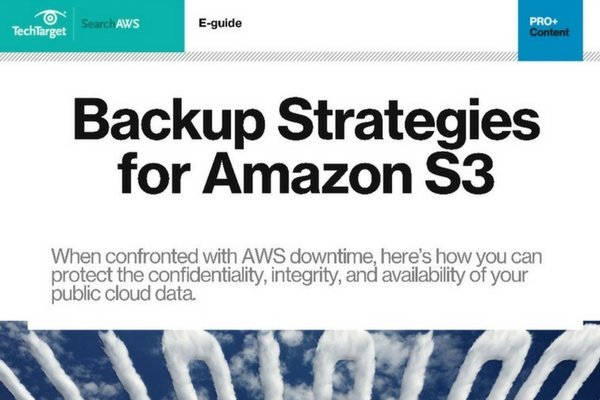 Amazon S3 in the spotlight: Your 34-page backup guide
In this guide curated by the SearchAWS.com editors, you'll evaluate and overcome the DR tradeoffs associated with Amazon S3, with guidance on solidifying an AWS backup plan and securing S3 buckets. Download your copy now.

By submitting your personal information, you agree that TechTarget and its partners may contact you regarding relevant content, products and special offers.

You also agree that your personal information may be transferred and processed in the United States, and that you have read and agree to the Terms of Use and the Privacy Policy.

Double-Take has always technically worked with VMWare, but its licensing scheme was too complex for most users to deal with.

According to Sean Anderson, systems engineer for wireless equipment maker Comarco, Inc., based in Irvine, Calif., his shop has been using Double-Take to replicate data from about six of his 30 Hewlett-Packard Co. (HP) ProLiant servers to a remote site in Spokane, Wash., for several weeks but had difficulties because of the licensing scheme.

Anderson said, Double-Take required 1:1 licensing for each physical server, as well as for each virtual server running within it, an expensive and unwieldy proposition.

"We actually worked with Double-Take to try to replicate all our data just using the one instance of the software on the physical host," Anderson said. "But there are some features of the failover they do, like keeping track of Active Directory and DNS [domain name system], that wouldn't work with just one license on the machine."

Anderson said he estimated that the new licensing configuration would mean he could use a single instance of Double-Take to back up a maximum of four virtual servers and one physical host for about 20% to 25% of the price.

Anderson said he suspected the impetus for Double-Take making the change was Microsoft's new Virtual Server 2005 release, announced last week, that also allows a single Windows server license to be used for up to four virtual machines and one physical host.

"I think Double-Take used that as their template and tried to match that," he said.

Comarco chose Double-Take for its off-site data replication after evaluating XOsoft's WanSyncHA; Availl Inc.'s Enterprise; and the replication module offered by its IP SAN vendor, Intransa Inc. Anderson passed over Intransa's replication as it wasn't granular enough in letting him decide what to replicate. He only needed replication on a handful of the most business-critical servers.

"I didn't want that expense for something we might never fully use," he said.

As for the others, Anderson said he went with Double-Take on the basis of its "level of acceptance in the industry." The others were decent products, he said, but he considered their makers "second or third-tier companies."

"[Double-Take] is pervasive in this market and companies like HP license [Double-Take] technology for use in their own asynchronous replication products," he said.
Dig Deeper on Backup and recovery software