News
Stay informed about the latest enterprise technology news and product updates.
Double-Take adds bare-metal restore to backup
New product options will add recovery of system settings and introduce a cheaper, easier version of clustering for users of Windows Small Business Server.
On the heels of its initial public offering (IPO), Double-Take Software Inc. has announced a new standalone product that will provide automatic failover for Windows Server 2003 Small Business Server (SBS) Edition users, as well as the addition of bare-metal restore to its existing Windows replication capabilities.

Download this free guide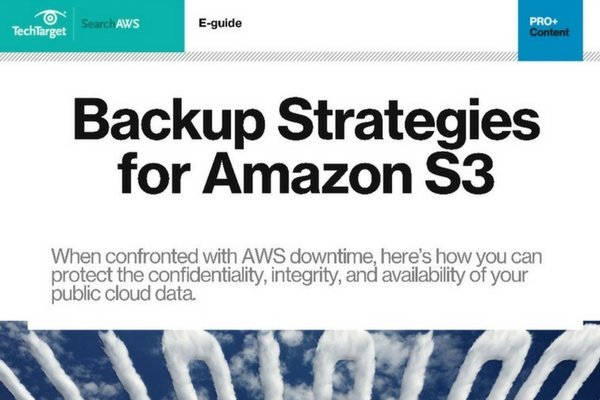 Amazon S3 in the spotlight: Your 34-page backup guide
In this guide curated by the SearchAWS.com editors, you'll evaluate and overcome the DR tradeoffs associated with Amazon S3, with guidance on solidifying an AWS backup plan and securing S3 buckets. Download your copy now.

By submitting your personal information, you agree that TechTarget and its partners may contact you regarding relevant content, products and special offers.

You also agree that your personal information may be transferred and processed in the United States, and that you have read and agree to the Terms of Use and the Privacy Policy.

The Double-Take ShadowCaster product allows for what amounts to server clustering for SBS, without requiring an identical failover server on standby. ShadowCaster allows for the automated failover and failback of the data, application, operating system and system settings, including drivers, patches, hotfixes and configurations, to hardware running any standard Windows OS.

The data and settings from the primary server are continuously replicated and full failover occurs in 10-to-15 minutes following a reboot. Thisprocess is different from traditional bare-metal restore products from backup vendors, which use a point-in-time image of the server to boot from a separate disk, memory stick or other portable device, Double-Take officials said.

"You could even have a laptop function as a standby server," said Lauren Whitehouse, analyst for the Enterprise Strategy Group (ESG). Being able to use any hardware running Windows could be a boon to small and midsized business (SMB) users who can't afford the enterprise edition software packages and double hardware purchases it would take to have a true server cluster, she said. ShadowCaster is priced at $1,495 per pair of servers.

One SBS user, Jeff Reynolds, MIS manager for Alaska Tanker Co., said the product will come in handy for crews managing data aboard supertankers. Alaska Tanker just recently installed ShadowCaster on six supertankers that deliver Alaska North Slope crude oil to the West Coast of the U.S.; the SBS servers on each ship are running Exchange, file and print, and an enterprise resource planning (ERP) system for the company.

The chief benefit for his tanker crews, Reynolds said, is "on-the-fly redundancy. Sometimes a server fails when the ship is at sea, and we need something to tide us over until we can get aboard to fix it."

What about reliability?

Bare-metal restore products marketed by backup software vendors in past years, such as Veritas' original Bare-Metal Restore product, had kinks and bugs galore; Symantec Corp.'s remodeling of Bare-Metal Restore into LiveState Recovery 6.0, since rebranded Backup Exec System Recovery in late 2006, was the first version to solve the awkwardness associated with the product. (See Symantec demos bare-metal restore that works, Sept. 28, 2005)

"I think those earlier versions were block-based image products that were specific to hardware and required servers to be offline to be restored," said Bob Roudebush, director of solutions engineering for Double-Take, when asked what makes bare-metal products more reliable today.

"It's just a matter of a lot of collaboration with Microsoft, since this amounts to a distribution of the Windows OS," said Whitehouse. "It's a road that had to be paved early on, but it has since become a checklist item for many products, particularly in the backup space."

Reynolds said he had only just purchased the product and had not had a chance yet to test the restore capabilities.

Enterprise-level product not automatic or integrated, yet

Meanwhile, the Double-Take System Recovery Option (SRO), a $595 add-on to Double-Take's existing replication product, will allow users to replicate system settings from Windows Server 2003. The replication can target any disk, including on a storage area network (SAN) or at a secondary disaster recovery site, or the user can choose to keep a second server standing by for failover.

Unlike ShadowCaster, however, SRO performs restoration from a point-in-time copy of the system, and the restoration to new hardware is a manual process. SRO allows for up to 512 points of recovery, for a recovery time objective (RTO) of about 15 minutes, according to Roudebush. SRO is not a part of Double-Take's high-availability clustering products for Windows applications and is not integrated with them as of this release.

Roudebush estimated the recovery time associated with this process at one-to-two hours and said, "The goal here is to make it a lot easier for users to recover servers today using Double-Take and SRO than they can with tape, especially for homegrown applications where maybe the person who designed them isn't around anymore."

In which case, Roudebush added, recovering the server to any hardware running a basic Windows OS in one-to-two hours "is much better than the 80 hours or two days it might take rebuilding a custom application from scratch."

The Wall Street effect

Now that Double-Take is being publicly traded, Whitehouse said, the company faces the challenge of trying to grow its product portfolio based on what is historically "a very Windows-centric, Microsoft-channel-specific product line."

According to Whitehouse, "This is a good extension to the Double-Take product line, particularly the SBS product, which is a different segment of the market than where they've played before."

It remained unclear as of press time just how large an install base SBS has, but Whitehouse said her impression was that it was a fairly popular product among small businesses. "It was first launched in 1997," she said. "It's been out there for quite a few years and by all indications doing pretty well for itself."
Dig Deeper on Backup and recovery software