News
Stay informed about the latest enterprise technology news and product updates.
Symantec adds reporting to backup software
Symantec has finally released a reporting tool for NetBackup and Backup Exec. In the meantime, less expensive third-party tools have been vacuuming up the market share.
Symantec Corp. has announced Veritas Backup Reporter, aimed at providing backup reporting for its NetBackup and Backup Exec products, as well as IBM's TSM, EMC Corp.'s Legato and CommVault Inc.'s Galaxy backup software.

Download this free guide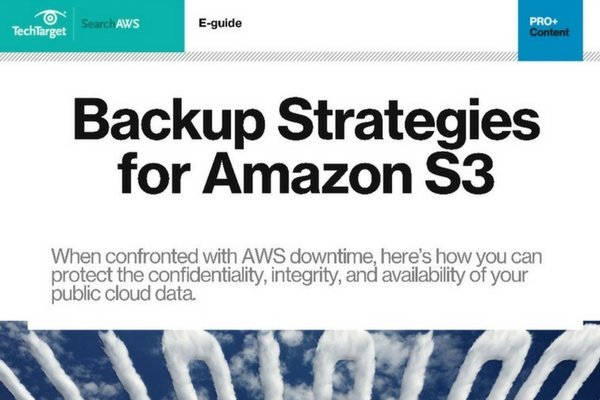 Amazon S3 in the spotlight: Your 34-page backup guide
In this guide curated by the SearchAWS.com editors, you'll evaluate and overcome the DR tradeoffs associated with Amazon S3, with guidance on solidifying an AWS backup plan and securing S3 buckets. Download your copy now.

By submitting your personal information, you agree that TechTarget and its partners may contact you regarding relevant content, products and special offers.

You also agree that your personal information may be transferred and processed in the United States, and that you have read and agree to the Terms of Use and the Privacy Policy.

The product "is pretty much on a par with other heterogeneous backup reporting tools out there," said Lauren Whitehouse, an analyst with the Enterprise Strategy Group (ESG). "It's got all the major things covered."

Previously, Symantec had backup reporting capabilities in a dashboard attached to NetBackup, as well as within the CommandCentral storage resource management (SRM) tool, but in terms of a unified backup reporting product with heterogeneous support, had lacked an offering until now. In that regard, Symantec is trailing EMC, which has been rebranding WysDM Software Inc.'s product as its Backup Advisor for 18 months.

One NetBackup user, Brad Gates, director of IT infrastructure for Foster's Wine Estates America, said he would most likely be taking a look at the product. "NetBackup is a big part of our environment," he said. Foster's Wine has around 40 NetBackup licenses, he said, and up until now his backup administrators have been printing out log screens or pasting them into Word documents to report on backups.

"NetBackup has definitely been lacking in this area," he said.

Pricing could be an issue; no support yet for PureDisk

Backup Reporter is more expensive than competitive products: pricing starts at $15,000 for 25 server licenses; $35,000 for 100 servers; $85,000 for 500 servers; and $135,000 for 1,000 servers. Modules for managing backup software other than NetBackup and Backup Exec cost $20,000 each. So if a customer had 500 NetBackup servers and 500 TSM servers, they would purchase the 1,000-pack of licenses plus the TSM option, for a total of $155,000.

"At that price, [Backup Reporter] would have to be justified as a capital expense for me," Gates said, meaning he would have to wait until his company's next budget cycle to evaluate the Symantec product.

By comparison, WysDM supports multiple backup vendors at $15,000 for a base installation and 50 client licenses. Aptare Inc.'s average cost nets out to about $100 per client, and the average deal runs around $40,000 to $70,000. Bocada Inc.'s subscription service for a 500-unit implementation starts at around $13,500 per year including maintenance.

"We have a unique proposition with NetBackup users in terms of the cross navigation between Backup Reporter and the NetBackup core product," said Kristine Mitchell, NetBackup product marketing manager for Symantec, when asked about the difference in pricing between Backup Reporter and competitors' products.

Backup Reporter is integrated in some areas with NetBackup, including hooks into NetBackup Version 6.0. This can allow Backup Reporter users to "drill down" into backup jobs that have failed, relate them to a particular host and then either reset policies or initiate a backup. The two products will now use a single sign-on, said Erica Antoni, product manager for Backup Reporter, but taking action within NetBackup requires clicking a link to open up the NetBackup console.

Also, with NetBackup only, Backup Reporter can allow monitoring in "realtime" without polling servers and can show in-progress jobs as well as their expected time to completion.

In the end, according to Whitehouse, aside from the single login and link to the NetBackup management console, Backup Reporter "is still really a standalone product."

Whitehouse also pointed out that this first iteration of Backup Reporter contains one glaring omission -- it doesn't support Symantec's NetBackup PureDisk. "I would hope they integrate that soon," Whitehouse said. "WysDM is already integrated with Avamar on the EMC side." Support for PureDisk will be added in the next couple of months, according to Antoni.

Comparisons with third-party tools

In general, reporting capabilities included in Backup Reporter are more in-depth than previous offerings from Symantec, but less granular in some areas than some products from backup-reporting focused startups.

Aptare's StorageConsole product, for example, also covers NetBackup, TSM and Legato, but retains reports from each software type in the idiom of the application within its report manager. Backup Reporter, according to Symantec, "normalizes" the language of alerts across all parts of the application.

"This is really intended for upper level management within the data center," Antoni said. "The CIO of the company is more concerned with whether the data is protected, and if it can be recovered -- this tool gives that information at a glance."

"There are advantages to both [sets of products]," Whitehouse said. A backup administrator would be used to a certain view of a particular backup product, but that person could still use that particular product's interface for hands-on troubleshooting. For a manager, however, the key questions revolve around audits, compliance and how the whole environment is working, Whitehouse said.
Dig Deeper on Backup and recovery software