News
Stay informed about the latest enterprise technology news and product updates.
Double-Take buffs up VMware replication
Double-Take announced that a new version of its software, which replicates virtual servers at the ESX level, is now generally available.
Double-Take Software Inc. has announced its replication software will now replicate virtual machines at the ESX level, a move users said could be more cost effective and shrink restore times for virtual machines.

Download this free guide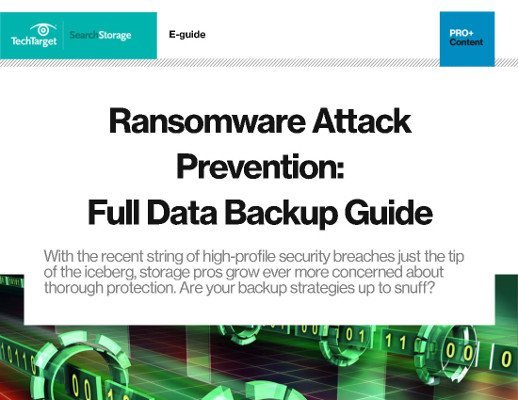 SearchStorage writers evaluate backup's role in ransomware detection
WannaCry, NotPetya, the list of dangerous ransomware viruses goes on and on, well beyond the most highly-publicized attacks. Use this guide to learn about the extent of the threat posed by ransomware, and bolster protection of your data, apps, and systems by using the backup strategies detailed within.

By submitting your personal information, you agree that TechTarget and its partners may contact you regarding relevant content, products and special offers.

You also agree that your personal information may be transferred and processed in the United States, and that you have read and agree to the Terms of Use and the Privacy Policy.

Previously, an instance of Double-Take's software had to be run inside each guest server operating system, which quickly grew cumbersome for users on both the licensing and management front. Last April, Double-Take announced an update to its licensing structure that would allow users to buy licenses in a "pack" that would support five virtual machines at one price.

Now, the software itself has been updated to replicate the entire physical machine and all of its guest operating systems through integration at the kernel level with VMware Inc.'s ESX server. This update, which Double-Take is calling Double-Take for Virtual Infrastructures, will dampen the granularity of the software that replicates file-level changes. But users said it's a tradeoff they'll gladly make for cheaper licensing and faster restores.

"Before they announced the ability to replicate virtual servers," said Praneeth Machettira, Technical Director in the Office of Technology Management for Sawyer Business School at Boston's Suffolk University. "there really wasn't anything specific in the product that was different for virtual machines."

Under the previous version, each guest OS had to be replicated separately, Machettira said. "Even with the licensing packs, you were still talking about building another ESX server, adding the servers individually, and doing that for every guest OS you wanted to replicate," Machettira said.

Licensing will also be key, according to Machettira. According to Double-Take, the licensing for the ESX-level replication is $2,495 per 10 virtual machines without restriction on how they are distributed over physical machines.

"It seems like a good price," Machettira said, "especially knowing that Double-Take is fairly easy to manage."

Still, though the new capability looks good on paper, Machettira added that he would be cautious in deploying the new version of the software.

"I probably won't implement this right away," he said, "I don't know how strong Double-Take's partnership with VMware is, and we're still talking about integrating with the ESX kernel at a proprietary layer—I'm going to let it sit for a while."

Feeding into the iSCSI-VMware boom

Double-Take VAR Michael Paynter, managing partner for Tier-3 Technologies in Louisville, Ky., said he thinks the update to Double-Take's software will further widen the appeal of VMware in the midmarket, similar to the popularity brought on by recent interoperability with iSCSI SANs. (See ISCSI brings VMware to a new audience, Feb. 12).

"There are a lot of people in the midtier with 'paper' DR plans," Paynter said. "Some of them have 40 or 50 machines, and trying to do all of that using Double-Take's former licensing model was still cost prohibitive."

Meanwhile, Paynter said, as a reseller and system integrator of WAN optimization products as well, he would like to see Double-Take add the ability to send just changes over the wire. "Even if you're doing optimization, sending a full virtual machine across the WAN is still a lot of data on the network."

Currently, according to Bob Roudebush, director of solutions engineering for Double-Take, the product currently sends delta changes on each scheduled replication, with a maximum replication frequency of 15 minutes or after every 32 MB of change. "Byte level, continuous replication in ESX hypervisor requires enhancements to ESX, and we are part of the VMware community source effort to work on that," Roudebush told SearchStorage.com in an email.
Dig Deeper on Remote data protection