News
Stay informed about the latest enterprise technology news and product updates.
Backup vendors refresh open source products
BakBone and Zmanda announce updates to their products this week meant to take advantage of growth in the number of enterprises using open source applications.
Two companies have come out with brushups to backup software this week that include new support for MySQL databases and improved interfaces for open source users, due, they said, to an uptick in the number of companies adopting open source applications in recent months.

Download this free guide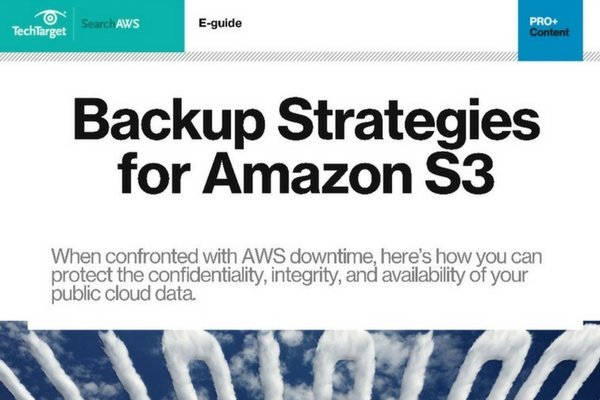 Amazon S3 in the spotlight: Your 34-page backup guide
In this guide curated by the SearchAWS.com editors, you'll evaluate and overcome the DR tradeoffs associated with Amazon S3, with guidance on solidifying an AWS backup plan and securing S3 buckets. Download your copy now.

By submitting your personal information, you agree that TechTarget and its partners may contact you regarding relevant content, products and special offers.

You also agree that your personal information may be transferred and processed in the United States, and that you have read and agree to the Terms of Use and the Privacy Policy.

BakBone Software Inc. announced version 3.0 of its NetVault Backup Application Protection Module (APM) for MySQL, which will include support for version 5.0 of the MySQL application; differential backups (in addition to full and incremental options offered before); support for several new Linux storage engines called Federated, Berkley (BKB), Archive and CSV; and a new user interface that will allow users to back up multiple storage engines in a single job through a common management console.

Meanwhile, Zmanda Inc., itself an open source company that bases its backup product on the open source standard Amanda, has announced a 2.6 release of its software that will be available in March. In addition to new support for Sun Microsystems Inc.'s Solaris and zFS file system, the new version of Zmanda Recovery Manager (ZRM), will also support MySQL databases, including database clusters.

Zmanda has also revamped its software engine to add the Zmanda Management Console, a Web-based interface the company's founder and CEO, Chander Kant, said can be updated on the fly.

"It uses an open source technique called object-oriented PHP 5, which means that when the interface changes, all the objects already being managed below it inherit the new feature," Kant said. This new capability means that the product's interface can be changed in days rather than months, which Kant said his company is hoping will be tasty for potential OEMs.

Kant also hinted that the company is in negotiations with a major new OEM. Rumor has it that Zmanda could be gearing up to climb under the covers of Amazon.com's S3 online storage offering.

Open source applications gaining traction

Both companies said the updates stemmed from new demand from customers running what's known as the LAMP stack. LAMP stands for Linux, Apache, MySQL, PHP-Perl-PostgreSQL, a list of the most popular open source applications on the market. According to Derek Balling, manager of systems administration for Vassar College, a BakBone and MySQL user who also co-authored an O'Reilly book on MySQL, version 5.0 of the database has added features that are boosting its popularity.

Chief among the features enterprise open source users had been waiting for from MySQL, according to Balling, is the ability to do stored procedures -- to save and automate certain data management functions within the database.

According to Balling, "[Adoption of open source applications] will probably even out over the next few years, since there are always going to be people who want support from a closed-source vendor." But, he pointed out, as the open source user community grows, resources for help will become more widely available and in-depth. Meanwhile, while open source applications are growing more robust, they remain vastly less expensive than their proprietary counterparts, he said.

As for the backup products, both companies are focusing their marketing around eliminating complex scripting and hands-on management, something Balling said will be appealing despite the background most open source users have in running their own code.

For example, Balling said, in his environment a previous "homebrew" backup application "stunk in every way you can think of," driving him to consider BakBone in the first place. And even hardcore programmers, he said, can see the benefit of automating certain functions rather than running scripts over and over again.

"This is still a developing market and it's unclear whether open source users will have significantly different needs over time than users of traditional storage products," according to IDC analyst Doug Chandler. "I think everyone's looking for ease-of-use, a single-pane-of-glass view of operations, support for heterogeneous platforms, security, etc."

BakBone: Room for improvement

When it comes to the new BakBone software, it's not a new feature but a bug fix Balling said he's most excited about. "Previously, if you had a master and slave database for replication, when you went to do a point-in-time backup of the master database, it would break the master/slave relationship," he said. "The new version fixes that."

Meanwhile, Balling said there's still an issue he's been "hounding BakBone on for a year now," that remains outstanding, having to do with tape cataloguing.

"If I have 100 tapes in my library and tapes one through 10 are written to, removed and replaced with new tapes by a backup administrator, the software will start over again with tape No. 1 instead of tape No. 11," he said. "This means that unless you take all your tapes out every couple of weeks, you never write to the tape at the end."

Balling said he was hoping to see BakBone change its software so that tapes are written based on the last write date instead. In response, BakBone director of product management wrote to SearchStorage.com in an email that "BakBone is aware that this is a nuisance for the customer, but is actively working with them to provide enhancements to the next version." Also, despite a recent update to the backup reporting tool, Balling said he would also still like to see a more intuitive GUI in future releases.
Dig Deeper on Backup and recovery software