News
Stay informed about the latest enterprise technology news and product updates.
IBM ports CDP to memory card for laptop backup
One business development firm plans to deploy hundreds of the credit card-sized laptop backup units.
IBM has penned an OEM deal with hosted service provider Rover Technology Fusions to build a simplified version of its CDP for Files software. It claims the new product will backup business documents from laptops to a USB flash card that fits in a wallet.

Download this free guide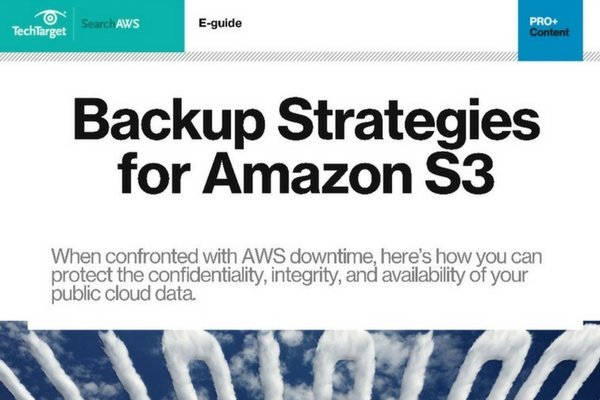 Amazon S3 in the spotlight: Your 34-page backup guide
In this guide curated by the SearchAWS.com editors, you'll evaluate and overcome the DR tradeoffs associated with Amazon S3, with guidance on solidifying an AWS backup plan and securing S3 buckets. Download your copy now.

By submitting your personal information, you agree that TechTarget and its partners may contact you regarding relevant content, products and special offers.

You also agree that your personal information may be transferred and processed in the United States, and that you have read and agree to the Terms of Use and the Privacy Policy.

The product, called Rover Sparc, includes the slimmed-down version of CDP for Files on a 2 GB or 4 GB memory card that plugs into a USB port on a laptop or desktop. The product automatically installs the continuous data protection (CDP) software and gives the user four checkboxes to select whether or not it wants to backup financial, email, My Documents folder or all Office files. The cards are encrypted using the same mechanism used by Tivoli Storage Manager, using a software-based 128-bit algorithm.

From then on, whenever the card is plugged in, the software will update it with the most recent changes to the selected data. Changes are automatically stored and then submitted next time the card is plugged into the desktop or laptop computer.

According to Chuck Broes, CEO of VitalTrust Business Development Corp. (VTBD), his company, as well as one of its 23 subsidiaries, American Medical Specialties Inc. (AMS), will deploy hundreds of the cards to back up data from mobile workers after having beta tested them since January.

"The greatest weakness in our system is notebooks and PDAs in the field -- it's not uncommon for someone's system to be stolen or broken without being backed up," Broes said.

The parent company plans to deploy some 300 cards. AMS will have about 25. The company is already a customer of Rover for hosted data services, but Broes said the companies will purchase the cards separately.

So far the 2 GB cards have worked well in tests. Broes said he'd like to see support for media files, especially voicemails, which are important for litigation and compliance at both VTBD and AMS. With support for larger media files would have to come larger cards, something Broes also said he'd like to see.

IBM chief technology officer Chris Stakutis said that's one idea for future releases. Future releases of Rover Sparc will also contain Rover Sync software that can restore contact lists from lost or stolen Windows mobile devices.

"We deliberately ignored USB [as a medium] about a year ago," Stakutis noted. "It's only been recently we've started to see the high capacities being brought to newer memory cards."

Stakutis also said that IBM was frequently asked for hardware suggestions when trying to pitch CDP for Files software to small businesses. "We had to give a somewhat elusive answer, which was a stumbling block for most people," he said.

Rover Sparc is currently available direct from Rover for $99 for the 2 GB card and $129 for the 4 GB card. Consumers used to $7 memory sticks might balk at that price, according to Mike Karp, senior analyst with Enterprise Management Associates (EMA). "A lot of people might blanch at paying so much more for something that looks exactly the same as the cheap card they're used to buying," he said.

The product won't be hitting the shelves at Best Buy anytime soon, however, according to Stakutis and Rover general manager Simon Morgan. The companies instead are seeking users like Broes who will buy the cards in bulk to protect an entire corporation's mobile data.

"As telecommuting becomes more and more of a trend, the more we all become our own little IT shops," Stakutis said. "This is a simple way for that market to address backup."

In this market space, Rover Sparc is competing mainly with other technologies, including USB drives or hosted online backup services. However, Lexar Media, Inc. also announced a directly competitive product last week, the ExpressCard SSD, which also comes with autobackup software. That card is shipping in 4 GB, 8 GB and 16 GB capacities.
Dig Deeper on Backup and recovery software