News
Stay informed about the latest enterprise technology news and product updates.
Users eye NetBackup update
Symantec users will be cautious with NetBackup 6.5 after last year's bugs in 6.0, but said new disk-based backup and SAN client features meant they'd make the leap.
LAS VEGAS -- Users at Symantec Corp.'s Vision conference this week said they're well aware of the fact that last year's update to NetBackup 6.0 caused problems for some users. However, most also said that new disk-based backup and storage area network (SAN) client features in NetBackup 6.5 were attractive enough to warrant the jump to the newest version of the backup software once it becomes available in August.

Download this free guide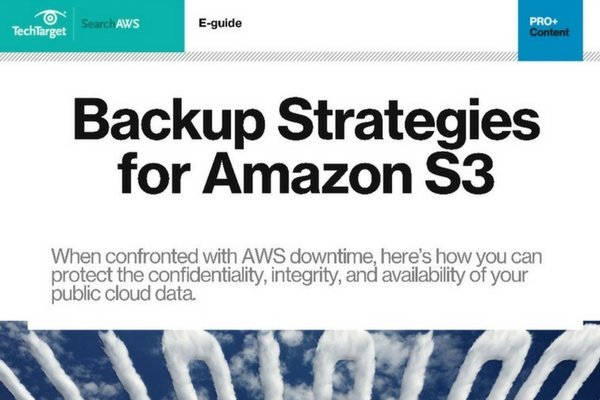 Amazon S3 in the spotlight: Your 34-page backup guide
In this guide curated by the SearchAWS.com editors, you'll evaluate and overcome the DR tradeoffs associated with Amazon S3, with guidance on solidifying an AWS backup plan and securing S3 buckets. Download your copy now.

By submitting your personal information, you agree that TechTarget and its partners may contact you regarding relevant content, products and special offers.

You also agree that your personal information may be transferred and processed in the United States, and that you have read and agree to the Terms of Use and the Privacy Policy.

The update to 6.0 involved a major rearchitecture of the software's catalog, from a flat-file catalog to a Sybase Inc. database to improve scalability. Many early adopters reported last year that the new database was shaky at best and caused data corruption issues in the worst cases. Symantec has since addressed those problems with four maintenance packs. (See Anatomy of an Upgrade, Storage magazine, Sept. 2006.)

The move to version 6.5 will involve an upgrade to 6.0, but users said they felt more confident that the issues have been resolved now that 6.0 has been on the market for a while. Many also said that they planned to take advantage of Symantec's direct upgrade path from 5.x versions directly to version 6.5.

"We've heard some horror stories" about 6.0, said Silver Buckler, service manager for Statistics Canada, a government organization that collects statistics on Canada, including the national census. However, Buckler said he's hoping that NetBackup 6.5 will address system resource conflicts he's experienced in version 5.1 (the new version automatically load balances traffic across multiple media servers). Buckler said his organization plans to make the upgrade before the next fiscal year.

Other users took a philosophical attitude toward 6.0. "The way I feel about it is that there are always going to be growing pains with a new product, but overall our upgrade to 6.0 was really not as bad as we thought it was going to be," said Nelsin Martinez, assistant director for the city of Miami Beach, Fla., who made the update last year. He plans to upgrade to 6.5 as soon as possible, calling the new SAN client option "a major advancement." SAN client simplifies backup over the SAN fabric. (For more on the new features in NetBackup 6.5, including the details on the new SAN client feature, see Symantec improves disk support in NetBackup, June 12.)

Martinez added that the ability to create policy-based lifecycle migrations within disk repositories in version 6.5 was enough to sell him on the new version. "I'm especially excited by the fact that we can do migrations between Enterprise Vault and other repositories."

"I found that NetBackup was a little more forgiving in previous versions," said a system integrator currently testing 6.0 for a major telecom who asked to remain unidentified because of company policies that prohibit speaking to the press. "Now that everything's in one database [with 6.0], you have to make sure your catalogs are perfect."

However, "We're trying to whittle down tape in our environment," making the disk-based backup support in version 6.5 a compelling reason to make the switch. Network congestion is also "our biggest problem" in backup, she said, which also makes the SAN client especially appealing.

Another backup and storage administrator for a large wireless communications company where its policies also forbid him from being named in the press, said that he's already been using disk-based backup with versions 5.0 and 5.1, "but it involves lots of scripts." He said that he's planning to evaluate Sun Microsystems Inc.'s SunFire X4500 server (aka Thumper) as a potential disk repository for use with 6.5. "Price and performance seem to be better with direct attached storage (DAS) on Thumper than on buying a complete array to attach to a media server."

Some who had been early adopters of 6.0, meanwhile, remained wary of making the update. Grant McDonald, technical specialist for Petro-Canada, an oil and gas company based in Calgary, said his company updated to 6.0 in early 2006 and experienced database corruptions during the process. "It was very buggy in the first six months."

The software is now running smoothly on maintenance pack 4, "but based on the trouble we had last time, we're not going to upgrade until we're sure it's stable, through testing and word of mouth from others," he said.

Symantec bolsters betas, tries to reassure users

Symantec officials are emphasizing that 6.5 does not involve the same architectural overhaul as the upgrade to 6.0. Also, according to Kris Hagerman, group president for the data center management group within Symantec, "a significant proportion" of NetBackup users have already migrated to 6.0, though he declined to give an exact number or percentage of customers who have updated, or to say whether or not it was a majority.

"Just to be safe, we've tested [version 6.5] with two-to-three times the number of beta users as we had with 6.0," he added, declining also to specify the number of beta testers involved. Post-6.0, Symantec also invested in new simulation tools so that its internal test beds more closely replicate the largest customer environments.

"This is the year that everyone will move to version 6," said Matt Kixmoeller, product manager for NetBackup, since 6.5 "flexes the muscles of the new architecture." Kixmoeller added that users can run multiple versions of NetBackup in the same environment, allowing them to take a staged approach to updating.

"Users have more of a motivation [to upgrade] now, given the integration with disk, data deduplication and snapshots offered by the new version," said Lauren Whitehouse, analyst with the Enterprise Strategy Group. "The big trend of VMware adoption also means that NetBackup's new story around VMware backups will sweeten the pot, as well."
Dig Deeper on Backup and recovery software