News
Stay informed about the latest enterprise technology news and product updates.
EVault backs up VMware
Online backup service provider EVault announced a plug-in for VMware to offer better disaster recovery protection and backup of VMware virtual machines.
Weekly compilation of storage news
EVault backs up VMware
EVault, a Seagate Technology company, announced general availability of its VMware plug-in for users of its EVault Protect online backup service. EVault claims it's the first backup and recovery service provider to offer disaster recovery protection of VMware virtual machine environments, including all major operating systems, applications and files.

Download this free guide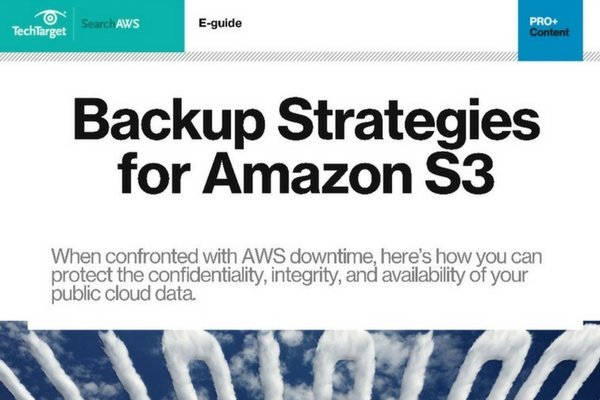 Amazon S3 in the spotlight: Your 34-page backup guide
In this guide curated by the SearchAWS.com editors, you'll evaluate and overcome the DR tradeoffs associated with Amazon S3, with guidance on solidifying an AWS backup plan and securing S3 buckets. Download your copy now.

By submitting your personal information, you agree that TechTarget and its partners may contact you regarding relevant content, products and special offers.

You also agree that your personal information may be transferred and processed in the United States, and that you have read and agree to the Terms of Use and the Privacy Policy.

EVault reseller, Network Technology Group plans to add the plug-in to its backup service as many of its customers are VMware users. Before the plug-in, it could only provide operating system-level backup. With the plug-in it can offer system plus data restore of any VMware virtual machine to any

data center, anywhere in the world, according to William Sellers, system engineer with Network Technology.

Seagate claims high capacity low-power drive
Seagate unveiled the Cheetah NS hard drive, developed for storage applications where the highest available storage capacity and the lowest power consumption are required. Seagate claims the 400 GB, 10K rpm Cheetah NS offers the lowest price per gigabyte and watts per gigabyte value for customers.

Emulex, Brocade bundle SAN starter kit for HP
Emulex and Brocade announced that the two companies' 4 Gbps storage area network (SAN) connectivity offerings and storage provisioning software have been incorporated into the new HP EVA4100 SAN Starter Kit. Specifically, Emulex's EZPilot SAN installation and storage provisioning software, 4 Gbps host bus adapters (HBA) and the Brocade 210E switch, which provides eight ports of 4 Gbps connectivity, have been rolled into the HP EVA4100 SAN Starter Kit for small companies getting into networked storage.

Gear6 scores customers
Storage caching upstart Gear6 said its "cracked three verticals," entertainment, financial services and its latest customer, GX Technology (GXT), offers seismic imaging services for oil and gas companies. Gear6's storage caching appliance sits on the network next to any storage array and accelerates access to the data. An entry level device starts at $400,000 and is targeted at organizations with large data processing requirements.

Xiotech scores even more customers
Xiotech announced several new customers have signed contracts for the company's Magnitude 3D 3000 and Magnitude 750 storage systems. New customers include Apollo Information Services Inc., the Archdiocese of St. Louis, Century College (White Bear Lake, Minn.), DISA Inc.,Kansas State Department of Education, United Network for Organ Sharing (UNOS) and Weiss Group Inc.

Iomega, Postini partner
Iomega is offering Postini's security and compliance offerings to small businesses worldwide, via its channel. Beginning next month, Tech Data Corp. will offer its customers the new Iomega OfficeScreen Managed Email Security and Spam Defense powered by Postini.

RoboBak targets SMBs
Small business remote backup software supplier, RoboBak has added its Open File Manager for backing up open files to its backup product, as well as block-level deduplication, encryption and archival modules. The company claims its software is cheaper than most standalone data deduplication products on the market but includes much more functionality.

Siafu adds tape library support
Siafu Software announced that it's Siafu Sypher Series of tape encryption appliances now supports heterogeneous tape libraries, including support for newly released LTO-4 tape drives. With built-in data encryption and compression technology, the Siafu Sypher is backup software agnostic and provides automatic encryption key management for data storage at offsite locations.

Infortrend adds snapshots to RAID storage
RAID storage supplier Infortrend had added snapshot software to its line of EonStor RAID subsystems. Called SANWatch, the feature offers point-in-time "snapshot" copies of data that look and behave like complete backups without consuming equivalent disk space, the company said.
Dig Deeper on Cloud backup