News
Stay informed about the latest enterprise technology news and product updates.
BakBone unveils CDP, restartable backups
Latest version of BakBone's NetVault data backup software integrates CDP for both Windows and Linux; users are keen on restartable backup and updated troubleshooting features.
BakBone is adding continuous data protection (CDP) to version 8.0 of its NetVault backup software released today, although users may find the new restartable backup feature even more useful.

Download this free guide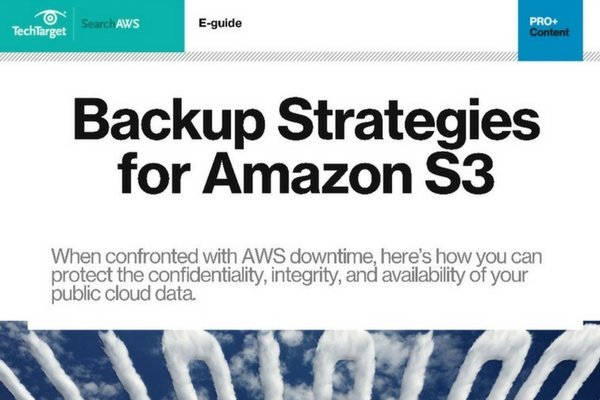 Amazon S3 in the spotlight: Your 34-page backup guide
In this guide curated by the SearchAWS.com editors, you'll evaluate and overcome the DR tradeoffs associated with Amazon S3, with guidance on solidifying an AWS backup plan and securing S3 buckets. Download your copy now.

By submitting your personal information, you agree that TechTarget and its partners may contact you regarding relevant content, products and special offers.

You also agree that your personal information may be transferred and processed in the United States, and that you have read and agree to the Terms of Use and the Privacy Policy.

NetVault: TrueCDP finally brings CDP to NetVault, around two years after many of its backup software rivals introduced the technology. BakBone is emphasizing its ability to use CDP to store Windows and Linux data in the same repository, which fits into its strategy of establishing itself in the Linux space. However, BakBone is still missing the combination of CDP and replication that helps make CDP valuable.

BakBone users say they are eager to try out NetVault's new restartable backup feature, though. This feature lets users pause backups at any time and resume them later. The software automatically checks for incremental changes to the files already backed up, and adds them the backup when it resumes.

One version 8.0 early adopter, Bryan Pettengill, computer resource specialist for the University of California San Diego's Moores Cancer Center, said the restartable backup feature and updated troubleshooting guide already helped him solve a problem. After a backup job failed overnight, the troubleshooting guide identified a bad SCSI card between the backup server and one of the tape drives in the Cancer Center's Quantum SuperLoader. "As soon as I went and replaced the card, the backup automatically picked up again before I even got back to the backup server," he said.

Edward Bradley, associate LAN support specialist for ADP, said restartable backups will come in handy during patch update weekends. "Now we can get our weekly full backups done at the same time we're patching servers, and just let it run until our maintenance window hits," he said.

The feature also brings BakBone into line with some backup software competitors, including IBM's Tivoli Storage Manager (TSM) and CommVault's Simpana, which also allows users to configure which backup jobs are restartable. EMC Corp.'s Legato Networker does not offer the feature, though an EMC spokesperson said the feature is being evaluated for future releases. Symantec Corp.'s NetBackup, which has yet to integrate the CDP Symantec bought with Revivio last year, can pause and restart jobs, but can't automatically go back and check for changes. "That functionality is typically found in continuous-data protection methods," wrote Peter Elliman, senior product marketing manager, in an email to SearchStorage.com.

As for CDP, BakBone integrates it into the main NetVault management console and restores are performed through the main backup server. However, it requires a separate server for capturing the CDP data. Windows and Linux data can be stored in the same CDP repository, and data can be restored to either Windows or Linux hosts regardless of which operating systems it came from.

Frank Migliaccio, director of network operations at Money Mailer LLC, a direct-mailing company which designs coupons, said CDP will come in handy in the company's design process. "We have a three-phase process, [involving] one person who does the background, a second who touches up the color and a third who finalizes the design," he said. "Now if one person loses or corrupts a file for a particular project, I can roll it back to each stage." Migliaccio said he envisions a similar scenario for end users who work with complex spreadsheets.

Further expansion, integration on the to-do list

BakBone has slowly been putting together the pieces of the Integrated Data Protection (IDP) plan it laid out in 2005. But it still hasn't come up with several key backup technologies, and has yet to integrate NetVault Replicator 5.0 with the rest of the package. Replicator was released last November. Replicator can be used with NetVault Backup, but with a separate management interface.

"NetVault: TrueCDP for all intents and purposes 'replicates' data to a NetVault Backup server so that snapshots can be performed," BakBone vice president of marketing Jeff Drescher wrote in an email to SearchStorage.com. "NetVault: TrueCDP does not support replicating or protecting data to simultaneous destinations in this release."

BakBone needs all the new features it can cram into NetVault to win customers from competitors such as Symantec, EMC Legato, IBM, and CommVault. BakBone was the surprise winner of last year's Storage magazine backup software Quality Awards survey, but lost out to CommVault in one survey category: product features.

CommVault and BakBone have similar origins. They were both spun out of AT&T Bell Labs -- but CommVault is ahead of BakBone when it comes to features such as archiving, single-instance storage and data classification, which CommVault added as part of its Simpana release in June.

"The archiving space is wide open to them -- those products are getting great traction right now," analyst Arun Taneja of the Taneja Group said of BakBone. "BakBone hasn't been left behind yet, but is going to need these features."

Other features Migliaccio would like to see in NetVault include data deduplication, end-user restore for CDP and a laptop backup client such as IBM's CDP for Files and Atempo's TimeNavigator. These products automatically back up mobile users' machines when they connect to the corporate network.

BakBone declined to comment on whether or not archiving, data deduplication, or data classification are on its roadmap. Drescher acknowledged that end-user restore for CDP is coming in the next release, but added that BakBone has no plans for a laptop agent. "We are not focused on laptop backup."

NetVault upgrades aside from CDP are free to existing users. The CDP agent is priced at $2999 for Windows and $3999 for Linux.
Dig Deeper on Backup and recovery software