News
Stay informed about the latest enterprise technology news and product updates.
IBM tweaks TSM backup software
IBM adds key management and support for VMware Consolidated Backup to TSM version 5.5. Users are hoping the next release will add database maintenance and reporting.
IBM has made an incremental update to its Tivoli Storage Manager (TSM) data backup software that keeps it competitive with rivals but fails to put IBM in a leadership position in any area.

Download this free guide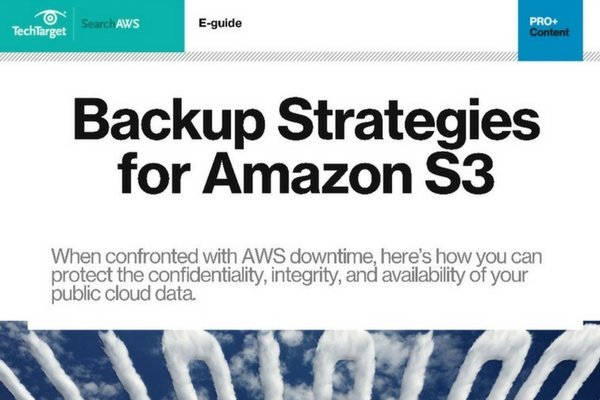 Amazon S3 in the spotlight: Your 34-page backup guide
In this guide curated by the SearchAWS.com editors, you'll evaluate and overcome the DR tradeoffs associated with Amazon S3, with guidance on solidifying an AWS backup plan and securing S3 buckets. Download your copy now.

By submitting your personal information, you agree that TechTarget and its partners may contact you regarding relevant content, products and special offers.

You also agree that your personal information may be transferred and processed in the United States, and that you have read and agree to the Terms of Use and the Privacy Policy.

Tivoli Storage Manager 5.5 includes integrated key management for encrypted backups, support for VMware's Consolidated Backup (VCB) option, snapshot support for Microsoft applications, the ability to do multiple simultaneous restores on sequential disk and the ability to restart the movement of TSM instances from one server to another.

TSM 5.5 will manage the generation and storage of keys as part of the TSM server, so administrators with proper authentication won't have to remember or retrieve separate keys for files managed by TSM. "This means if users leave the company or lose their passwords, companies maintain access to encrypted data," said John Connor, market manager for TSM.

Support for Microsoft applications includes application-specific snapshot support within TSM for Copy Services, IBM's snapshot manager. The capability stems from IBM's previous integration with Microsoft's Volume Shadow Copy Services (VSS). TSM for Copy Services is a separate add-on for TSM.

Sequential disk refers to the access file on disk that TSM uses to store backup data. Somewhat like a virtual tape library (VTL), data is written sequentially to files of a predetermined size, much like it would be to a tape volume. Previously, Connor said, "Sequential disks had to be restored sequentially, as well."

TSM will also let users pause the migration of TSM instances from one server to another, which users said will come in handy, as "splitting" TSM is often necessary to boost performance when its catalog database grows too large.

"We could have used that just last month when we migrated 40 TB from one TSM instance to another, and it took weeks," said John Schneider, lead storage administrator for Sisters of Mercy Health Systems in St. Louis. Schneider added that he had a similarly pressing need for the VCB support, as his shop is adding 20 to 30 VMware clients per month.

Another user, Jim Norris, technical specialist with TravelPort Ltd., said that while the ability to pause and restart moves between TSM server instances is a nice update, he's hoping IBM will eventually eliminate the need to do the migrations altogether by allowing users to perform maintenance on the underlying database. "The 'knee curve' between database performance and size is significant," he said. "If we could go in with one of our DBAs and tune the database, clean up the rows and tables, we might not have to split our instances of TSM at all."

Norris said his company is currently using one instance of TSM, but it started out with two and eventually will have to split the application again. "One Linux host is enough to support our entire instance, which took two hosts five or six years ago," he said. "But we're already planning to have to split it again down the road because [of] the database." In addition to having to migrate the systems back and forth, multiple instances of TSM drive down storage utilization, Norris said, since each application instance needs its own free space. During the reconsolidation of his TSM environment, Norris said the company recovered between 4 TB and 5 TB of storage.

Connor declined to comment on when and how IBM might address the issue, saying, "It's something we're always looking at."

Product stability or innovation gap?

None of the new features in Tivoli Storage Manager 5.5 places IBM ahead of competitors in the backup space. Symantec Corp.'s NetBackup also features embedded encryption and key management. Most competitors support VCB, which was released over a year ago. EMC Corp., CommVault Systems Inc., Network Appliance Inc. (NetApp) and others support Microsoft applications, and BakBone Software Inc. recently added the ability to pause and restart data backups.

Still, users said they will trade stability for the cutting-edge backup technologies that TSM lacks, such as data deduplication. "For me, the stability of the product is paramount," Schneider said. "I would prefer my vendor to step carefully and get new functionality rock solid before throwing it into the product."

Norris said he prefers the "whistles and bells" in storage hardware, rather than putting them in backup software, in part because it keeps his TSM environment simple. "TSM isn't the easiest piece of software to implement," he said. "It takes time to build a new system, and adding a feature could be hard to set up. IBM might not be innovating as fast as some in the market right now, but in my mind, TSM started off ahead with incrementals and disk-based backup."

Still, Schneider and Norris agree on a key feature they'd hoped for in this release that didn't make it: improved reporting on backups. As Schneider put it, that is "not TSM's strength. Both men use third-party tools -- Schneider uses Servergraph and Norris uses Bocada Inc. -- to get some sense of their backup environments and otherwise use command-line interfaces. "The continued lack of in-depth reporting is a problem," Norris said. IBM recently bought Novus Consulting Group Inc. in part for its storage resource management (SRM) tools, but it hasn't indicated whether that acquisition will add reporting for TSM, as well as primary storage systems.

Products like TSM that have been on the market for decades and have large install bases are often slow to innovate, according to Enterprise Strategy Group (ESG) analyst Lauren Whitehouse. "It takes a tremendous amount of pain for someone to switch backup products. The key reasons tend to be that the vendor has major support issues or isn't keeping pace with the latest operating system or database software revs," she said. With more than 20,000 users for TSM, she said, "You can just imagine the test matrix -- that must take priority."

However, she warned, as questions emerge about IBM's place in the storage market with its high-end disk systems as well, the relatively late support for VCB could be treading on thin ice. "Customer adoption of VCB hasn't been very high," she said. "But it's been out for a year and just supporting it now doesn't show IBM staying ahead of the curve."
Dig Deeper on Backup and recovery software