News
Stay informed about the latest enterprise technology news and product updates.
Cable manufacturer restores data after fire
A fire at its Pennsylvania manufacturing facility put Draka USA's disaster recovery plan to the test
It was 6 p.m. on a Wednesday evening in March when Draka USA, the world's fifth largest manufacturer of cables headquartered in Franklin, Mass., realized that its Pennsylvania manufacturing facility had caught fire.

Download this free guide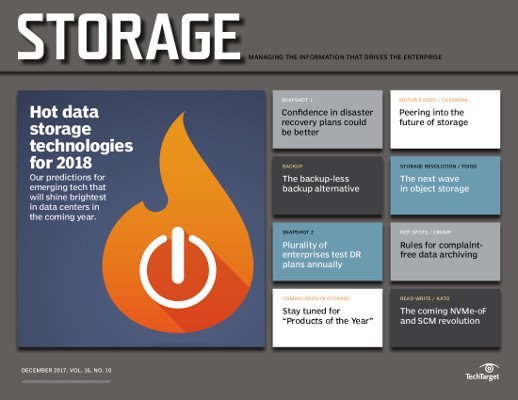 Snapshot of top 2018 backup tech: CDM, complaint-free archiving, ransomware detection vendors
The SearchStorage.com team names the most promising ransomware detection products, 4 rules for complaint-free archiving, how to use copy data management for effective recovery, and more. Download your e-zine copy here.
The company had employed a contractor who was doing repairs to the building and accidentally set the roof alight. Everyone got out of the building safely, but the lingering smoke meant that the staff couldn't return to the office for several days.
To keep its sales force up and running, Draka relocated them to an office in Long Island, N.Y., and restored their data from the servers in Pennsylvania to new servers in Long Island. "If we hadn't had online backups, we would have been in big trouble," said Trevor Gardner, manager of enterprise operations at Draka.
The company uses AmeriVault Corp., which lets it back up and restore data from an internal or remote location over the Internet. AmeriVault's disk-to-disk data recovery and backup service automatically recognizes block changes within files, then encrypts the compressed data before pushing it via the Internet to its storage vaults located across the country.
When the fire struck, Draka alerted AmeriVault of the disaster. The fire had ripped through its facility, destroying wiring that made the network useless. Gardner called AmeriVault to find out how to do a restore to a different server and said that he was able to sit in his kitchen and do all this via the Internet in minutes.
Without this service, he said he would have had to send the backup tape in a van to Long Island, re-catalog it, hope that the drive was in a reasonable condition, and then restore the data to the hard drive in the new server.
Ditching tape
Draka made the switch to an online backup service from tape in December 2002, principally to consolidate, organize and in some cases guarantee its backup procedures actually took place.
The company has 10 remote sites nationwide and one office in Canada making up about 800 employees in the U.S. Each site was responsible for its own tape backups. "Changing them was a problem, cleaning them on a regular basis was a problem, sending them offsite for archive was a problem as we never knew if the tapes were actually being sent off site … one site would send its tapes to the bank next door, so when the bank was shut or on holiday, we couldn't do a restore … managing it was a complete nightmare," Gardner said. "The AmeriVault service is good for remote locations where we didn't have IT staff; it's made backup and restores much easier and faster."
Draka has about 280 GB of storage, according to Gardner. All the sites connect to AmeriVault each night to perform a backup. "I know it gets done and the uniformity of it is important," Gardner said. For this peace of mind, Draka pays AmeriVault $5,000 for up to 300 GB of data per month.
Gardner admitted the company is vulnerable to Internet downtime but has redundant T1 lines to avoid network problems where possible.
A side benefit for Draka included knowing that experienced storage experts were taking care of its backup requirements. "We are short of storage expertise, with 12 staff, seven or eight in development -- we don't have much of a support team," Gardner noted.
Although the recent visibility of terrorist attacks has driven sabotage to the top of the list of disaster risks, it actually has a relatively low probability of being the cause of data loss, according to a study by Meta Group Research. Regular, simple power surges or failures account for 45% of data loss with hardware, software or network errors a close runner up at 13% and storm damages at 9%.
Dig Deeper on Disk-based backup