News
Stay informed about the latest enterprise technology news and product updates.
Disk to disk to tape quiz
Think you know all of the different disk to disk to tape (D2D2T) backup terms? Take our quick quiz and see how you measure up on our disk backup geek-o-meter. How many can you guess without peeking?

Download this free guide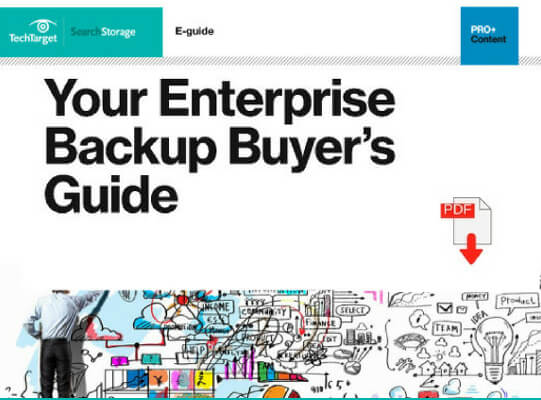 Which backup software is right for your business?
"Do I still need an enterprise-level backup software app? How can I prepare for the top challenges I may encounter when buying restore software? Which products should be on my radar?" You'll find the answers to these queries and more, in this free, downloadable PDF.

1. This is an approach to computer storage backup and archiving in which data is initially copied to backup storage on a disk storage system and then periodically copied again to a tape storage system (or possibly to an optical storage system).
What is it? 2. This form of backup behaves as disk and doesn't take on the characteristics of tape.
What is it? 3. This type of backup target is accessed via NFS or CIFS.
What is it? 4. This type of backup target is accessed via Fibre Channel or iSCSI.
What is it? 5. These are backups that are sent to a disk-as-disk backup target rather than a virtual tape library or physical tape.
What is it? 6. This is a disk array and server running an application that makes the disk array looks like a tape library to the backup software application.
What is it? 7. This is a type of virtual tape library (VTL) backup that directly integrates with a tape component and also manages the process of copying data from VTL to physical tape.
What is it? 8. This is a type of VTL that stands by itself, like a regular tape library. It uses the backup software's tape-to-tape copy to migrate data from virtual tape to physical tape.
What is it?
Dig Deeper on Disk-based backup