News
Stay informed about the latest enterprise technology news and product updates.
FalconStor throws hat into encryption ring
Storage software maker adds encryption to its VTL product offering users an alternative to expensive hardware products from Decru and others.
FalconStor Software Inc. announced an encryption module for its virtual tape library (VTL) product, called Secure Tape Transport Service, which is in beta and will ship in September.

Download this free guide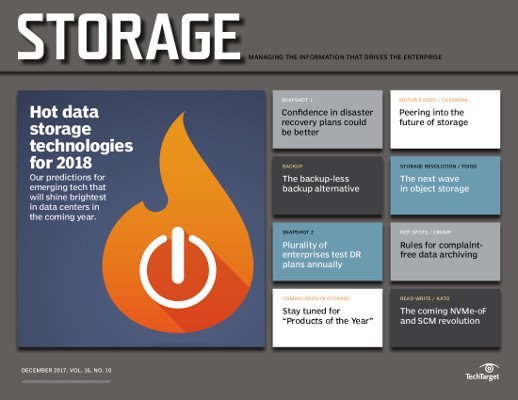 Snapshot of top 2018 backup tech: CDM, complaint-free archiving, ransomware detection vendors
The SearchStorage.com team names the most promising ransomware detection products, 4 rules for complaint-free archiving, how to use copy data management for effective recovery, and more. Download your e-zine copy here.

By submitting your personal information, you agree that TechTarget and its partners may contact you regarding relevant content, products and special offers.

You also agree that your personal information may be transferred and processed in the United States, and that you have read and agree to the Terms of Use and the Privacy Policy.

The encryption and decryption software, based on the Advanced Encryption Standard, allows users to encrypt virtual tapes and export them to physical tapes to guard against security breaches.

"We think our timing is right," quipped ReiJane Huai, CEO of FalconStor on a call with analysts and press Thursday, referring to recent high-profile data losses. FalconStor's entry into the market provides users with an alternative to high-end storage encryption appliances from companies like Decru Inc. (owned by Network Appliance Inc.) and NeoScale Systems Inc., that run into tens of thousands of dollars per device, and encryption available in backup software that significantly slows the backup process down..

"We do the encryption only when we know the tape is meant for export … we do it quickly on disk in big blocks rather than trying to encrypt small data streams from the backup client," said John Lallier, vice president of technology at FalconStor. He said there is a "slight performance hit, but it's not as bad as using your backup software as we do the encryption after the backup." He added that a VTL-based approach to encryption centralizes the job rather than going to each backup server separately to perform the task.

W. Curtis Preston, vice president of services at storage consultancy, GlassHouse Technologies Inc. noted that FalconStor's VTL-based encryption only works with its tape export feature. In other words, data at rest on the system is still vulnerable.

He added, "If you only need to encrypt data coming from one box, your backup software is good enough and you can probably withstand the 50% performance hit … This costs as little as $200 extra to an environment. But he said, "If you're encrypting everything, you need a hardware box like the Decru appliance that works at line speed and is invisible to the whole process … between these two options is VTL."

FalconStor is charging $5,000 for encryption support on up to 2,000 tapes and $10,000 for encryption support on 4,000 tapes.

The company claims to have shipped in the thousands of units of its VTL product, which includes the OEM versions from EMC Corp., Sun Microsystems Inc., Network Engines Inc and Maxxan Systems Inc. "It's a substantial part of our business, not quite half," Lallier said.

FalconStor already provides encryption in its remote replication software for data in transit and is developing encryption-at-rest capabilities across its product line.

Other companies selling VTL products include: Advanced Digital Information Corp., IBM, Overland Storage Inc., Quantum Corp., Sepaton Inc., Hewlett Packard Co. (which resells Sepaton), Storage Technology Corp. (StorageTek), Diligent Technologies Inc. and NearTek Inc. According to Glasshouse's Preston, most of these companies have partnered with Decru and NeoScale for encryption functionality.

Separately, on its earnings call Thursday night FalconStor alluded to a dip in sales of its OEM-branded products from Sun, EMC and Computer Network Technology Corp. (CNT). The company blamed Sun's acquisition of StorageTek and McData Corp.'s acquisition of CNT on lackluster sales from these OEMs. "There's been a near-term loss of focus by these OEMs," a company spokesperson said. FalconStor also experienced a dip in EMC revenue from the first quarter to the second quarter this year, as EMC works on new capabilities for its rebranded VTL. "This caused some customers to pause," the FalconStor spokesperson said.

The company posted a net income for the quarter of $300,000, or 1 cent per share, compared with a net loss of $1.7 million, or 4 cents per share, for the same period a year ago. Revenues for the second quarter of 2005 increased 46% to $9.5 million, compared with $6.5 million for the same period a year ago.
Dig Deeper on Disk-based backup