News
Stay informed about the latest enterprise technology news and product updates.
CDP: User perspectives
Downtime to recover terabytes of data can cost a company dearly in terms of income (and customer satisfaction). Continuous data protection (CDP) is emerging as an attractive supplement to traditional backup schemes when downtime isn't an option. It's clear that CDP isn't a perfect or universal backup solution. Some implementations involve agents, or can impact network performance. CDP users must also watch for potential configuration and interoperability issues. But CDP solutions are appearing and proving themselves in very demanding enterprise applications.
One of the best ways to gauge a technology is to hear feedback from users employing products in actual production environments. Continuous data protection (CDP) is so new that most vendors were extremely hesitant to offer user feedback. Storactive Inc. and Revivio Inc. proved to be pleasant exceptions -- quickly arranging input from a variety of their product users. We hope to publish other case studies of CDP use as other vendors provide customer names or as we come across them in our reporting.

Download this free guide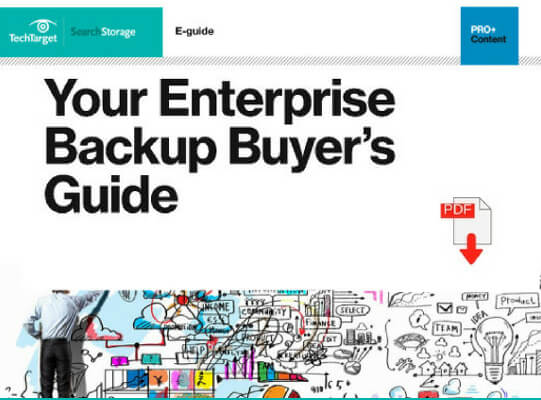 ATTN: Which backup software is right for your business?
"Do I still need an enterprise-level backup software app? How can I prepare for the top challenges I may encounter when buying restore software? Which products should be on my radar?" You'll find the answers to these queries and more, in this free, downloadable PDF.

Continuous backups for mobile users In one application, CDP has established itself as an effective vehicle for remote real-time backups. Mark Kash, IT specialist with the U.S. Army Corps of Engineers (Huntington District), says that traditional backup tactics simply didn't meet his district's data protection needs. CDP eliminated regular backup schedules. "We had some experience with other PC backup software which would start in a certain backup window and wouldn't complete," he says. "End users would come in the next morning and find it would still be running. They couldn't access files because they were locked out by the backup program. This product runs in real time with no [backup] window, no schedule." The backup problem was further complicated by 50 remote workers who often failed to backup their laptops regularly. Kash notes that Storeactive's LiveBackup implementation was smooth and painless, and it has worked well on the relatively slow 56K frame relay links that he frequently uses. "Aside from initial replication, CDP can run seamlessly without bandwidth effects." CDP also allowed Kash's district to forego the regular use of tape -- eliminating many common problems associated with tape operation. When failure isn't an option A particularly strong case for CDP comes from companies that tolerate the very least data loss, such as law firms, healthcare organizations and other industries governed by regulatory compliance. Integrated Healthcare Solutions (IHS) uses Revivio CPS 1200 appliances to provide managed outpatient data services for the healthcare industry across much of the eastern U.S. According to Gary Hamilton, president and co-founder of IHS, the goal is to provide a level of data protection that cannot be matched (at least not economically) by most small to mid-sized practices. "We always did disk-to-disk backup," he explains. IHS grew to include an EMC Corp. SAN solution taking periodic snapshots. "The most data loss we could potentially have at that point was about 60 minutes." But even a recovery point objective of 60 minutes did not meet Hamilton's expectations. "When you lose that [unprotected] clinical data, you can't drag that patient back into the office -- it's critical that [data] is protected." Hamilton says that the move to Revivio's CPS 1200 product offers real-time protection with the granularity to access and restore data down to the I/O level. Yet the product integrated seamlessly with no significant changes to its existing IT infrastructure. "It was more challenging to install the EMC [storage system] to be perfectly frank with you," he says. The IT staff embraced CDP with only minimal changes. The biggest point of concern for Hamilton was the newness of CDP technology -- ensuring that the technology, the vendor and the product would remain available into the foreseeable future. When evaluating the need for CDP, Hamilton recommends a careful consideration of potential data loss. "There are industries out there where it's simply unacceptable, and we happen to be one of them," he says. "I think you have to measure the disaster potential from a client relationship standpoint, from a financial standpoint, and from a liability standpoint." Restoring rapidly changing data For Mike Johnson, senior systems engineer at Nature's Sunshine Products Inc., CDP using Storactive's LiveServ has made a world of difference in Exchange e-mail management. With traditional backups, e-mail restoration was virtually impossible because of the fluid nature of e-mail data. "We needed the ability to recover people's mail quickly (on an individual basis or on a massive scale)," he says. "It's just a nightmare to do it any other way [than CDP]. It's like stepping back in time when you move from regular backups to Exchange backups -- they're horrible." Things were much different before CDP. "Our policy used to be: 'we do not recover mail -- period,' " Johnson says. "We backed it up in case of catastrophic loss, but we simply did not recover mail." Once a user lost or deleted a message, it was considered "gone forever." But CDP allows mail recovery to the individual message level. "E-mail is a very different animal when it comes to backups," Johnson says. "With file systems, people tend to put a file out there, and they leave it forever. With e-mail, it comes in, a person reads it and they delete it. So it's constantly going through deletions –--especially because we have limits on the size of their mailboxes." If a critical e-mail is lost, every backup point would need to be systematically recovered and searched -- an almost unmanageable process for traditional backups. With CDP products, recovery simply involves looking through a log, locating the missing message and recovering. "It literally saves me hours of trouble," he says. Some obstacles to overcome While all three users agree that CDP technology has had a positive impact on their organizations, each offers personal observations and sage advice to prospective adopters. Kash says that there's virtually no IT training required for CDP, but users proved to be a significant obstacle. "I think the biggest challenge that I have seen so far is just trying to get users used to the idea that this [CDP] is on their machine and that they can use it [to sync remotely with servers from the field]. They're not used to thinking in terms of backing up." He notes that inadequate backup can leave a tremendous amount of data unprotected. "We did an inventory study of the data on our PCs and found that there was almost 9 terabytes (TB) of data out there on PCs -- as opposed to 2 TB of data on all our servers." The move to CDP significantly reduces the amount of vulnerable data in the field. Johnson's take is a bit more conservative, and he is slow to abandon more traditional backup tactics entirely. "We were a bit leery of relying solely on LiveServ, and wanted to continue our standard backup and our infrastructure worked perfectly with that. It sits right in line with our current infrastructure so we can continue to do our full backups for disaster recovery and CDP affords us double protection." Johnson also points out that fledgling CDP products may not offer all of the bells and whistles that backup users expect. "Because it's such a new technology, some of the IT administration tasks are a little frustrating -- it doesn't necessarily have all of the bells and whistles yet." Still, he notes that the value of CDP is clearly demonstrated, and developers are working hard to improve the features and performance of CDP products. Go to the next page: CDP: Future directions

Or skip directly to another part of this article:

CDP: User perspectives

Dig Deeper on Disk-based backup