News
Stay informed about the latest enterprise technology news and product updates.
IBM late to open systems VTL party
IBM has finally introduced a VTL for open systems, but declined to name its OEM partner.
IBM announced this week a virtual tape library (VTL) for open systems -- but remains secretive about who its partner is, and why it took the company so long to release an open-systems counterpart to its well-established mainframe VTL.

Download this free guide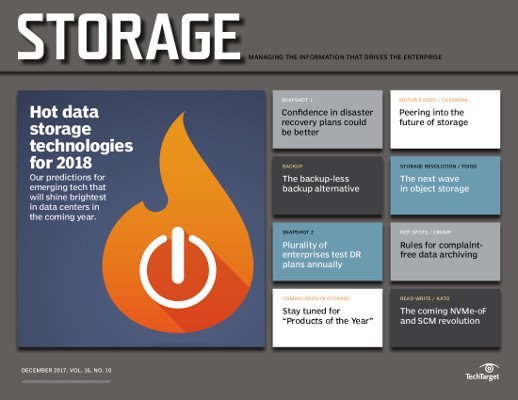 Snapshot of top 2018 backup tech: CDM, complaint-free archiving, ransomware detection vendors
The SearchStorage.com team names the most promising ransomware detection products, 4 rules for complaint-free archiving, how to use copy data management for effective recovery, and more. Download your e-zine copy here.

By submitting your personal information, you agree that TechTarget and its partners may contact you regarding relevant content, products and special offers.

You also agree that your personal information may be transferred and processed in the United States, and that you have read and agree to the Terms of Use and the Privacy Policy.

Kevin Leahy, director of virtualization for IBM, acknowledged that the company is using a "development partner" for the product, but refused to name the company involved, saying IBM "didn't want the focus to be on differentiation among vendors, but on the integration IBM is offering."

IBM seems to be staking its market share on the fact that its VTL is integrated with physical tape -- something Hewlett Packard Co.'s (HP) product from startup Sepaton Inc., sold as the StorageWorks 6000 VTL, won't do.

IBM's VTL can be packaged with its 3494 or 3584 tape libraries physically attached, and can export to physical tape in two modes: software controlled or operator initiated.

"Operator initiated -- that's the interesting one," said Brian Garrett, senior analyst at Enterprise Strategy Group. "I can walk up to a console and say, make a copy for me. Over time, you might be able to apply policies. That's what they have in the mainframe."

"Giving people a choice as to how to export to physical tape is unique," said analyst Dianne McAdam of the Data Mobility Group. "Most VTLs work one way or the other, not both."

Good news for TSM users

W. Curtis Preston, vice president of services at Glasshouse Technologies Inc. noted that IBM's entry into the market validates the space, but is most significant to IBM Tivoli Storage Manger (TSM) users.

"There are legions of TSM customers for whom this will be great news … VTLs and TSM are made for each other," he said. According to Preston there are a couple of features in TSM, including reclamation and co-location, that if turned on in a large scale tape environment, makes it very hard to manage. The reclamation and co-location process continually reorganizes data on tape volumes to speed up restore operations. In practical terms Preston said this means that once a given client is backed up to a tape, only that client can backup to that tape. "It increases recovery times," he said. Preston added that the same applies to file systems, meaning that if you had 15,000 file systems you would need 15,000 tapes, if co-location was turned on. This is obviously an impossible number to manage.

This problem goes away with a VTL that is disk based and does not suffer the same "slack space" or empty space issues as tape. For example if 10 GB of backup data are written to a 100 GB volume, the other 90 GB are still available to the rest of the VTL and virtual volumes.

"The VTL opens up a number of possibilities like co-location by file system and storing all backups on disk while still supporting reclamation, that TSM users did not have in a regular tape environment," Preston said.

IBM's mystery partner

Through a process of elimination, industry analysts believe the partner is probably FalconStor Software Inc. The majority of VTL players contacted by SearchStorage.com said that they were not partnering with IBM, Sepaton included, but FalconStor offered a terse "no comment."

It would be particularly awkward for IBM if FalconStor turned out to be the "technology partner," since rival EMC Corp. has been reselling FalconStor's VTL as the EMC Clariion Disk Library for about 18 months.

Another possible partner is Network Appliance Inc., (NetApp) with whom IBM has an extensive OEM deal. NetApp acquired Alacritus for its VTL technology in April, but this product has yet to come to market.

Another lingering question following IBM's announcement is why it's taken the company so long to introduce an open systems VTL product when it has been selling a successful mainframe-based VTL product, the TotalStorage 3494 Virtual Tape Server, since 1997.

Furthermore, rumors that IBM has been developing its own open systems VTL have been surfacing since the beginning of 2005 -- with no product in sight until now.

Sources say IBM may have tried to build this product in house or had an incredibly long due diligence process checking out potential partners, but either way, they say, the company is late to market and may simply have taken its eye off the ball.

IBM takes the field not only against HP's product based on Sepaton's VTL and EMC's version of the FalconStor system, but against Advanced Digital Information Corp.'s Pathlight VX, Copan Systems' Revolution 200T, Overland Storage Inc.'s REO VTL, Quantum Corp.'s DX-Series, Spectra Logic Corp.'s RXT, and Storage Technology Corp.'s VSM Open.

The product will ship on Oct. 28. Pricing starts at around $175,000 for a single node and entry configuration of 5 terabytes (TB); for a dual node or a maximum 46 TB configuration starts at $695,000.
Dig Deeper on Disk-based backup