News
Stay informed about the latest enterprise technology news and product updates.
Users flag flaw in integrated VTLs
This has been the year of the VTL in the storage industry -- but if you want to keep tapes in an archive behind the VTL, there may be a problem.
As virtual tape libraries (VTL) have stepped in to take the place of tape as nearline storage, some companies say they will take data in through the front end of their box, and can also push it out the back end to physical tape. This is true, to a point. The boxes will do it, but your backup application won't be aware of this process, according to users.

Download this free guide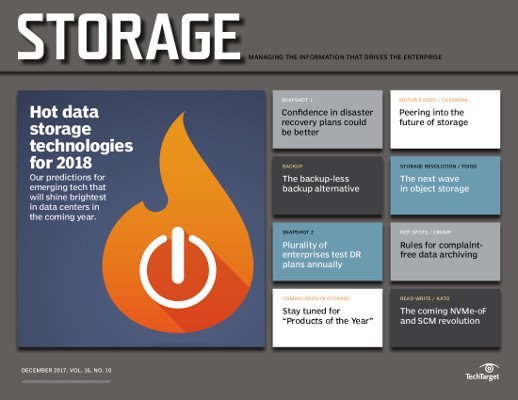 Snapshot of top 2018 backup tech: CDM, complaint-free archiving, ransomware detection vendors
The SearchStorage.com team names the most promising ransomware detection products, 4 rules for complaint-free archiving, how to use copy data management for effective recovery, and more. Download your e-zine copy here.

By submitting your personal information, you agree that TechTarget and its partners may contact you regarding relevant content, products and special offers.

You also agree that your personal information may be transferred and processed in the United States, and that you have read and agree to the Terms of Use and the Privacy Policy.

VTLs come in two forms: standalone and integrated. Standalone VTLs are meant to replace traditional tape libraries altogether, and don't offer writes to tape on the back end. The flagship example of this is Sepaton Inc.'s 2100 system. Integrated VTLs like the one made by FalconStor Software Inc., on the other hand, can be intermediate steps in the storage infrastructure, standing behind primary storage as a nearline backup that uses disk for quick restores, but also in front of a physical tape library. Such integrated VTLs do the writes to tape on their own, without the input or awareness of the user's backup software.

It's something users say renders the write-to-tape capabilities of integrated VTLs a risky proposition. FalconStor user Mark W. Stewart, backup and recovery storage administrator for Randolph Air Force Base, said his VTL solved the majority of his backup problems, but said he's still managing his Storage Technology Corp. Powderhorn tape silo separately.

Stewart said his backup software, Hewlett-Packard Co.'s Openview Storage Data Protector 5.5, wouldn't be able to see the tape backups. "I need to do media management through Data Protector," he said. "I can't have it any other way."

Though Stewart said he still felt the pros of FalconStor's product did outweigh the cons, "that did raise an eyebrow for us."

"It could be done," he said, "But they would have to invest a tremendous amount of cooperation between the software developers to make that happen."

Meanwhile, Dan Doherty, IT systems operations manager for the Cambridge Health Alliance, a teaching affiliate of Harvard Medical School, chose the standalone VTL. He said he liked the product's flexibility and enjoys the benefits of backing up to disk over tape, but he also said that he chose Sepaton because it made no pretense of being a middleman between his CommVault Systems Inc. backup application and physical tape libraries.

"If the backup software doesn't know what's going on, that's an exposure," he said. "It would make upgrading or changing our backup software difficult as well. The way the VTLs do the tape copies, there's data back there that's proprietary, including the backup path."

In other words, Doherty's shop uses its backup application to write to tape that is then shipped off site. "So that no matter what's being written to where, our backup software knows about it," he said.

FalconStor spokesman Herman Chin confirmed that the company is working on further integrating its VTL with backup products, but said he was not able to give the time frame, or who the company is working with.

"There are different schools of thought," according to Greg Schultz, analyst with the Evaluator Group. Some may want to get rid of tape in their entire environment, some may want to keep tape in some parts of their environment for archiving purposes, and others may want to keep tape an equal part of backups, using the VTL as a staging area. The latter users, Schultz said, might have difficulty backing up to tape directly from their VTLs.

Added Schultz, "I have to believe it's being looked at by many companies. There are too many benefits than to simply ignore it -- there are always going to be holdouts that aren't going to get rid of tape."

Companies that use a separate media manager inside the VTL to write to tape include: FalconStor.'s VTL; EMC Corp.'s Clariion Disk Library; Alacritus Software Inc.'s Securitus, Maxxan Systems Inc.'s SVT100 and SVT200; and Neartek Inc. Those that leave tape management to the backup application include: Diligent Technologies Corp., Quantum Corp. and Sepaton.
Dig Deeper on Disk-based backup