News
Stay informed about the latest enterprise technology news and product updates.
Ski resort deploys NAS with removable disks
Park City Mountain Resort left behind Veritas NetBackup and tape libraries for a NAS system from Idealstor that sends backup off site on ATA disks.
It had been seven years since Park City Mountain Resort, the location of the central data center for a group of resorts owned by Powdr Corp. of Park City, Utah, had upgraded its backup system. When it came time to finally refresh it, according to Park City director of IT Kenny Lentz, he found a way to eliminate tape even from off-site archiving using ejectable SATA disks with Idealstor's FrankeNAS system.

Download this free guide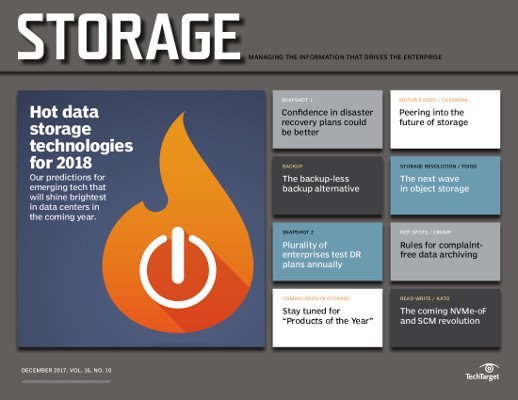 Snapshot of top 2018 backup tech: CDM, complaint-free archiving, ransomware detection vendors
The SearchStorage.com team names the most promising ransomware detection products, 4 rules for complaint-free archiving, how to use copy data management for effective recovery, and more. Download your e-zine copy here.

By submitting your personal information, you agree that TechTarget and its partners may contact you regarding relevant content, products and special offers.

You also agree that your personal information may be transferred and processed in the United States, and that you have read and agree to the Terms of Use and the Privacy Policy.

"Luckily for me, I never experienced any catastrophic failures with tape -- but I did have failures here and there," Lentz said. "It was clear from how long it took to restore even small amounts of data that we didn't want to rely on it in a disaster situation."

While purchasing ATA disks to send off site is more expensive than buying tape cartridges, according to Lentz, "disk prices are still falling. And in the end, I would rather spend the money."

The ski resorts use a group of SQL databases to run several critical applications, including a primary point-of-sale application for transaction processing. The critical databases also include Kronos time and attendance software, and a Great Plains general ledger. The company is also running Exchange.

Some 100 GB to 150 GB of data per day are being backed up to a 1.1 terabtye Windows 2003 server running Idealstor's Ibac data protection software on a five-disk RAID-5 system. The resort keeps two weeks of daily backups on the server, which records only changed data with pointers to the previous week's backup file for unchanged data. Ibac also keeps files in the same format as they appear on directories set up on production clients, so restores can be done with a drag-and-drop.

In turn, the RAID-5 system is connected to a two-drive bay where Park City puts two 250 GB ATA drives to record monthly backups to send off site. Park City will keep 12 monthly backups and a full yearly backup off site in bank vaults and in an Iron Mountain Inc. facility where it also stores tape-based archives.

Previously, the SQL databases were running on Dell Inc. PowerEdge 2550 servers attached to a Dell Powervault 2100 iSCSI array. The company used Veritas NetBackup to write to two Hewlett-Packard Co. SureStore 4080 tape libraries with two drives writing to 40 GB tapes. Currently, Park City has its critical databases running on a failover cluster of Dell PowerEdge 2850 servers backed by an EMC Corp. Clariion CX300 Fibre Channel storage array. The Dell SCSI system remains connected to less critical applications like Microsoft Office. Ultimately, all of the company's data on a total of 20 Dell servers runs through the FrankeNAS for backup -- no tape and no Veritas software.

"We liked the simplicity of the [Ibac] application, compared with NetBackup 10," Lentz said. "With the Veritas, it's just checkboxes and radio buttons forever."

Aside from the higher cost of using disk for off-site backup, the FrankeNAS does have one further potential issue -- expansion. "We built in space for 30% growth," Lentz said.

And if it goes above that?

"We either keep fewer daily backups inside the box or we blow away the RAID system, add more disk and restore the data again," Lentz said. "It depends on what strategy we want to use if we get there."

The NAS market has been heating up of late with a number of startups, like BlueArc Corp., making headway against established players like Network Appliance Inc. But buying from a startup can still be risky. Lentz said the fact that Idealstor has several government contracts helps assure him of the company's stability.

"It's a risk, but for us the benefits outweighed it. I sleep a lot better at night just knowing we're not relying on tape."
Dig Deeper on Disk-based backup