News
Stay informed about the latest enterprise technology news and product updates.
Government agency picks NetBackup over VTL
A user at a recent backup road show seminar says he evaluated VTLs but opted to stick with a disk backup feature included in NetBackup instead.
WALTHAM, Mass. -- Backup expert W. Curtis Preston, analyst with GlassHouse Technologies Inc., was on stage singing the praises of virtual tape libraries (VTL) at the "Storage Decisions Seminar: Backup School Hits the Road" on Wednesday morning, but at least one user said that he'd opted to stick with a feature in his Symantec Corp. NetBackup software called Disk System Storage Unit (DSSU) for disk backup.

Download this free guide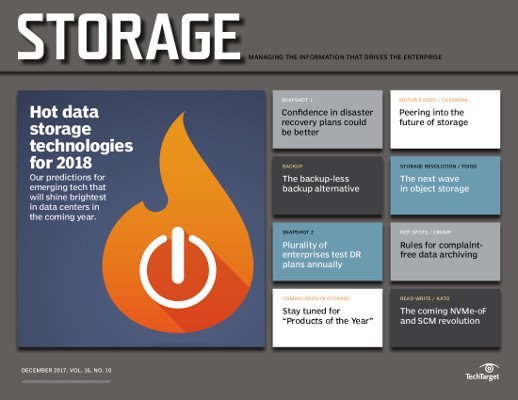 Snapshot of top 2018 backup tech: CDM, complaint-free archiving, ransomware detection vendors
The SearchStorage.com team names the most promising ransomware detection products, 4 rules for complaint-free archiving, how to use copy data management for effective recovery, and more. Download your e-zine copy here.

By submitting your personal information, you agree that TechTarget and its partners may contact you regarding relevant content, products and special offers.

You also agree that your personal information may be transferred and processed in the United States, and that you have read and agree to the Terms of Use and the Privacy Policy.

The user, who asked that neither he nor his company be named because of government security concerns, said that his system does initial backup of a total of 20 terabytes of data from media servers on several network segments of his LAN, using partitions of disk within his StorageTek/LSI Logic Corp. Santricity SAN as disk backup.

"This is a free feature as part of the base NetBackup product," he said. "It does everything we need from a VTL without requiring us to buy a third-party product."

Each media server is assigned a storage unit within the disk backup partition. Each storage unit in turn has a policy set by the storage administrator about when to write the data to tape. When the disk partition fills up, the system automatically overwrites the oldest data in the partition. That primary copy in NetBackup's catalog is then identified as a tape copy that is sent off site with Iron Mountain Inc.

"It's a self-contained system," the user said. "It allows us to send multiple threads of encrypted data over our LAN to a disk system managed 100% under NetBackup's catalog. And if we have any problems with it, we have one point of contact for support in Symantec."

The user said that before deciding to go with the NetBackup system, he "extensively" evaluated VTL products from Neartek Inc. and StorageTek. In addition to concerns about the cost and management of another box in his shop, he said, "It would constitute almost a doubling of our I/O, writing to a VTL and then back to Veritas to write to tape."

The user also said the DSSU method worked better than a VTL would for the TimeSpring Software Corp. continuous data protection (CDP) backup product he uses on some production data.

The user did say that the current system involves some extra backup management, including estimates of the amount of data being sent from each media server. "You do have to be careful right now about how you size the storage units, although Version 6.0 of NetBackup will eliminate a lot of those restrictions," he said.

And he acknowledged that a small corner of his environment using IBM's Tivoli Storage Manager to backup Novell Inc. server clusters could not be included in the system.

"NetBackup has better support for Novell clusters than it used to," he said. "We're trying to get that department to switch over to NetBackup as well, but it's a tough sell."

According to Preston, VTLs are still easier to manage and share among heterogeneous backup tools. He also pointed out that some backup software vendors would charge by the gigabyte to back up to disk but charge per slot or drive to back up to a VTL, making regular disk backup a more expensive proposition for some users, not to mention possibly more complicated.

"All you're doing [with a DSSU type of system] is adding provisioning and management issues to your back end as well as the front end of your SAN," he said.

However, in a Q & A session with the government user, Preston conceded the point that a non-VTL disk backup system would probably handle CDP backup better. And, he said, the way many VTLs address compression "is to back way off on capacity," leaving extra space on virtual cartridges in case things don't match up, which can result in less efficient tape use.

"But," Preston said, "I wholeheartedly believe, especially if you're a larger company, that VTL is the way to go."

"It's a matter of personal preference," the user said. "There are costs and management headaches associated with integrating VTL software with your backup product, duplicating virtual tapes to physical tapes and maintaining catalog consistency, too."
Dig Deeper on Disk-based backup