News
Stay informed about the latest enterprise technology news and product updates.
Law firm ditches tape as primary backup
Winthrop & Weinstine cut hours off its tape backup window and slashed its media costs by $10,000 per year by switching to a D2D2T strategy using Data Domain.
Ditching tape as its primary backup technology enabled Winthrop & Weinstine P.A., an 85 attorney law firm in Minneapolis, to save over $10,000 a year on media costs. It did this by drastically reducing the amount of data it backs up on a daily basis and construct a solid disaster recovery (DR) plan. Craig Wilson, information systems director at Winthrop, talked to SearchStorage.com about how the company achieved this feat and the obstacles it overcame along the way.

What was wrong with your tape backup environment?

Wilson: What was right with it?

Describe your environment at that point in time.

Wilson: We had SDLT tapes in an HP [Hewlett-Packard Co.] tape library plus a terabyte of data on a SAN [storage area network] from Xiotech [Corp.]. One time we got half a terabyte of data on DVDs from a single customer and suddenly our data doubled overnight, so we bought a NAS [network-attached storage] system.

Download this free guide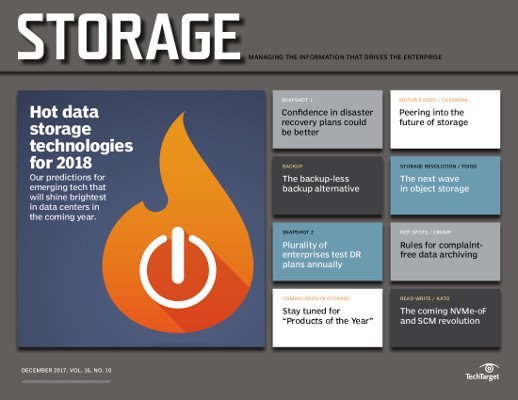 Snapshot of top 2018 backup tech: CDM, complaint-free archiving, ransomware detection vendors
The SearchStorage.com team names the most promising ransomware detection products, 4 rules for complaint-free archiving, how to use copy data management for effective recovery, and more. Download your e-zine copy here.

By submitting your personal information, you agree that TechTarget and its partners may contact you regarding relevant content, products and special offers.

You also agree that your personal information may be transferred and processed in the United States, and that you have read and agree to the Terms of Use and the Privacy Policy.

What backup software do you run?

Wilson: Veritas Backup Exec to back up 35 servers, the majority running [Microsoft] Outlook

What was the biggest problem?

Wilson: The backups were running into the next day during production time. An Outlook database corruption forced us to try and recover from tape, and we discovered that the majority of our tape backups had been failing. The email system was also growing 10 GB in size a month and becoming more unmanageable by the minute.

We had a guy perform a restore once a week to check the tape was good. But this was time consuming to say the least and was taking him away from other projects we had on the table.

So you found tape backups time consuming and unreliable but inexpensive?

Wilson: No, not at all. The robotics system we were using was tremendously costly to buy and then we spent $1,200 a month on tapes.

What options did you have to build a better backup environment?

Wilson: We bought Xiotech three years ago, as it was the only system that offered a boot-from-SAN capability at the price point we could afford. The original plan was to buy a second Xiotech and do off-site replication between the two. But we could never get the product's snapshot feature to work and also [the original Magnitude line] won't be available from 2010, as Xiotech is discontinuing it.

But you wanted remote SAN mirroring?

Wilson: Actually, we realized that the cost of two SANs was really high just to do off-site replication when we don't need to be up and running in one hour. This steered us away from the redundant SAN idea, which we were thinking of deploying using Double-Take Software's replication.

What else did you consider?

Wilson: We looked at EVault Inc. and outsourcing the whole thing, but we wanted the flexibility to move our failover site when and where we wanted it and not be tied to a service provider's facility. [The firm has already moved its new DR appliance twice to take advantage of better bandwidth costs.] We could also have used Backup Exec to perform disk backups, but this slowed the process down. By attaching directly to Data Domain Inc., we cut Backup Exec out of our environment.

Your final choice was the restorer appliance from Data Domain with the new software option for WAN vaulting. How's that working?

Wilson: Data Domain's deduplication technology means that our backup data sets are effectively shrunk by 99%, to a size where WAN vaulting is affordable. The software reduces the data set by about 20 to 1, meaning that for every 20 terabytes (TB) of data you only actually store 1 TB.

Backups are completed by 6 a.m. in plenty of time before the working day. The guy who was checking on the backups on a weekly basis is now free to work on other projects, although he still checks the tapes that are sent off site once a month to the vault.

How much data do you keep online?

Wilson: Four weeks worth.

You're still sending tape off to a vault, so you haven't eliminated it from your environment completely?

Wilson: I still believe you have to have a tape backup of that critical data kept off site, just for that special occasion when you might have to recover all of your data due to some catastrophic incident.
Dig Deeper on Disk-based backup