News
Stay informed about the latest enterprise technology news and product updates.
NetApp VTL tightens up tape tracking
NetApp is integrating its virtual tape library with backup applications to keep better track of off-site tapes.
Network Appliance Inc. (NetApp) has announced that it is working with Symantec Corp., CommVault Systems Inc., BakBone Software Inc. and SyncSort Inc. to integrate a unique feature of its NearStore virtual tape library (VTL) with these backup applications.

Download this free guide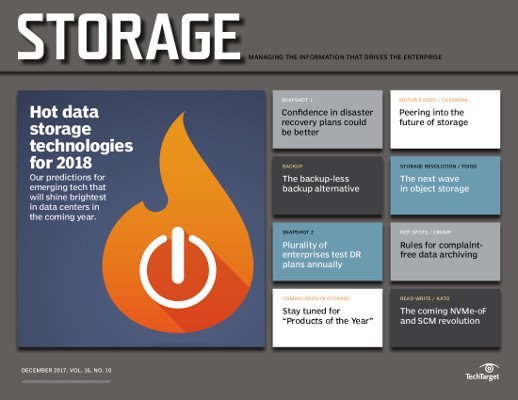 Snapshot of top 2018 backup tech: CDM, complaint-free archiving, ransomware detection vendors
The SearchStorage.com team names the most promising ransomware detection products, 4 rules for complaint-free archiving, how to use copy data management for effective recovery, and more. Download your e-zine copy here.

By submitting your personal information, you agree that TechTarget and its partners may contact you regarding relevant content, products and special offers.

You also agree that your personal information may be transferred and processed in the United States, and that you have read and agree to the Terms of Use and the Privacy Policy.

Called Shadow Tape, the feature allows backup administrators to store a "hidden" copy of a backup set on NearStore VTL even after the backup application has called for it to be written to tape.

Normally, the backup application calls for a backup to be copied from NearStore VTL to the physical tape library by issuing an "eject" command. The backup set is then deleted -- "or the backup application would get confused," according to Krish Padmanabhan, general manager for NetApp's heterogeneous data protection business unit.

But backup administrators like to keep backup sets on their VTLs for as long as possible, even if a copy of the backup is already on an off-site tape, because they want to be able to recover quickly, he said.

With Shadow Tape, "instead of deleting the virtual tape, it's merely hidden," Padmanabhan said, and available in case it is needed for a restore. At the same time, "the backup catalog correctly reflects that the physical copy is still offsite."

Shadow Tape has been around since NearStore VTL was first introduced, but without the application integration, hidden backups could only be accessed manually. "Backup administrators don't like manual processes," Padmanabhan noted, "they like things to be automated." Symantec et al. have already begun doing the integration work, and Padmanabhan expects it to be completed in the second half of this year.

Other backup software providers beyond the four partners being announced today are also welcome to integrate their applications with Shadow Tape. To that end, NetApp is offering a freely available Shadow Tape application program interface (API). Notably absent from the list of NetApp's partners are EMC Corp.'s Legato NetWorker and IBM's Tivoli Storage Manager.

It's unclear how many NearStore VTL users there are to take advantage of this new feature. NearStore VTL began shipping in April, and joins an already crowded field of VTL players including EMC with its Clariion Disk Library, FalconStor Software Inc., Quantum Corp., Advanced Digital Information Corp., Sun Microsystems Inc./StorageTek, Sepaton Inc., Diligent Technologies Corp. and others.

Nevertheless, integration with backup applications is indeed an important direction in which to take VTLs, according to Rob Stevenson, managing director of research at TheInfoPro. Through its research, TheInfoPro has identified keeping track of tapes across VTLs and physical tape libraries as one of the biggest "pain points" experienced by backup administrators.

Pushing for tracking tapes out to the backup application certainly makes sense; "I've been calling for this for years," said W. Curtis Preston, vice president of data protection services at Glasshouse Technologies Inc. The current approach -- pushing backup sets from the VTL out to physical tape via the backup server -- "is a waste of valuable cycles," he added. "No one disputes that having the VTL write to a physical tape library is a good idea; what they dispute is when the backup software doesn't know anything about it."

Still, questions remain about Shadow Tape. Symantec, in particular, had reportedly been working on a generic implementation of this idea, and it is unclear whether its work with NetApp supplants those efforts, or whether "NetApp is just jumping the gun," Preston said.

Furthermore, the announcement Preston would really like to have seen would be support for deduplication -- compression technology that can allow orders of magnitude more backup data to be stored online. "That's a more important problem than the one they've just announced," Preston said. It's the difference between a VTL being affordable or not."

VTL vendors that support deduplication today include Sepaton, Diligent and FalconStor.
Dig Deeper on Disk-based backup