News
Stay informed about the latest enterprise technology news and product updates.
IDC: VTL market to hit $1.4B by 2011
IDC projects huge growth for VTL market; Adaptec offers cheap iSCSI target software; BlueArc staves off NetApp patent infringement claims.
Weekly compilation of storage news: IDC: VTL market to reach $1.4B by 2011
IDC reported this week that the worldwide virtual tape library (VTL) market will double in value over the next five years, reaching $1.4 billion by 2011. Total VTL system terabytes (TB) shipped will increase rapidly from 99,325 TB in 2006 to 690,082 TB in 2011, a compound annual growth rate of 47.4%. Open system VTL products will drive market growth and eclipse enterprise mainframe VTL market value in the year ahead, the report said. Companies included in the report were: Copan, EMC, Fujitsu-Siemens, HP, IBM, Network Appliance, Overland Storage, Quantum (combined with ADIC), Sepaton and Sun.

Adaptec offers cheap iSCSI target software
Adaptec Inc. announced software, dubbed OnTarget, which turns industry-standard servers into an IP storage system for small businesses. It supports direct attached storage (DAS) and storage area networks (SAN) from the same box, as well as SCSI and SATA drives. Systems integrators, including Izon and Variel have already signed up as resellers.

Download this free guide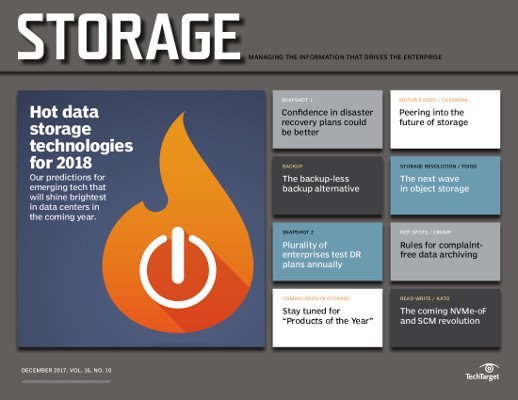 Snapshot of top 2018 backup tech: CDM, complaint-free archiving, ransomware detection vendors
The SearchStorage.com team names the most promising ransomware detection products, 4 rules for complaint-free archiving, how to use copy data management for effective recovery, and more. Download your e-zine copy here.

By submitting your personal information, you agree that TechTarget and its partners may contact you regarding relevant content, products and special offers.

You also agree that your personal information may be transferred and processed in the United States, and that you have read and agree to the Terms of Use and the Privacy Policy.

BlueArc staves off NetApp infringement claims
BlueArc Corp. has won its patent battle against Network Appliance Inc. (NetApp), which claimed the startup infringed on three NetApp patents. This week the Court of Appeals for the Federal Circuit in Washington, D.C., affirmed a decision by U.S. District Judge Marilyn Patel that the patents were invalid.

NetApp purchased Auspex, a bankrupt NAS vendor, for $9 million in 2003, with what appears to be the intention of asserting Auspex's patent portfolio against other file server companies, according to BlueArc. NetApp, represented by Henry Bunsow from Howrey, filed for patent infringement two weeks after it bought the defunct file server firm.

Had an injunction been issued in the case, it would have effectively shut down BlueArc's operation. Judge Patel dismissed the case and determined the patents invalid in July 2005. NetApp hired Matt Powers from Weil Gotshal to take up the appeal. After oral arguments, the Court of Appeals dismissed the case without a written opinion. NetApp declined to comment on the result.

Siafu launches cheap tape encryption
Siafu Software LLC, a provider of low-cost encrypted iSCSI systems has announced Siafu Sypher encryption appliances, a series of SAN appliances that securely compress data and encrypt tapes destined for offsite locations. The Sypher inline appliance costs $6,995 and is a handy little box for "people that want to encrypt tapes but not spend $40,000," said Siafu founder John Mates.

SNIA takes on software development
The Storage Networking Industry Association (SNIA) said that it plans to increase its charter to include software development projects. Current projects underway that will receive renewed support include SMI-S; eXtensible Access Method (XAM) and the Common Information Model (CIM) protocol tester.

Ravens hire AmeriVault
The Baltimore Ravens have signed a new player to defend its data. Challenged by time-consuming and resource-intensive tape backup, the team has devised a new game plan for data protection-disk-to-disk online backup. To achieve this, the Ravens selected online backup by AmeriVault Corp., a provider of online data backup, offsite storage and recovery services.

Imation introduces rugged storage suitcase
Imation Corp. has introduced a storage case specifically designed to protect high-capacity data storage tapes during transportation. Rugged and ultra durable, the Imation DataGuard Transport and Storage Case has been tested to outperform other leading storage cases, with two-to four-times the shock protection of other cases, the company claimed.
Dig Deeper on Disk-based backup