News
Stay informed about the latest enterprise technology news and product updates.
Defense agency hooks up 384 TB of disk backup
The Defense Contract Management Agency is betting that data deduplication will be ready to help it deal with disk backup growth at its next technology refresh in 18 months.
The Defense Contract Management Agency (DCMA), which manages $850 billion in contracts for the U.S. Department of Defense, boasts 11,000 employees worldwide, two major data centers in Boston and Carson, Calif., and 30 remote sites in 14 countries, from Afghanistan to Alexandria, Va. According to its chief of network design, Peter Amstutz, the department is betting that it will become more efficient to store its 384 terabytes (TB) of backup on spinning disk over the next year or so.

Download this free guide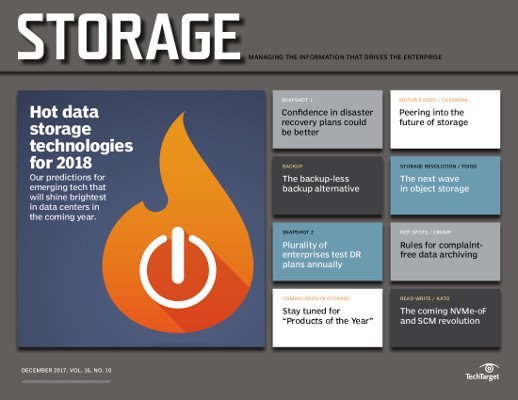 Snapshot of top 2018 backup tech: CDM, complaint-free archiving, ransomware detection vendors
The SearchStorage.com team names the most promising ransomware detection products, 4 rules for complaint-free archiving, how to use copy data management for effective recovery, and more. Download your e-zine copy here.

By submitting your personal information, you agree that TechTarget and its partners may contact you regarding relevant content, products and special offers.

You also agree that your personal information may be transferred and processed in the United States, and that you have read and agree to the Terms of Use and the Privacy Policy.

DCMA, according to Amstutz, is coming off a two-year project to consolidate 16 TB of data from remote sites around the country into the two main data centers in Boston and Carson. At the same time, the department has begun storing all its backups on ATA disk within R200 systems from Network Appliance Inc. (NetApp).

The department has 32 TB of storage area network (SAN) storage and 24 TB of network attached storage (NAS), all from NetApp, but it multiplies exponentially into a total of 384 TB of disk-based backup because of the number of copies the department makes for data protection purposes. Half of the department's backup infrastructure is taken up with local backups, but 25% is taken up with weekly full backups that are mirrored to the other site. The remaining 25% of the nearline storage is taken up by the mirrored weekly full backups from the other side of the country.

Despite all the spinning disk he has to manage on the floor of his data centers, Amstutz said he's not worried about the power and cooling associated with the inevitable storage growth from storing everything on disk forever.

"We actually planned this out last year because it's a lot more efficient in the long run," Amstutz said. "There's more development on disk as a backup medium than tape -- things like dedupe and WAFS. The efficiencies on disk will increase exponentially over the next few years."

Dedupe predictions

Amstutz said the department is not currently using any deduplication product, as there were none available when it started the project. However, it's running Riverbed Technology Inc.'s Steelhead appliances for WAFS to serve remote sites.

"We've got 18 months till the next technology refresh," Amstutz said. "We have the luxury of waiting for things to settle down a little bit."

Amstutz also said he isn't counting on getting dedupe from any of his current vendors (although he doesn't rule out that possibility either). But, he said, he thinks the best way to deploy dedupe has yet to be marketed.

"I think by the time we're ready to deploy it, it will come from third-party in-line appliances, like Decru Inc.'s encryption boxes," he said.

And while the storage itself has been consolidated onto NetApp's boxes, Amstutz said the department has purposefully avoided consolidating storage software products. For replication between the two data centers, the department is using NetApp's SnapMirror, but for the nearline disk repository, the department is sticking with CommVault's Galaxy Backup and Recovery, and QiNetix ServiceManager.

"It's really key to us to keep independence between hardware and software," Amstutz said. "A lot of times bundled software from hardware vendors tends to lock you in -- we have had the situation of becoming dissatisfied with a vendor and wanting to rip them out of our shop, and it was that much harder because we had to change our software applications as well."

CommVault comes into play

Amstutz said DCMA picked CommVault's software from among the major players, including Symantec Corp.'s Veritas NetBackup, Legato and CA Inc.'s Brightstor because "at the time they had the best integration with Windows systems, specifically Active Directory and Exchange." For example, he said, the CommVault software can allow for backups and restores of organizational units within Active Directory, a container that groups user accounts together.

Amstutz also called the ServiceManager interface "one of the best offerings out there" because it allows him to view the entire backup infrastructure, around the world, through one screen. More importantly, he said, it's not a requirement within the CommVault application to have the enterprise level up and running for local backups to succeed.

"So if one of my data centers is down, my remote site backups will still succeed, even if they can't talk to the 'mother ship,' " Amstutz said.

The choice of CommVault in particular also fell into line with the software/hardware independence that DCMA values, Amstutz said. "It's nice to be working with a company that has a singular focus," he said. "It's nice not to be sold the other suite when you just want one thing."

The other side of that coin, he said, is that he's still waiting for better integration between CommVault's interface and NetApp's SnapMirror. CommVault can currently manage the backups to disk and their migration to the nearline tier through one interface, he said; CommVault could also do better GUI integration with VMware Consolildated Backup, according to Amstutz.
Dig Deeper on Disk-based backup