News
Stay informed about the latest enterprise technology news and product updates.
User puts NEC grid backup to the test
NEC HydraStor beta tester wants to see it certified with more archiving vendors but will digitize thousands of paper records and support disk backups with the new product.
NEC Corp. of America announced that its new HydraStor grid-based disk backup appliance is finally generally available as of this week. One early adopter of the product said he's already planning to use the system to replace his backup environment and create an archive for paper records in one device.

Download this free guide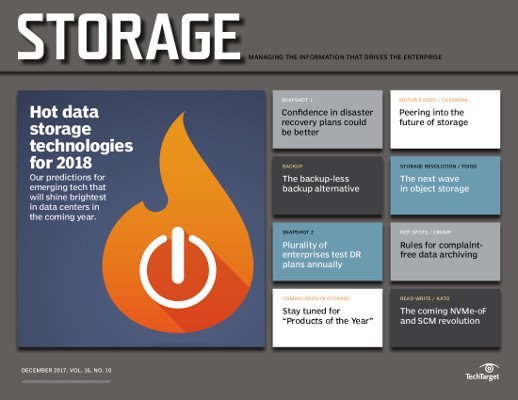 Snapshot of top 2018 backup tech: CDM, complaint-free archiving, ransomware detection vendors
The SearchStorage.com team names the most promising ransomware detection products, 4 rules for complaint-free archiving, how to use copy data management for effective recovery, and more. Download your e-zine copy here.

By submitting your personal information, you agree that TechTarget and its partners may contact you regarding relevant content, products and special offers.

You also agree that your personal information may be transferred and processed in the United States, and that you have read and agree to the Terms of Use and the Privacy Policy.

Anderson Center for Autism in upstate New York became a beta tester for HydraStor in February. At the time, it had two big problems: First, it had been filling a tractor trailer and several basements on its campus with paper records for years. Workers needing to review the records often have to trudge through the snow in the winter to get to the trailer and can spend hours searching for the right document. Second, the school had been working with a backup environment originally built four years ago, consisting of two Dell Inc. digital linear tape (DLT) drives connected to direct-attached primary

storage on Dell file servers. For 1 terabyte (TB) of data, the backup window had reached 78 hours.

Over the past several years many users in this position have moved first to a storage area network (SAN) for primary storage and then progressed to disk-based backup. However, in this case, Gregg Paulk, the school's IT manager, said updating backup and archives took priority over replacing primary storage. "We're concerned first with getting our data protected," he said.

Paulk evaluated several products, including virtual tape libraries (VTL), archiving software and disk storage from companies including Gresham Enterprise Storage, Archivas Inc. (now a part of Hitachi Data Systems [HDS]), EqualLogic Corp. and EMC Corp. He said that the HydraStor's grid design was the deciding factor.

Being able to expand the system by adding another hardware node, thereby automatically redistributing data over the new capacity, will come in handy as his storage at least quadruples over the next year as a result of the archiving project, Paulk said. The data deduplication included as part of the system will also be a boon when it comes to the archiving project, he added, noting, "We've seen about 17-to-1 compression in our tests so far, and that will be key since it's such an unknown at this point how much data we're going to have to archive."

The grid, which supports an NEC patent pending process called Distributed Resilient Data (DRD) for automatic load balancing and parity protection across hardware nodes, has also been ideal for the way the Anderson School manages backups. A network administrator handles the nightly backups on each server using Symantec Corp.'s Backup Exec, but Paulk is responsible for the HydraStor hardware.

"Now, half the system could go down and [the network administrator] would never know it," Paulk said. "I would just get an email letting me know I should fix it." He said that the failover between nodes was the first thing he tested on the system, unplugging two of the four nodes in his test environment while a backup was running and watching the backup complete successfully.

Still, there were rough spots getting a new product into a shop with a lot of legacy equipment, not the least of which was getting HydraStor to work with Backup Exec. At the time the beta test began, the school was still using version 10d of the backup software and had to make the move to 11d to support HydraStor. Sticking with 10d would have required manually changing the default block size on the data the software was sending to HydraStor, while version 11d will do so automatically, he said.

"[The upgrade] was something we were planning to do anyway," Paulk said. However, as he begins considering archiving and electronic scanning vendors for the school's archiving project, he said he'd like to see NEC further develop its partnerships with software vendors. "I'd like to see archiving continue to evolve and get some of the big players certified."

So far, according to NEC officials, the product has been tested with Symantec Enterprise Vault and EMC DiskXtender. The product also supports NFS and CIFS for access from third-party applications.

There are features on the box Paulk hasn't yet touched, such as the ability to customize the level of data protection within the box. "I didn't want any part of that level of management," he said, adding that NEC engineers logged in remotely to his system to adjust the protection levels. "During beta tests, they were still developing and tweaking it."

In an email to SearchStorage.com, Karen Dutch, NEC's general manager for advanced storage products, wrote, "Anderson [School] was the first externally deployed beta system. . . .During the early beta stages our engineers did log into their … system to check on the statistics, such as data reduction and to adjust the DRD level and test different resiliency settings … the product that will [be generally available this week] does allow users to set their own DRD level."

While NEC is marketing HydraStor for use cases much like Paulk's, emphasizing the advantages of backup and archiving in one box, some observers have been skeptical that users would be willing to mix the two types of data. Maybe in a high-end data center was Paulk's take, but for him, the consolidation is what's important. "Economics are our main driving factor."
Dig Deeper on Disk-based backup