News
Stay informed about the latest enterprise technology news and product updates.
Sepaton VTL scales to 1.2 PB
Sepaton makes an enterprise push with its new hardware VTL platform, bolstered by DeltaStor deduplication technology and its forthcoming remote replication application.
Sepaton Inc. is making its virtual tape library (VTL) platform more scalable with a higher-capacity version for large enterprises.
The S2100-ES2 Series 750 VTL, available today, scales to 1.2 PB of uncompressed capacity with 16 Scalable Replication Engines (SRE) and offers 4 Gbps and RAID 6 support. The 750 replaces the Series 500, which was a 2 Gbps box and scaled to eight SREs.

Download this free guide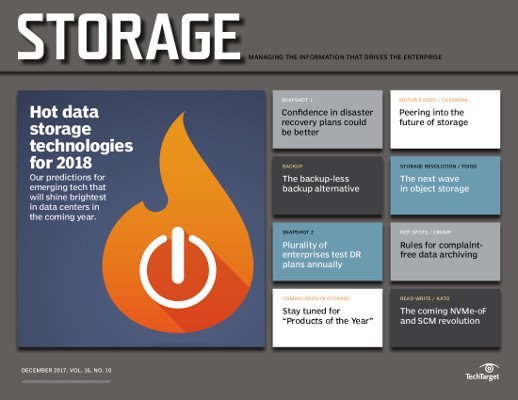 Snapshot of top 2018 backup tech: CDM, complaint-free archiving, ransomware detection vendors
The SearchStorage.com team names the most promising ransomware detection products, 4 rules for complaint-free archiving, how to use copy data management for effective recovery, and more. Download your e-zine copy here.

By submitting your personal information, you agree that TechTarget and its partners may contact you regarding relevant content, products and special offers.

You also agree that your personal information may be transferred and processed in the United States, and that you have read and agree to the Terms of Use and the Privacy Policy.

The idea is to be able to back up more data with one box, reducing footprint and making the emerging deduplication technology more effective for disk-based backup.

"The way these platforms scale is a differentiator," said Enterprise Strategy Group analyst Heidi Biggar. "As the amount of data being backed up to disk increases, the capacity becomes more and more important. The more scalable a system is, the less hardware needs to be managed, the less floor space is needed and the lower the power and cooling."

Still, any talk of VTL hardware these days is overshadowed by the issues of data deduplication and its disaster recovery partner remote replication. Sepaton is pushing its DeltaStor deduplication application with the new VTLs and expects to have its Site 2 remote replication ready to go in the first quarter of next year.

One Sepaton DeltaStor customer said he's looking forward to the combination of deduplication and remote replication.

"The ability to take deduplication and mix it with replication technology so I can replicate deduplicated data offsite between VTLs -- that has my interest," said Tim Sander, vice president of IT for Applied Systems Inc., which develops broker management systems for insurance agencies. Applied Systems runs DeltaStor on Sepaton S2100-500 systems in three sites.

Biggar said she expects the combination of deduplication and remote replication to interest lots of other users too.

"Dedupe and replication will become requisite features of disk-to-disk systems," Biggar said. "The ability to dedupe data locally and then across remote sites at the data center will be important going forward. It can lessen the load on the WAN considerably, while ensuring that remote data is adequately protected."

Sepaton executives said they hope the increased performance with the larger VTLs will push deduplication into the enterprise and give their VTLs a competitive edge. The leading player among enterprise VTL products, EMC Corp., does not yet offer deduplication with its disk library product. So far, vendors have had a hard time convincing enterprise users to try data deduplication.

"I would say the DeltaStor adoption rate is slower (in the enterprise), but I think by next year 75% of enterprise customers will use deduplication," said Sepaton marketing vice president Asim Zaheer. "They're interested. They're buying into the hype, but their evaluation cycles are longer."

DeltaStor early adopter Sander said he likes Sepaton's approach to deduping data. DeltaStor does the deduping post process rather than inline (i.e., after the data is backed up rather than before the data is written to disk). DeltaStor also uses forward referencing instead of reverse referencing. Sepaton executives claim that forward referencing makes restores quicker by keeping the most recent backups intact because it saves the most recent blocks and compares it to older data.

"When it comes to deduping my data, I want to make sure it's all there," Sander said. "Post processing is a lot less risky because the copy is written to the VTL in a nondeduped state. I know when I copy that to tape it is exactly the way it came off the source."

As for his deduplication ratio, Sander said he gets about 80 to1 on database data. His full backups are about 9.5 TB, and his incremental backups through the week total about another 12 TB to 14 TB.

Sepaton also has a rack-ready version of the 750, which scales to 30 TB and is limited to one SRE. Pricing starts at $59,000 for the rack ready version and $102,000 for the full version.
Dig Deeper on Disk-based backup