News
Stay informed about the latest enterprise technology news and product updates.
Storage Outlook '08: Improving disk-based backup
A senior storage architect tells why his 2008 priorities are disk-based backup and better reporting capabilities, and why he's not considering 8 Gbps Fibre Channel or storage virtualization tools.
Joe Meyer, senior storage architect at Level 3 Communications LLC, manages petabytes of storage. In his storage environment, performance is king, especially for high-volume transaction processing of structured data.

Download this free guide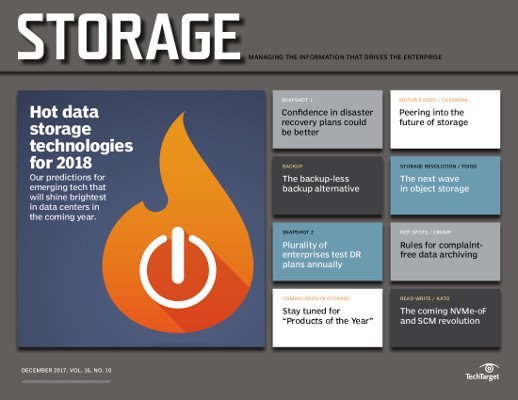 Snapshot of top 2018 backup tech: CDM, complaint-free archiving, ransomware detection vendors
The SearchStorage.com team names the most promising ransomware detection products, 4 rules for complaint-free archiving, how to use copy data management for effective recovery, and more. Download your e-zine copy here.

By submitting your personal information, you agree that TechTarget and its partners may contact you regarding relevant content, products and special offers.

You also agree that your personal information may be transferred and processed in the United States, and that you have read and agree to the Terms of Use and the Privacy Policy.

Meyer has a good idea which technologies he'll be evaluating in 2008: disk-based backup, and improved monitoring and reporting. He also knows what he won't be looking at: 8 Gbps Fibre Channel and storage virtualization products. In the following interview with SearchStorage.com, Meyer assesses the impact of the storage projects he oversaw in 2007 and discusses his storage plans for 2008. Note: Meyer uses products from one of the major three-letter vendors, but is prohibited from disclosing which vendors he works with.

SearchStorage.com: What was your biggest storage project in 2007? What problem did it solve for you?

Joe Meyer: We added disk as a target for backups in an effort to boost mean time to restore (MTTR) and to keep up with the change rates on our larger databases.

SearchStorage: Which technology was most useful to you this year?

JM: It wasn't one specific technology, but Microsoft SQL Server 2005, with an OLAP server, helped make drastic improvements in how we manage storage. The cube [Ed. Note: An OLAP cube arranges relational data into 'cubes' for more accurate analysis of transactions]. We call it the 'AllSpark' -- that's a Transformers reference. It improves the performance of the reporting, including ad hoc reporting, and enables performance data and inventory data to be presented in one screen and one report.

SearchStorage: Which do you think was the most overrated technology in 2007: virtualization, data deduplication, disk-based backup or iSCSI storage?

JM: iSCSI. The price points vendors talk about are all future-looking. In reality, today Fibre Channel is fairly close in price, even comparing 1 Gbps to 4 Gbps Fibre Channel products.

And block-level SAN virtualization is at best a Tier 2 type of service provider. There are no Tier 1 solutions. I need a Tier 1 class of service before I can even start to entertain the idea of virtualization. I like the concept [but] not the implementations to date.

By Tier 1 I mean not only the performance of the device itself, but the ability to perform all the functions I would normally perform with my Tier 1 arrays, specifically when it comes to setting small stripe depths on disk for performance on our databases. Most of the tools out there still have preset stripe depths or the vendors say that type of management should be done at the array level. I'm still after that original storage virtualization dream -- I want one device, one single pane of glass that I could use to manage my entire environment. I'm even more jaded about that happening after kicking the tires on a couple of tools, though.

SearchStorage: What technology was most overlooked?

JM: Some of the new SRM [storage resource management] tools are starting to look interesting, but none of them are a 'real' capacity planning tool yet. Most of them report on allocation, but not real utilization.

What's your most important storage project for 2008?

JM: Spend as little money as possible? Is that an option? Kidding aside, completing the rollout of disk-based backup and augmenting the feature sets in our in-house SRM tool, the OLAP cube.

What technology will be most useful for accomplishing your next goals?

JM: 1 TB drives and some books on the MDX language required to report on data that is dimensionalized, i.e., relational data.

SearchStorage: What would you like to see happen in the storage market in 2008?

JM: I hope that the vendors that have gotten new technology via acquisition are able to integrate the new features and functions at a deeper level. Not just a marketing-glossy level of integration, but in ways that provide real business value. Better technology interfaces, maybe even the use of some of the standards that are only paid lip service.

SearchStorage: Vendors will be coming out in earnest next year with 8 Gbps Fibre Channel and 10 GigE products and pushing FCoE. Any of those networking technologies of interest to you?

JM: I'm already using 10 GigE for data center to data center connectivity, but I don't have the need for most of these technologies inside the data center. FCoE may have potential, but only in the case of building a new data center.

SearchStorage: What storage technologies are you evaluating for 2008?

JM: Tier 0 – solid-state disk for added performance.

SearchStorage: What storage market story did you follow with the most interest this year?

JM:The Sun vs. NetApp story would be at the top.
Dig Deeper on Disk-based backup