News
Stay informed about the latest enterprise technology news and product updates.
EMC enters storage SaaS space with hosted backup
EMC unveils its data backup Software as a Service product, Mozy Enterprise, along with a mystery architecture called Fortress.
EMC Corp. is entering the storage Software as a Service (SaaS) space with the introduction of a hosted data backup service for Windows workstations and small servers and the launch of a mysterious infrastructure to support it.

Download this free guide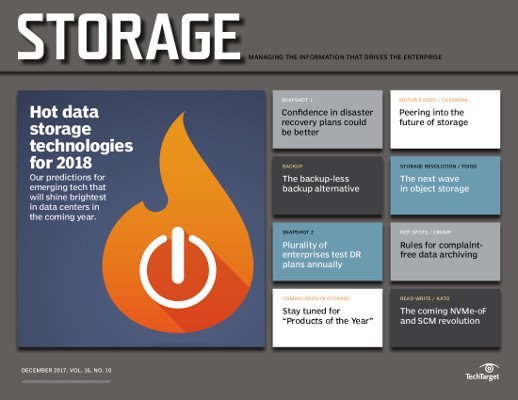 Snapshot of top 2018 backup tech: CDM, complaint-free archiving, ransomware detection vendors
The SearchStorage.com team names the most promising ransomware detection products, 4 rules for complaint-free archiving, how to use copy data management for effective recovery, and more. Download your e-zine copy here.

By submitting your personal information, you agree that TechTarget and its partners may contact you regarding relevant content, products and special offers.

You also agree that your personal information may be transferred and processed in the United States, and that you have read and agree to the Terms of Use and the Privacy Policy.

EMC has developed a new version of the Mozy backup service it acquired from Berkeley Data Systems Inc. on Oct. 4. The new version, Mozy Enterprise, is intended for large numbers of Windows workstations or small servers, but not for enterprise data backup. Mozy Enterprise allows administrators to push out Mozy software agents to hundreds or thousands of clients using deployment tools such as Microsoft's Systems Management Server (SMS).

EMC has also baked in enterprise-level security features from RSA Security Inc. with Mozy Enterprise, including authentication, integration with Active Directory and key management services. Berkeley Data's existing Mozy Pro product includes encryption, but not key management, centralized deployment options or data "seeding."

Under the data seeding option, Mozy Enterprise customers can buy a 2 TB USB drive from EMC at cost for the first -- and usually largest -- backup, and ship it back instead of trying to upload data over a broadband Internet connection. Data for large restores can also be sent out by EMC the same way.

EMC's secret Fortress

Mozy Enterprise is the first application that EMC offers as a service, but there will be more, according to Roy Sanford, vice president of marketing and alliances for EMC's new SaaS division. EMC has also started a new partner program for service providers that want to offer Mozy, and has signed on Verizon Business as its first partner. To further support its storage SaaS push, EMC has revealed a new infrastructure called Fortress, but it is keeping the details under wraps.

Sanford said that Fortress is an architecture comprised of hardware and software, one that's all EMC-owned IP -- "a blending of Berkeley Data Systems, EMC and off-the-shelf components." Fortress has been in stealth for the past year, and Sanford described it as a "highly scalable infrastructure for the service provider market," including a "service provider operating system" that allows it to support massive numbers of concurrent users.

Industry sources said that Fortress is the clustered storage hardware and software – code-named Hulk and Maui -- that EMC talked about at the company's Innovation Day in November. Sanford wouldn't say which EMC products make up Fortress, but said, "We will consider Hulk and Maui when those products become available."

Whither Avamar?

With Mozy Enterprise, EMC has beaten enterprise backup rival Symantec Corp. to the punch in terms of delivering a hosted data backup offering. But analysts point out that the introduction of Mozy Enterprise further complicates EMC's already overstuffed data protection portfolio. "EMC's backup technologies are addressing multiple audiences," said Enterprise Storage Group analyst Lauren Whitehouse. "It's not always clear what fits with which target customer."

Mac client on the way

According to Walter Petruska, information security officer at the University of San Francisco, the school is in the midst of rolling out Mozy Pro to some 1,000 laptops and desktops, and five departmental servers. Petruska said he will evaluate the Enterprise version, but is currently focused on finishing the deployment of Mozy Pro. "Once we get this rolled out, we are very interested in upgrading," he said. "With 1,000 workstations, managing our backups will be a lot easier because of the Active Directory integration."

Petruska said the most exciting feature of Mozy has not been released yet: a Mozy Pro Mac client. The university has been beta testing the Mozy Home Mac client, which is now on version 0.9, since early last year.

"We went on the hunt for a single solution which provided both PC and Mac backup, and Mozy popped up," Petruska said. "We went from there." Other data backup SaaS vendors said they were working on Mac clients, but wouldn't release even alpha code at the time, he added.

If a Mac client is released for Mozy, it could be part of a long-awaited answer to questions about the fate of EMC Retrospect, which has been languishing since last year. However, there are indications that Retrospect could still resurface. "Retrospect is still alive and well," Whitehouse said. "They've hired back some engineers that left when the product group was streamlined. Retrospect is the backup software in the homebase/lifeline consumer product too."
Dig Deeper on Disk-based backup