News
Stay informed about the latest enterprise technology news and product updates.
Disk-based backup continues gaining steam
Many who work in the field of data protection will attest that 2006 was one of the better years that they have seen in a long time.
Long simmering data protection technologies like virtual tape libraries (VTLs) burst onto the scene with a vengeance, dramatically easing their long-term backup and restore pains. Beneath the covers, new RAID technologies, like RAID-6, gave SATA disk the boost it needed in availability and reliability. This boost gave enterprises the confidence to protect their data for an increasing number of applications using SATA drives. But now, with 2006 nearly in the books, other data protection technologies are percolating in the background and should start to make their presence felt in 2007.

Download this free guide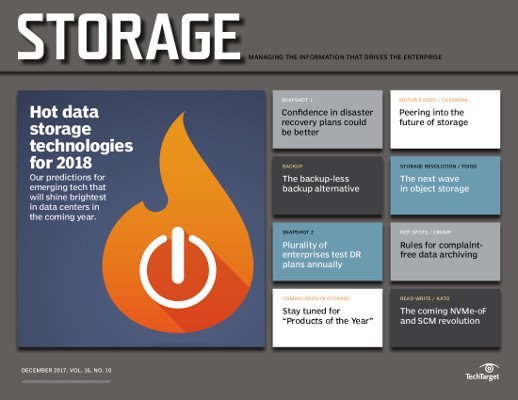 Snapshot of top 2018 backup tech: CDM, complaint-free archiving, ransomware detection vendors
The SearchStorage.com team names the most promising ransomware detection products, 4 rules for complaint-free archiving, how to use copy data management for effective recovery, and more. Download your e-zine copy here.

By submitting your personal information, you agree that TechTarget and its partners may contact you regarding relevant content, products and special offers.

You also agree that your personal information may be transferred and processed in the United States, and that you have read and agree to the Terms of Use and the Privacy Policy.

VTLs gained corporate acceptance in 2006, but in 2007 users will see further refinement in this technology. Most users that I talk to love disk backups, but now that they have solved their immediate day-to-day tactical problems of failed backups and restores, they have freed up sufficient time to think about their corporate data protection strategy from a broader perspective. As they do so, they are finding that VTLs contain shortcomings in two key areas -- inability to scale and data portability.

VTL vendors are already laying the groundwork to address both of these two problem areas in 2007. One topic that is getting a lot of attention is data deduplication, which can deliver data compression rates of 20 to1 or more. This gives enterprise VTLs the infinite capacity users were accustomed to seeing with tape. Data reduction also enables the cost-effective replication of data offsite since users need to send less data over existing WAN connections.

However, it appears most shops are at least a couple of years out from adopting deduplication technology. Many users are still adjusting to backing up their data to disk, so they still view data deduplication more in the realm of science fiction than science fact. Though deduping will continue to gain momentum in 2007 and be a good fit for certain applications, I doubt it will set the world on fire like some expect.

Removable disk cartridges for VTLs are poised to take off in 2007. Major storage vendors seem to forget that the backup problems small and midsized businesses (SMB) experience are just as painful as the ones enterprises have, so they rarely receive the same level of attention. Removable disk cartridges, such as those manufactured by Prostor Systems Inc. and resold by Tandberg Data and Dell Inc., address some of the major concerns that SMBs have. They are lower in price than enterprise VTLs; provide the performance boost in backups and restores that SMBs are looking for; offer adequate levels of reliability and, because they are removable, they allow users to handle them and physically take them offsite. This negates the need to introduce another VTL offsite to serve as a replication target.

Another key technology that should come to fruition in 2007 is the increased integration of data replication, continuous data protection and backup software products. Each of these tools solves different but distinct problems in the protection of data. Acquisitions by the major storage players in the last six months would indicate that major changes are inevitable in this space in 2007.

In 2006 alone, CA Inc. gobbled up XOsoft Inc. and their WANSync and Enterprise Rewinder software EMC Corp. acquired Kashya Inc. and its RecoverPoint software and, in just the last few weeks, Revivio Inc. was swallowed up by Symantec Corp. and Topio Inc. become part of Network Appliance Inc. (NetApp). The technologies of each of these startups were fairly solid before these acquisitions but now, under the software management umbrellas that these larger companies can offer, expect these products to appear on a PowerPoint from your local sales rep sometime soon.

Much of the impetus behind this trend toward integrating these different types of replication software for data protection is the continuing free fall in the price of disk. While the drop in disk prices will continue unabated in 2007, it is giving companies the opportunity to create anytime, anywhere recovery for almost any application. With disk's varying price points and tiers, organizations can now use different data replication schemes to create numerous disaster recovery configurations that meet nearly any application price point.

The market opportunity that these data protection software vendors hope to capitalize on is to create a central console that manages and administers these different data replication software products. This will give corporations the ability to offer the appropriate level of data replication for whatever an application's disaster recovery scenario calls for, at a price point that will not break the bank.

The year 2006 is closing on a high note. Corporations are starting to solve their long-time tactical data protection problems. This opens the door for users to think about their data protection issues in a more strategic manner. Vendors recognize this shift in customer focus is occurring and are making the necessary changes in their product offerings to satisfy their customer's' changing needs. As they do so, VTLs and data replication management software may emerge as the big winners in 2007.

Jerome M. Wendt is the founder and lead analyst of The Datacenter Infrastructure Group, an independent analyst and consulting firm that helps users evaluate the different storage technologies on the market and make the right storage decision for their organization. Jerome contributes regularly to a number of storage trade publications and is a regular speaker at industry trade shows.
Dig Deeper on Disk-based backup