News
Stay informed about the latest enterprise technology news and product updates.
As LTO sales soar, can SDLT survive?
Backed by three powerful players, LTO tape has eaten up market share in the past few years. Here's a look at the implications for tape users.
The numbers are in, and in the tape world, there's a clear winner. According to a recent report by the Gartner Group, LTO-format tape surged to a 77% market share in 2004.

Download this free guide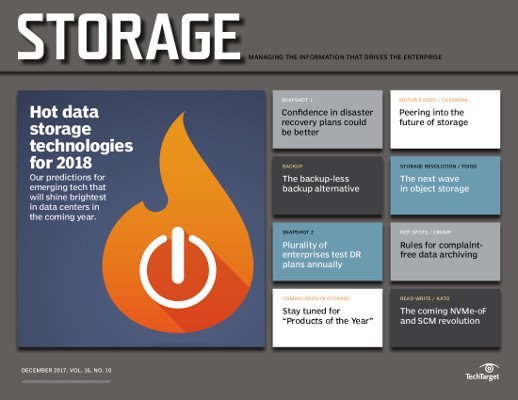 Snapshot of top 2018 backup tech: CDM, complaint-free archiving, ransomware detection vendors
The SearchStorage.com team names the most promising ransomware detection products, 4 rules for complaint-free archiving, how to use copy data management for effective recovery, and more. Download your e-zine copy here.

By submitting your personal information, you agree that TechTarget and its partners may contact you regarding relevant content, products and special offers.

You also agree that your personal information may be transferred and processed in the United States, and that you have read and agree to the Terms of Use and the Privacy Policy.

According to the report, more than 350,000 LTO-based drives shipped in 2004, compared to 260,000 LTO-based drives in 2003 -- a 35% increase year over year, maintaining its pace of growth.

"I think LTO has become almost the standard in a lot of shops. It's really out-shipping any other technology," said Dianne McAdam, senior analyst with Data Mobility Group.

LTO's dominance is explained in turn by the dominance of its backers, a group calling itself the LTO Consortium, headed up by Hewlett Packard Co. (HP), IBM and Quantum Corp., which bought LTO powerhouse Certance in Jan. 2005. The three push LTO drives with their hardware -- and, after cooperating on a standard format for LTO drives, push down prices through competition within the standard.

"Once you standardize the format, multiple vendors can bring out competing products that are absolutely guaranteed to be readable on any other manufacturers' drives," said Gary Fritz, analyst with Evaluator Group. "When the consumer has a choice, that choice breeds competition, and competition is always good for the consumer."

But after competing in price, it's back once again to cooperation for LTO drives. With a standardized format, the makers say, any drive by any manufacturer can read any cartridge by another. Moreover, current-generation LTO drives can back-read earlier versions, and even write to some of them.

"We end up with a standard platform, and each of us will do a different feature set to try to create a little differentiation," said Rick Luttrall, chief technical strategist for HP. "But I think multi-source capability is what customers appreciate."

SDLT limps along

Meanwhile, SDLT, once the most dominant format in the tape market, has kept its share of "format loyalists", but currently stands as a shadow of its former self at less than 25% market share.

A third competitor, SAIT tape, manufactured exclusively by Sony, doubled its shipments but still topped out at just over 2,000 drives in 2004.

So how does the future play out for tape formats? Look to LTO, with its interoperability, competitive pricing and feature choices, to continue as a de-facto standard, say analysts, but if you're happy with another tape format, there's no need to go through a costly conversion process.

Converting an entire tape archive from one format to another is so costly in time, equipment, and man-hours as to be nearly prohibitive, according to McAdam. This fact alone could keep SDLT afloat, even as it prevents it from winning back users who have already gone with LTO.

The bottom line?

"I don't think this is a death knell for SDLT," McAdam said. "Similar technologies on the mainframe side have peacefully coexisted for years."

Despite the market-share numbers, analyst Bob Abraham of Freeman Reports still sees the race as too close to call. Quantum, which produces SDLT, "has been accused… of not taking the LTO threat seriously, and I think in retrospect that could be verified [But] it's a bit of a horse race… they tend to leapfrog each other in capacity or speed or both every so often."

For the next decade, at least, the product roadmaps look fairly similar between the three formats [see chart] -- but over time, SDLT begins to lead the race in capacity, where LTO gains the edge in performance. SAIT looks to make the biggest gains in capacity in the near future.


LTO:

Generation
Capacity
Transfer rate
LTO-3 (current)
400GB
80MB/s
LTO-4
800GB
120MB/s
LTO-5
1.6TB
180MB/s
LTO-6
3.2TB
270MB/s

SDLT:

Generation
Capacity
Transfer rate
SDLT600 (current)
300 GB
36 MB/s
SDLT-5
1.5-1.75 TB
100-125 MB/s
SDLT-6
3-3.5 TB
200 – 250 MB/s
SDLT-7
6-7 TB
400-500 MB/s

SAIT:

Generation
Capacity
Transfer rate
SAIT-1 (current)
500 GB
30 MB/s
SAIT-2 (released soon)
1 TB
60 MB/s
SAIT-3 (later this decade)
2 TB
120 MB/s
SAIT-4 (ca. 2010)
4 TB
240 MB/s
That's exactly the bet Quantum made in deciding to continue to invest in LTO and SDLT technologies, according to Mark O'Malley, senior manager of business planning and development for Quantum. "What we found, based on some of our research, is that as customers move to tiered storage environments and introduce disk into their backup architecture, their needs change from a tape drive point of view," O'Malley said. "They don't need such a fast tape drive, but they do need capacity and cost-effectiveness."
McAdam also predicted that Quantum would try to position SDLT within specialized vertical market segments, such as professional video.
"They're looking at CNet, CNN, companies that are storing large amounts of video and audio clips on tape today," she said. "They're bringing out technology in beta this year that's being endorsed by professional video stations, which will allow that vertical market to store large quantities of their info on the SLD600 cartridge. That's the market I see them going after."
So what should users do as these roadmaps play themselves out? "If they're happy with performance," McAdam concluded, "I don't think they have to do anything."
Dig Deeper on Tape backup and tape libraries