News
Stay informed about the latest enterprise technology news and product updates.
Imation readies disk inside tape
Tape maker Imation has built a SATA drive into a tape cartridge to enable disk-based restores from a regular tape library, seemingly without any fuss, or much expense.
NEW YORK -- At a pre-briefing at Storage Decisions in New York, Imation Corp. announced it will unveil a product next week that lets users get into the disk-based backup game without having to spend reams of money on new appliances or modify their existing tape libraries.

Download this free guide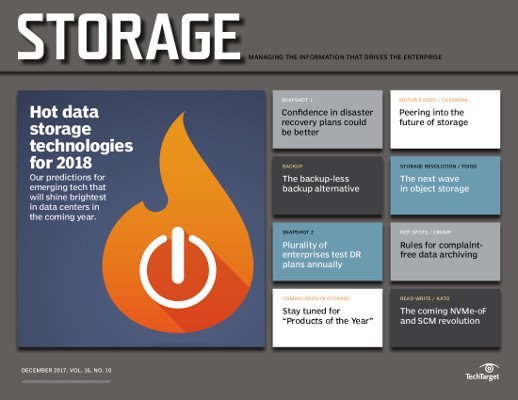 Snapshot of top 2018 backup tech: CDM, complaint-free archiving, ransomware detection vendors
The SearchStorage.com team names the most promising ransomware detection products, 4 rules for complaint-free archiving, how to use copy data management for effective recovery, and more. Download your e-zine copy here.

By submitting your personal information, you agree that TechTarget and its partners may contact you regarding relevant content, products and special offers.

You also agree that your personal information may be transferred and processed in the United States, and that you have read and agree to the Terms of Use and the Privacy Policy.

The new product, dubbed Ulysses, consists of two elements: a 2.5 inch Serial ATA (SATA) drive inside an LTO Ultrium tape cartridge and a tape emulator that fits into the standard drive bay of any LTO-2 tape library. It is recognized by the host, backup software and storage management software as a regular tape drive, company officials said.

However, "Instead of recovering data at tape speeds, our testing showed Ulysses can restore six out of 100,000 files 7-10 times faster than LTO-2 tape," said Yung Yip, an Imation "magnetician" engineer and the drive's primary designer. In other words, users can drop a Ulysses cartridge into a tape library and recover data as fast as restoring from disk.

Ulysses hits the market just as companies are starting to investigate new, disk-based backup systems designed to improve on the tiresome process of restoring from tape. It supports 100 GB native capacity, 200 GB with compression, which is about the same at LTO-2. The emulator is forward compatible with higher speed and higher capacity cartridges, unlike with new tapes, which force users to upgrade the drives.

Dianne McAdam, a partner and analyst at Data Mobility Group, said the product allows companies to "try out disk backup without spending a lot of money." Imation is still working out the pricing, but it's expected to cost from $5,000 to $7,000 to add Ulysses to your tape library. "It's a little more expensive than LTO-2, but not much," McAdam said.

"It's a clever idea -- it's small, transportable and fast," said Bob Abraham, analyst with Freeman Reports. "It changes the game in terms of packaging."

One potential drawback to the product is whether it is rugged enough to withstand being removed. "We're not used to pulling disks out and putting them in again," McAdam said. Imation noted that the Ulysses cartridge has been designed to withstand a drop from a height of 30 inches onto commercial grade carpeting. [Ed note: Sounds rough!] Similar drops are used to measure midrange tape cartridges.

There's no support for encryption in this version either, which is essential these days for any removable media used in a business environment.

Other companies developing similar products include SpectraLogic, ADIC and Overland Storage Inc., although their systems are proprietary.
Dig Deeper on Tape backup and tape libraries