News
Stay informed about the latest enterprise technology news and product updates.
ADIC tool helps user track backup errors
NBC Universal uses ADIC software to perform analyses on error reports from tapes and drives, functionality not available from its backup vendors.
Advanced Digital Information Corp. (ADIC) announced upgrades to its Scalar i2000 tape library, including the ability to store and analyze error reports on specific tape cartridges, a move users have been clamoring for.

Download this free guide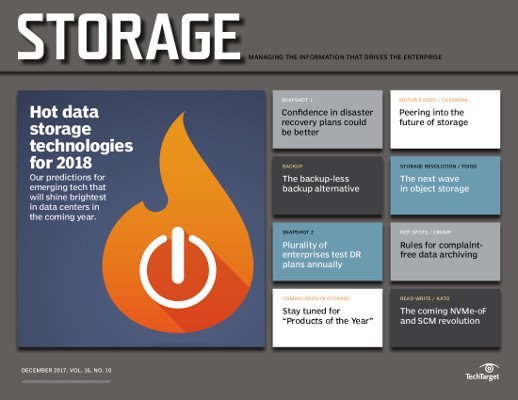 Snapshot of top 2018 backup tech: CDM, complaint-free archiving, ransomware detection vendors
The SearchStorage.com team names the most promising ransomware detection products, 4 rules for complaint-free archiving, how to use copy data management for effective recovery, and more. Download your e-zine copy here.

By submitting your personal information, you agree that TechTarget and its partners may contact you regarding relevant content, products and special offers.

You also agree that your personal information may be transferred and processed in the United States, and that you have read and agree to the Terms of Use and the Privacy Policy.

The error reporting capability will be included with the i2000's advanced reporting software module, priced at $2,995. Users who already have the module on their libraries will receive the upgrade free.

According to Matt Lydon, backup manager for NBC Universal Inc., which uses Scalar i2000s to back up both data and broadcast footage, the CommVault Systems Inc. and Symantec Corp. Veritas NetBackup software he uses for the majority of his backups won't do the kind of trends analysis or cross-indexing of error report data offered by the ADIC upgrade.

"It'll keep track of the number of mount errors for a short period of time," he said, "But not for one specific tape."

Currently, the Scalar's embedded software application can act as a drive "odometer," tracking how many times a tape has been mounted, and recent errors. The main improvements in the newly released version include the ability to correlate cartridges to drives, to track nonfatal errors and to keep track of up to 34,000 events in a database inside the library. The database also includes alert events for an entire media pool, both in the library and off site, and the media reporting database itself can be exported and backed up.

"Our customers were telling us they would sometimes throw media out even if it's good, because they have no way to evaluate it," said ADIC's director of public relations Steve Whitner. "They also said they had no way to tell whether errors are in the drive or the media -- our reports cross-index media and drive history to resolve that."

Lydon already has the advanced reporting module in his i2000 libraries, which include one with 3,000 slots and 10 drives at the main studio in Englewood, Calif., as well as another with 1,000 slots and six drives at a secondary studio in New York. But, he said, he would be "keen to pay the $3,000 for the upgrade, if we hadn't already, in order to prevent an outage -- $3,000 is a drop in the bucket, and is less than the cost of having our tape backup fail."

The licensing cost, Lydon said, is also worth it in the time it saves him. "I've just got way too many things to do today to be keeping track of tape errors," he said. Previously, Lydon was able to get similar reports on request from ADIC, "but this allows us to do it ourselves, and will save us a lot of time."

"This is a pretty powerful tool," said Dianne McAdam, analyst with the Data Mobility Group. "Backup software does not keep historical information like this and other tape vendors do not have the capacity to keep this information for long periods of time."

"I've heard people talk about how this kind of capability would be nice," said W. Curtis Preston, senior backup analyst with Glasshouse Technologies Inc. Ultimately, Preston said, in-depth reporting like this can be accomplished across a user's entire environment by using a data protection management tool.

"But, not everyone, to my chagrin, has gone out and bought a data protection management package," Preston said. "At least having this in the tape library means you have a very valid piece of information that's something a lot of backup guys wonder about, things like 'why does no one track failures across drives? Why didn't somebody tell me this drive fails three times a week'?"

As part of the same announcement, ADIC also doubled the drives it can support in one library from 48 to 96, and said it will now support LTO tapes from Hewlett-Packard Co. (HP), where previously it had supported only such drives from IBM and DLT drives from Quantum Corp. This general software upgrade to the library, which also includes a new graphical user interface (GUI), will be free for all Scalar i2000 users.

Some backup applications and other tape libraries, including Storage Technology Corp.'s Streamlined Library Control Center, offered with its SL8500 and SL500 libraries as part of its Backup Resource Manager and Global Storage Manager software tools, will track tape "odometer" reports, but don't offer media reports in as much detail or store them for as long.

IBM includes Statistical Analysis and Reporting System microcode in its tape drives. which keeps information about how tape media is performing (read/write errors) over its life. The media information, however, is saved on the Volume Control Region portion of the tape and travels with the tape from drive to drive, rather than being kept in the library itself or a database, as with the Scalar i2000.

In addition, startups like WysDM Software and Bocada Inc. provide specialized backup reporting tools.
Dig Deeper on Tape backup and tape libraries