News
Stay informed about the latest enterprise technology news and product updates.
Dell releases LTO-4 drive
Dell is first out of the gate with the new LTO-4 drive, which offers native encryption; Sun unveils new array and deepens its relationship with FalconStor.
Weekly compilation of storage news:
Dell releases LTO-4 drive
Dell announced that it will begin shipping the PowerVault LTO-4-120, the first tape drives built on the new LTO-4 standard. LTO-4's claim to fame is native encryption, as well as speeds and feeds enhancements. The Dell drive is priced at $4,000; media is priced at $200.

Download this free guide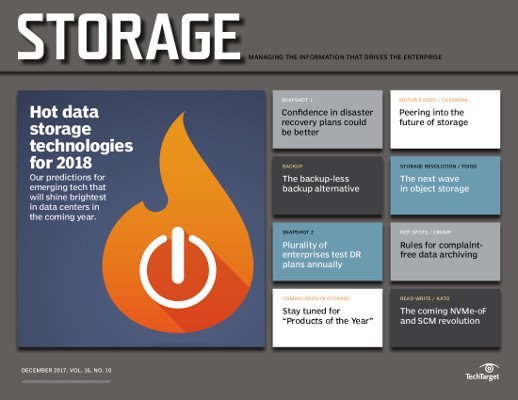 Snapshot of top 2018 backup tech: CDM, complaint-free archiving, ransomware detection vendors
The SearchStorage.com team names the most promising ransomware detection products, 4 rules for complaint-free archiving, how to use copy data management for effective recovery, and more. Download your e-zine copy here.

By submitting your personal information, you agree that TechTarget and its partners may contact you regarding relevant content, products and special offers.

You also agree that your personal information may be transferred and processed in the United States, and that you have read and agree to the Terms of Use and the Privacy Policy.

Sun announces low-end array, FalconStor deal
Sun announced the Sun StorageTek ST2500 Low-Cost Array, the company's first SAS product (it's rumored to be LSI Logic's 1932 array under the covers). The array starts at around $10,000 and is based on an Engenio controller.

Sun also announced new features added to existing products, including partitioning functionality to its StorageTek SL8500 enterprise tape library and encryption to its Sun StorageTek T10000 FICON tape drive.

In separate releases, Sun announced that it will resell virtual tape library (VTL) partner FalconStor's IPStor product line, which includes replication, continuous data protection (CDP) and storage virtualization. FalconStor has also certified the IPStor platform on the SunFire X4500 server, aka Thumper. Also announced was a relationship with Luminex Software, which is porting its Channel Gateway software to Thumper for use as a mainframe VTL. Elsewhere, Luminex also announced a similar partnership with Data Domain.

Seagate reports 'disappointing' results
Seagate reported revenue of $2.8 billion with net income of $212 million for the first quarter of 2007. For the nine months ending on March 30, 2007, Seagate reported revenue of $8.6 billion with net income of $371 million. "We are disappointed in our results for the March quarter," said Bill Watkins, CEO. "We clearly miscalculated the market, and in this unusually challenging environment failed to deliver the projected results."

Imation to acquire TDK
Imation announced that it will acquire TDK's worldwide recording media business and use of the TDK brand name for recording media products for $300 million. Imation plans to integrate TDK into products, including magnetic tape, optical media, flash media and accessories. The transaction also contains a supply agreement in which Imation pledges to keep shipping TDK product.

Brocade joins Green Grid
Brocade has joined fellow storage vendors Copan and Pillar Data Systems in joining the Green Grid, an industry organization dedicated to environmental causes, including energy efficiency.

Decru unveils data security management framework
Decru announced the availability of the SecureView management framework, which offers centralized management of encryption, keys and data security policies across the enterprise. The SecureView framework is available on all Decru encryption appliances.

In a separate announcement, NTP Software announced it will integrate its storage management software with Decru's encryption and key management software. The joint product is currently deployed in beta in mutual customer environments and is expected for general availability this summer.

Spectra Logic debuts "Swiss Army knife"
Spectra Logic introduced the Spectra nTier archive and backup server, a "Swiss Army knife" appliance that includes search and integration with digital asset management applications (DAM). The new products -- nTier500, nTier700 and nTier900 -- are SATA disk-based and can serve as both an online RAID cache, as well as an application server. The servers will begin shipping in summer 2007. The nTier single-frame capacity ranges from 2 terabytes (TB) to 60 TB of native capacity, RAID-6 protection, and connectivity to both tape and RXT mobile disk. Multiple nTier systems can be clustered together to add additional capacity to over 400 TB. Pricing for an entry-level Spectra nTier500 begins at $11,995.

Shutterfly to archive 2.5 PB with DataDirect
DataDirect Networks announced that it has installed multiple S2A9550 storage archives equal to 2.5 petabytes (PB), to Shutterfly Inc., a Web 2.0 social-networking and photo-sharing company. Shutterfly said in a press release that it was drawn to DataDirect's support for RAID-6 in its archive. Shutterfly currently has an archive of more than 1 billion images.

Weiss Group picks Xiotech for iSCSI
Jupiter, Fla.-based financial advisory firm Weiss Group Inc. has deployed Xiotech's Magnitude 750 IP SAN array, the company announced. Weiss Group said in a press release that it selected Xiotech for the simplicity of its management console. The company plans to add a second 750 to its disaster recovery site.

ONStor, Exagrid report increase in sales
ONStor said its first quarter sales represented a 157% increase over the same quarter last year, and said it also saw a 357% increase in international bookings thanks to the addition of 13 European, Middle East and Asian (EMEA) channel partners. ONStor said it has more than 250 enterprise customers.

Meanwhile, Exagrid said first quarter sales were up 66% compared to the Q4 2006. ExaGrid's compound quarter-over-quarter average growth rate from Q4 2005 to Q1 2007 was 54%. Like OnStor, Exagrid signed new channel partners last quarter and was also added as a Contract Line Item Number (CLIN) via the U.S. Air Force sponsored Network-Centric Solutions (NETCENTS) contract.

Asigra announces 64-bit update
Asigra announced it has overhauled its Televaulting product to make it 64-bit software. The company claims the software, which previously supported in the range of 400 data streams, can now support 8,000 to 10,000. The update also allows Asigra to access 64GB of RAM on 64-bit systems and fits in with Microsoft Exchange 2007, which has also moved to a 64-bit system.

AXS-One buddies up with Microsoft
Email archiver AXS-One announced that it will archive Microsoft Office SharePoint 2007 data into its AXS-One Compliance Platform and will allow customers to access the archive within the SharePoint interface. AXS-One is also adding business intelligence (BI) analytics to its archives for Microsoft Office products and allowing their export into SQL server.
Dig Deeper on Tape backup and tape libraries