News
Stay informed about the latest enterprise technology news and product updates.
Sun improves mainframe VTL support, boosts performance for StorageTek VSM
Sun boosts performance of Virtual Storage Manager for mainframe VTLs. VSM can now perform a sustained write of more than 600 megabytes/sec.
SAN FRANCISCO -- Emphasizing its commitment to mainframe storage, Sun Microsystems Inc. today revealed performance enhancements and promised more improvements to its StorageTek Virtual Storage Manager (VSM) virtual tape at the Storage Decisions conference.

Download this free guide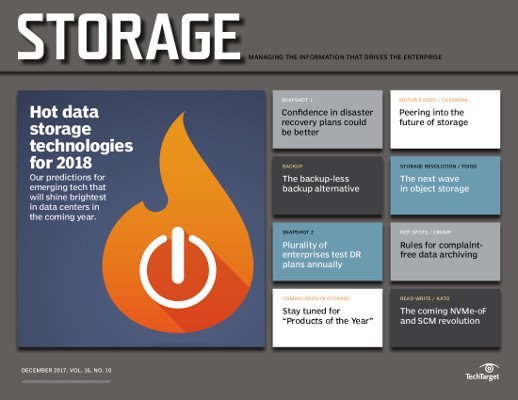 Snapshot of top 2018 backup tech: CDM, complaint-free archiving, ransomware detection vendors
The SearchStorage.com team names the most promising ransomware detection products, 4 rules for complaint-free archiving, how to use copy data management for effective recovery, and more. Download your e-zine copy here.

By submitting your personal information, you agree that TechTarget and its partners may contact you regarding relevant content, products and special offers.

You also agree that your personal information may be transferred and processed in the United States, and that you have read and agree to the Terms of Use and the Privacy Policy.

Jay Wallace, marketing director for Sun mainframe storage, said VSM's throughput has improved 53% since the latest version, VSM 5, rolled out last September. He said the virtual tape library (VTL) now performs a sustained write at 613 MBps, up from 400 MBps 15 months ago. "That's the most realistic way for customers to measure performance," Wallace said.

Wallace said Sun will continue to tweak the microcode, and he expects VSM to eventually reach 1,600 MBps, although he wouldn't provide a time frame. He also envisions the day when VSM supports up to 1 PB capacity, although it has a long way to go from its current supported capacity of 28 TB.

In any case, Wallace said that Sun has long-range plans to support mainframe storage because of strong demand in financial services and other large shops. "Our largest customers have mainframe and open systems and do not intermix them," he said.

Database marketing firm KnowledgeBase Management is one of those shops running mainframe and open systems. Brian Camp, KnowledgeBase's vice president of infrastructure, said he hasn't benchmarked the sustained write throughput since Sun's upgrade but has observed a performance boost. "It has such a noticeable effect that a lot of my mainframe users thought we had upgraded CPUs on the mainframe," he said. He said channel utilization also dropped from around 85% to between 5% and 10%.

Camp agrees that the mainframe still has a long life in the data center. He said KnowledgeBase uses an IBM zSeries mainframe, as well as about 100 Windows servers and 100 Unix servers to process more than 60 billion transactions per year. He used VSM to help upgrade to a new mainframe when he moved his data center, which includes a StorageTek 9985 high-end SAN system and SL8500 enterprise tape library, from Houston to Dallas last year.

"Getting rid of the mainframe is on everybody's five-year list. Then the next year, it's still on the five-year list," Camp said. "There's not a platform out there that does as well as the mainframe does relative to batch processing. A lot of features haven't been replicated on open systems. There are a lot of products that do hierarchical storage management, but none do it as well as the mainframe."

Although VTL has been replicated on open systems by a slew of vendors, Sun isn't one of them. After years of struggling to develop a VTL for open systems, Sun last year killed the VSM Open project it inherited when it acquired StorageTek. Sun offers open system VTL products through OEM deals with FalconStor Software Inc. and Diligent Technologies Corp.

Camp said KnowledgeBase doesn't use any VTL for its open systems. "We haven't seen a need for it," he said. "We use disk-to-disk backup and take it from there to tape."

Other news at Storage Decisions:

Survey: Storage pros find fulfillment

In a recent survey of more than 100 storage professionals, 77% said they like or love their jobs, and that it normally takes five to seven years of experience before storage pros are promoted to management. The survey was conducted by storage capacity management software vendor MonoSphere Inc. The survey also found that 60% of the respondents said that championing projects that help save money have the biggest impact on employee success.

EqualLogic expands PS3700X capacity

While waiting to become part of Dell Inc., iSCSI SAN vendor EqualLogic Inc. has bumped up capacity of its PS3700X systems to 6.4 TB of raw storage. EqualLogic upgraded the system to 440 GB SAS drives. The PS3700X has a list price of $60,000 and will replace the PS3600X system. Dell revealed plans to acquire EqualLogic last month and is expected to close the $1.4 billion deal early next year.

Attune, Data Domain offer mutual support

Attune Systems Inc. and Data Domain Inc. said they support each other's products, letting customers use Data Domain data deduplication systems as a target for Attune's Maestro File Manager file virtualization appliances.
Dig Deeper on Tape backup and tape libraries