News
Stay informed about the latest enterprise technology news and product updates.
Be prepared; get encrypted
Whether you're part of a big-budget company or have a staff of 10, data encryption can be a life saver in more than one aspect. There are options out there for companies of all sizes.
---
The world is jumping on the encryption bandwagon.
Word on the street is that each time some major company announces they've lost a backup tape or two, the switchboards at Decru Inc. and Neoscale Systems can barely keep up with the calls (they're the only two companies who claim to provide line-speed encryption for tape). Businesses are evaluating and buying encryption boxes left and right.

Download this free guide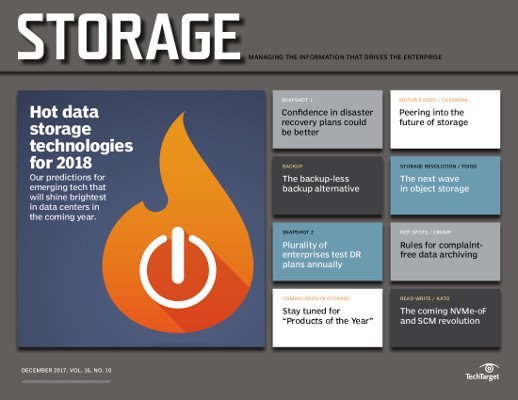 Snapshot of top 2018 backup tech: CDM, complaint-free archiving, ransomware detection vendors
The SearchStorage.com team names the most promising ransomware detection products, 4 rules for complaint-free archiving, how to use copy data management for effective recovery, and more. Download your e-zine copy here.

By submitting your personal information, you agree that TechTarget and its partners may contact you regarding relevant content, products and special offers.

You also agree that your personal information may be transferred and processed in the United States, and that you have read and agree to the Terms of Use and the Privacy Policy.

I've been a proponent of hardware encryption appliances since they were first announced a few years ago. They are the easiest way to provide encryption for some or all of your backups. One customer even found that their hardware encryption appliance actually made their backup slightly faster, because the compression algorithm in their encryption appliance compressed better than the one in their tape drive. (Tape encryption appliances must compress the data before encrypting it, because encrypted data cannot be compressed.)

But what if you're a small business and one of these appliances costs more than your entire backup system? One thing you might consider is storing the data in an encrypted file system, or a host-based application that can encrypt data when it's stored. If the data is encrypted immediately when stored, the files on tape will be encrypted as well.

Another option is to use backup software to encrypt your backups. Backup software encryption can be expensive, but it will cost less than a high-speed appliance. Another option is an inexpensive hardware encryption appliance from Disuk Ltd. While it doesn't provide the speed that the Decru and Neoscale boxes provide, it may do the job for your application at a fraction of the cost. Finally, consider an outsourced backup and recovery system that encrypts your data and electronically transmits it off site. You can't lose a tape if it doesn't exist, and you'd be surprised at how much data such a system can back up.

If you're an enterprise data center dealing with dozens or hundreds of terabytes of data to encrypt, the performance, capacity and manageability implications of some of these options may not be appropriate for you. However, if you've got dozens or hundreds of gigabytes of data to encrypt, some of these options might solve the problem without breaking the bank.
---
About the author: W. Curtis Preston, vice president of GlassHouse Technologies Inc., is the founder of the independent consulting and integration firm, The Storage Group, based in Oceanside, Calif. He also founded the Web site, Storage Mountain (previously known as Backup Central). Preston has designed, managed and implemented enterprise-wide storage systems for many Fortune 500 companies including Intuit, Standard & Poor's, Amgen and Geico. He is the author of the recently published book, "Using SANs and NAS," published by O'Reilly.
Dig Deeper on Tape backup and tape libraries