News
Stay informed about the latest enterprise technology news and product updates.
Older tapes still durable media for recovery, claims McAdam
A few questions came from attendees of a recent expert webcast, "Debunking the seven myths of tape." In the midst of some extreme industry claims that tape might soon die as a viable technology for the enterprise, Data Mobility Group Senior Analyst and Partner Dianne McAdam, who conducted the webcast with SearchStorage.com, decided to set the record straight. During the webcast, she discussed what she still sees as tape's current and future role in the enterprise.
Here, she answers questions on trends for getting tape off-site. She also shares whether or not she sees the degeneration of older tapes as a factor in their viability for long-term storage and recovery of data in the event of disaster.
Do you have other questions for McAdam on the role of tape? Send them to editor@searchstorage.com and we'll see if she is able to answer them for you.

Download this free guide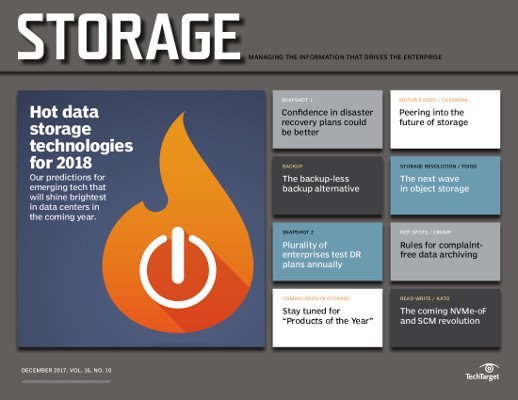 Snapshot of top 2018 backup tech: CDM, complaint-free archiving, ransomware detection vendors
The SearchStorage.com team names the most promising ransomware detection products, 4 rules for complaint-free archiving, how to use copy data management for effective recovery, and more. Download your e-zine copy here.

By submitting your personal information, you agree that TechTarget and its partners may contact you regarding relevant content, products and special offers.

You also agree that your personal information may be transferred and processed in the United States, and that you have read and agree to the Terms of Use and the Privacy Policy.

SearchStorage.com site member: From a disaster recovery process perspective, do you see any real trends away from making backups to tape and moving them to an off-site location for protection?
Many companies are still making backups to tape and sending these tapes off-site. However, some companies are exploring new ways to get information off-site. For example, some are contracting with vendors to have those vendors provide electronic off-site vaulting services. Others are looking to move data off-site to remote tape libraries utilizing existing IP networks. While these solutions are gaining momemtum, many customers still rely on shipping backup tapes off-site for data protection. SearchStorage.com site member: How long can you depend on tape media for your data before the tape degenerates?
The coating on tape media has been improved over the years to be more resilent and have a longer life. I would check with your media supplier to see what their recommendations are. Recently, StorageTek tested metal particle tapes that had been stored in the lab for 14 years and found the media had good durability performance after all of those years. Their testing of more recent tapes with improved coatings [showed they] were even more durable. SearchStorage.com site member: How important is the data cartridge label in a disaster recovery/backup scenario? And, is there a need to produce bar code labels on-site or whenever you need them?
I am not sure that I understand the question. An external bar code label can be improtant in a disaster recovery scenario. Tapes that have been shipped to a remote location to restore data can be easily identified by their external label. I do not see a need to produce bar code labels on-site since all tapes should already have bar code labels.
Dig Deeper on Tape backup and tape libraries