News
Stay informed about the latest enterprise technology news and product updates.
Data Domain taps into Symantec's NetBackup API
Data Domain uses Veritas NetBackup API to streamline backups for customers of NetBackup 6.5 and Data Domain disk-backup devices.
Data Domain Inc. is the first vendor to release a product based on Symantec's Veritas NetBackup OpenStorage (OST) API designed to facilitate backup to disk without emulating tape.

Download this free guide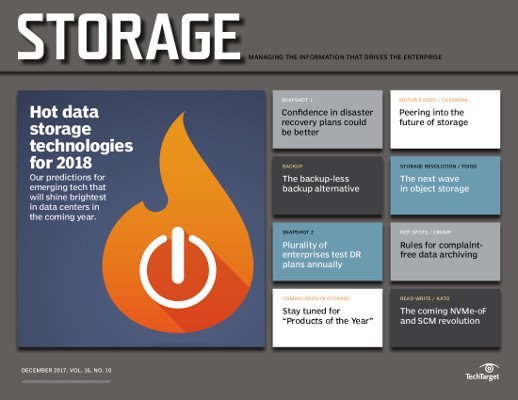 Snapshot of top 2018 backup tech: CDM, complaint-free archiving, ransomware detection vendors
The SearchStorage.com team names the most promising ransomware detection products, 4 rules for complaint-free archiving, how to use copy data management for effective recovery, and more. Download your e-zine copy here.

By submitting your personal information, you agree that TechTarget and its partners may contact you regarding relevant content, products and special offers.

You also agree that your personal information may be transferred and processed in the United States, and that you have read and agree to the Terms of Use and the Privacy Policy.

Data Domain's OpenStorage option is a software plug-in that runs on the NetBackup Media Manager and manages backups to Data Domain hardware devices.

Symantec Corp. first revealed the API in November 2006, with the goal of better integrating NetBackup with disk backup devices. The idea was to remove the step of treating disk as tape that is used by virtual tape libraries (VTL).

"This is an alternative to a VTL interface," said Matt Kixmoeller, Symantec vice president of product marketing. "It's time to stop pretending these disk devices are tape and start treating them as disk."

The API allows NetBackup to control when backups take place while the storage device takes care of features, such as data deduplication, replication and compression. The Data Domain OpenStorage plug-in has no effect on Data Domain's data deduplication ratio, but it helps streamline management. Administrators using Data Domain devices can manage backup, replication and restores from a NetBackup console instead of using two interfaces. The vendors promise more integration to follow. The OST option is available on all Data Domain devices, and pricing starts at $350 for an entry-level Data Domain system.

Kixmoeller said Symantec has 10 partners writing to the API, and he expects more plug-in products over the next few months. But it's no surprise that Data Domain was first with a plug-in. Data Domain shares Symantec's view that virtual tape creates an unnecessary step in the backup process. Although Data Domain offers a VTL option on its backup devices, it holds that its file-system option is the better way to go, according to Brian Biles, Data Domain vice president of product marketing.

"With VTLs, the operator has to configure a fake tape library and create an imaginary tape library and imaginary tape slots," Biles said. "That's a bunch of administrator hassles that are unnecessary. The OST approach is a simple file system."

More OpenStorage to come

Not all of Symantec's OST partners share the view that VTL is inefficient. OpenStorage API partners include VTL vendors Diligent Technologies Corp., EMC Corp., FalconStor Software Inc., Sepaton Inc. and Sun Microsystems Inc.

Although it's taken more than a year for the first product built on the API to launch, Kixmoeller said partners will be right behind Data Domain in delivering.

"You'll see a continual stream of vendors over the next year," he said. "There's a good pipeline of devices that you'll see coming every quarter."

Biles said Data Domain will continue to expand its tie-in to NetBackup. "This is the beginning of a broader program," Biles said. "Expect more over the next year or two as they add features, and we add features."

VTLs must 'play nice' with NetBackup

Storage analyst Arun Taneja said he is not surprised that VTL vendors have signed on, despite Symantec's insistence that virtual tape is not the way to go for disk backups. He said it makes sense for them to partner with Symantec because VTLs require backup software, and NetBackup is the market leader.

"It's a coopetition environment," Taneja said. "If you look at it through Symantec's eyes and ask, is Sepaton a competitor or a partner, the answer is yes. Symantec never got into VTL. They say why is VTL necessary? They would rather treat disk as disk. But frankly, nobody wants to be left out of it and say they don't want to endorse Symantec's approach because they all work with NetBackup anyway. Playing nice with Symantec is probably a good thing."
Dig Deeper on Disk-based backup