News
Stay informed about the latest enterprise technology news and product updates.
Midsized shops favor ExaGrid data dedupe over EMC VTLs
Two organizations recently swapped out tape for disk-based backup saying they passed over VTLs from EMC and IBM in favor of NAS with data deduplication.
For all the talk about data deduplication in virtual tape libraries (VTL), deduplication remains more common in smaller appliances with NAS interfaces than in VTLs. Data Domain Inc. and Quantum Corp. are the major players on the appliance front, with private company ExaGrid Systems Inc. also picking up customers.

Download this free guide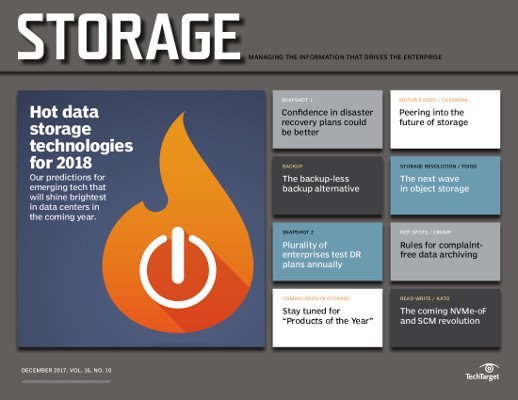 Snapshot of top 2018 backup tech: CDM, complaint-free archiving, ransomware detection vendors
The SearchStorage.com team names the most promising ransomware detection products, 4 rules for complaint-free archiving, how to use copy data management for effective recovery, and more. Download your e-zine copy here.

By submitting your personal information, you agree that TechTarget and its partners may contact you regarding relevant content, products and special offers.

You also agree that your personal information may be transferred and processed in the United States, and that you have read and agree to the Terms of Use and the Privacy Policy.

ExaGrid recently unveiled two customers who decided on its EX NAS server over VTLs from EMC Corp. and IBM because of data deduplication. Jorge Capeda, network engineer for Memorial Care Medical Center in Long Beach, Calif., said his organization first tried to shorten its tape backup windows with a VTL from its primary storage vendor EMC. However, the hospital ended up with an undersized array that made it difficult to retain enough backups.

Memorial Care backs up 20 TB of its 30 TB of capacity using Symantec Corp.'s NetBackup, but its EMC VTL was sized at 13 TB raw. "It alleviated our performance problems with tape, but we ran out of space in the first month," Capeda said. "It wasn't sized correctly for our environment, and I don't think that there was enough research done to verify that it was the right product."

Memorial Care still uses the VTL, but the hospital has been phasing in ExaGrid's product since January. That rollout is being stalled somewhat by higher priority projects taking precedence, but Capeda said his ExaGrid appliance will be fully installed by the fall.

"We could have added more space to the VTL," Capeda said. "But with the model we have, we could only expand one more time, to 22 TB before we'd have to get a whole new model." Capeda said Memorial Care went back to EMC for a larger VTL, but EMC's quoted price for a 60 TB model was $500,000, including Centera File Archiver for file-level single instancing. (The EMC Disk Library doesn't yet offer block-level data deduplication.)

Capeda added that he has quickly tired of the VTL interface itself. "We're looking to eventually completely get rid of tape, and we found the VTL a hassle to manage. You still have to create tapes, and it took a lot of time, even more than it takes to manage physical tapes."

Capeda looked into Data Domain's NAS appliance, but said it was also more expensive than ExaGrid's server, although he declined to disclose Data Domain's price. The ExaGrid system costs about $75,000 for the first 10 physical terabytes of the new rollout, and Capeda expects that amount with dedupe will be enough to hold all of the hospital's current backups. Eventually, the hospital will look to expand its deployment at its primary site and at other campuses in California for disaster recovery.

Capeda said that there are still items on his wish list for the ExaGrid system, including a more intuitive GUI and better integration with Windows applications. "You're limited in monitoring tools for Windows data," he said. "I've had to go through support to get the reports I need." Capeda added that he'd like to be able to trunk the ports in the back of each ExaGrid box together -- right now, the product assigns only one port for each media server.

Miron Construction: Data dedupe and the bottom line

Edward Ruffolo, IT director for Wisconsin-based Miron Construction, said his company also looked at disk-based backup options from EMC, as well as IBM. But those vendors' lack of data deduplication was a deal breaker.

Miron, which backs up 1.5 TB of data per day, evaluated IBM's Tivoli Storage Manager (TSM) disk pooling option, but "IBM was still very heavily emphasizing eventually migrating that data to tape," Ruffolo said. "And we just don't believe that tape is the long-term solution."

Ruffolo said that in addition to being faster, disk-based systems are more reliable. "You have things like RAID 6 and redundant power supplies, and if a disk fails, you know it right away," he said. "If a tape fails, which they do pretty often, that's it."

Like Memorial Care, Miron Construction uses an EMC Clariion for primary storage and considered the EMC Disk Library. "It was tempting because we needed a SAN upgrade anyway. We could've added an ATA drawer and put the VTL in that way," Ruffolo said. "But it priced out very expensive because of a lack of data deduplication."

Ruffolo said his goal is to get rid of tape, and he plans to eventually replicate to a second ExaGrid system. With these plans, however, has come the first drawback he said he's seen with his new backup hardware vendor -- no pricing breaks on redundant systems. "Usually, if you're buying an identical secondary device, it's priced at a discount," he said. "ExaGrid doesn't do that yet."

Dedupe gaining steam with VTLs

ExaGrid, which does post-processing data deduplication, has about 250 customers according to CEO Bill Andrews. Andrews said Data Domain will remain his major competition even after EMC and IBM add deduplication to their VTLs. EMC is expected to disclose a deal to license Quantum's deduplication software later this month, and IBM last month acquired deduplication VTL vendor Diligent Technologies Inc.

Andrews said his typical customer has less than 60 TB of data to back up, and most VTL implementations are for larger enterprises. "It tends to be at the higher end of the market, where they're more comfortable with managing tape, that the VTL interface is popular," Andrews said. "In our market, when users put dedupe systems in, they shut off their tape libraries."
Dig Deeper on Disk-based backup