News
Stay informed about the latest enterprise technology news and product updates.
Storage Decisions: Users list must-have data dedupe options
Storage users on a data deduplication panel say it's important to look beyond dedupe inline and post-processing features when evaluating systems, and to check out built-in replication, backup optimization and vendor interoperability.
CHICAGO -- Data deduplication customers on a Storage Decisions panel this week said there are other features to consider when buying a data dedupe system besides whether dedupe takes place inline or post-processing.

Download this free guide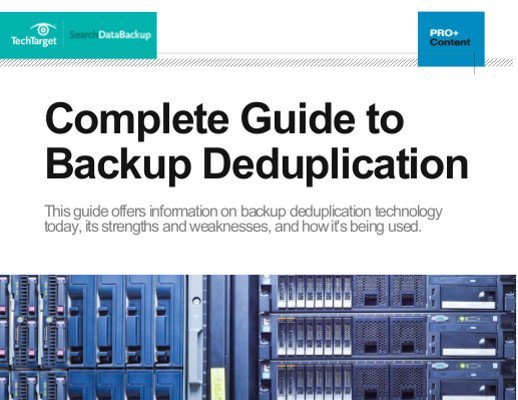 Free Download: Complete guide to backup deduplication
Access all of the 31 articles in our Data Deduplication Essential Guide by downloading our comprehensive PDF version so that you can access all of this expert content in one, easy-to-read resource.

By submitting your personal information, you agree that TechTarget and its partners may contact you regarding relevant content, products and special offers.

You also agree that your personal information may be transferred and processed in the United States, and that you have read and agree to the Terms of Use and the Privacy Policy.

John Norton, director of network operations for Web-based software provider Avectra, said that replication was a must-have feature when he was evaluating systems. He chose two Data Doman DD580 devices.

"You want to know there are additional features in there," he said. "For us, it was built-in replication because that's what I wanted to solve."

Norton said he also likes Data Domain's service, which proactively notifies him of a system problem. "They have an automatic email feature built in," he said. "If there's a problem with the system, support gets an email, and I get a call from them saying, 'Hey, there's something wrong.'"

Gregg Paulk, director of IT for the Anderson Center for Autism, said the main selling point of his NEC HydraStor box was the ability to optimize the speed of his backups. "Speed is the most important thing to me because I'm trying to meet my backup windows," he said. "With HydraStor, I can dial up the deduplication ratios by tailoring the chunk sizes, however big or small I want them."

Chris Watkis, Grey Healthcare Group's IT director, said interoperability with his other vendors was key for him, and not only from a technology standpoint. "I like relationships," Watkis said. "I'm talking about business relationships, technology relationships and partner relationships. All the vendors I have worked together – my tape library vendor, SAN vendor and FalconStor."

Watkis uses FalconStor's VTL, a SpectraLogic tape library and a Dell-EqualLogic SAN. "Sometimes when you have several vendors, one is oblivious to the other and you have to spend an enormous amount of time figuring out where the problem is," he said.

The panelists all said they were happy with how the data reduction ratios they got fro theii dedupe systems. Norton and Watkis said they got 40:1 compression ratio, and Paulk was near that with a 39:1 ratio. Data Domain's DDR devices and NEC's HydraStor use inline data deduplication, while FalconStor does its data dedupe post-process.

All three shops replicate data off-site, and the panelists said they have significantly cut their backup windows with data deduplication. They've also reduced their dependency on tape. Paulk said Anderson cut out tape completely, and Watkis said Grey Healthcare went from using 14 LTO-4 tapes for backup to one.

Despite being satisfied with their data deduplication results, the panelists recommended that anyone evaluating data deduplication systems maintain a healthy dose of skepticism, especially for data deduplication ratio claims. "Make your vendors prove to you their products will do what they say they'll do," Norton advised. "Run it about 30 days. Get a good feel for what works."

Watkis said it was necessary that he be shown as well. "I required FalconStor to prove that data would come back the same way it started."
Dig Deeper on Data reduction and deduplication