News
Stay informed about the latest enterprise technology news and product updates.
Users OK Yosemite unlimited backup license model
Users of Yosemite Technologies' Unlimited software bundle say it has brought them cost savings and easier administration, but there are some feature tradeoffs.
Two customers that recently upgraded to Yosemite Technologies' Backup Standard 8.5 backup software gave a thumbs-up to the Unlimited Server Bundles licensing model that Yosemite established last November. They said the backup application for small and medium-sized businesses brings them cost savings and simplified management, although it lacks some of the advanced features of competing backup software packages.

Download this free guide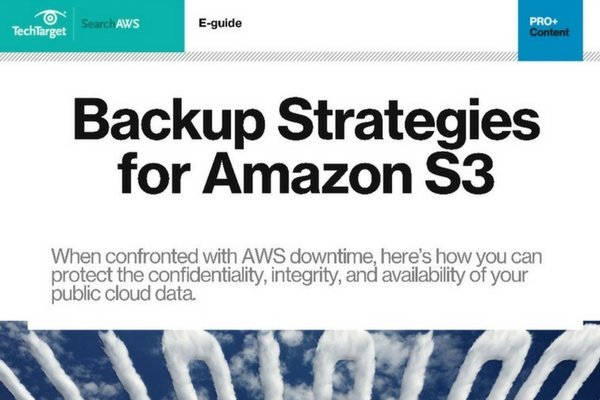 Amazon S3 in the spotlight: Your 34-page backup guide
In this guide curated by the SearchAWS.com editors, you'll evaluate and overcome the DR tradeoffs associated with Amazon S3, with guidance on solidifying an AWS backup plan and securing S3 buckets. Download your copy now.

By submitting your personal information, you agree that TechTarget and its partners may contact you regarding relevant content, products and special offers.

You also agree that your personal information may be transferred and processed in the United States, and that you have read and agree to the Terms of Use and the Privacy Policy.

Alan Jones, IT manager for Medical Assurance Company of Mississippi, said he found the simplicity of the backup software's licensing model a relief after using Symantec's Backup Exec. With Backup Exec, "sometimes it seemed like one backup copy would require five different agents, and sometimes different clients required different kinds of licenses," he said. When he went to install the Unlimited Server Bundles, "I actually ended up calling tech support because I was making things more difficult than they really were."

Now, Yosemite Unlimited Server Bundles software makes two copies of the data, one to disk and one to tape automatically and separately. "With Backup Exec it was a two-step process," he said. Jones said Backup Exec worked well, "and I'm not trying to bash any other product, but I wouldn't change my mind about Yosemite."

In addition to simplicity, Jones said that the Unlimited Server Bundles licensing model was a more cost-effective option. The total pricing for a new Yosemite Unlimited Server Bundles installation was under $3,000. Upgrade pricing for Backup Exec was a little under $2,000, while Jones' research showed the equivalent licensing for a new installation would've been around $6,000.

Charles Duke, IT manager for Hill Country Bakery, said the Yosemite Unlimited version is a vast improvement over previous versions of the software and makes management much easier, "especially the ease of installation," he said. "You load the software up on a client, add it to the backup domain, and you're done." He also found Yosemite's new licensing model very cost-effective, but said that there are certain tradeoffs that come with the Unlimited client's simplicity. "One feature I don't see that I'd really like to see is brick- and file-level backups on Exchange Server," he said. "I'd like to see them get into archiving of data, as well."

Another thing he misses about the old version of Yosemite Unlimited is its integration with Small Business Server. "Windows Storage Server seems to have its own pseudo-backup solution, but how come there isn't an OEM product integrated?" he asked.

When Duke took over Hill Country's IT management in 2006, the company was using an older version of Yosemite Backup Standard that Dell sold through an OEM deal and packaged with Microsoft Small Business Server. Over the last year, the company struggled to find time to evaluate new products, but finally put version 8.5 into production on the first of this year.

"There were some things I didn't like about it, but it did the job," Duke said of the previous version of Yosemite Backup. The previous version of the product didn't offer as many disk-based backup options, and Duke said he was less than satisfied with the performance. The company was also experiencing growth, moving from the single Small Business Server to nine different servers with the addition of a new enterprise resource planning (ERP) system and company expansion.

Duke said Hill Country hasn't yet deployed some of the other features Yosemite offers, like "disk-to-disk-to-any" snapshots and replication, but there are plans in the works to deploy those features, too.
Dig Deeper on Backup and recovery software