News
Stay informed about the latest enterprise technology news and product updates.
O'Reilly Media drops open-source backup for BakBone
As a publisher of books on open-source tools, O'Reilly prefers to use them, but went with BakBone when open-source backup failed to meet its needs.
Computer book publisher O'Reilly Media's internal IT likes to practice what it teaches by using the open-source tools that are the subject of many of its how-to books. But after a year of trying to work with open-source data backup tools, O'Reilly settled instead on BakBone Software Inc.'s NetVault Backup software.

Download this free guide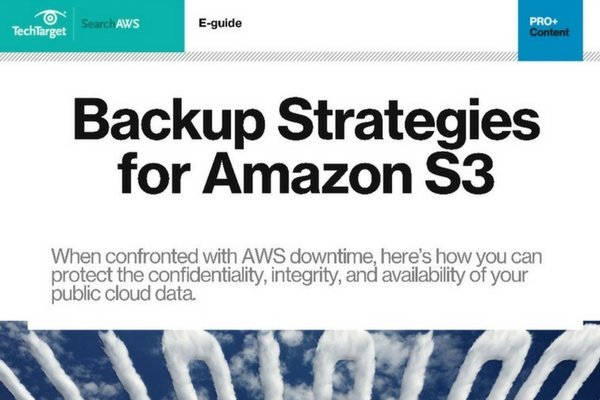 Amazon S3 in the spotlight: Your 34-page backup guide
In this guide curated by the SearchAWS.com editors, you'll evaluate and overcome the DR tradeoffs associated with Amazon S3, with guidance on solidifying an AWS backup plan and securing S3 buckets. Download your copy now.

By submitting your personal information, you agree that TechTarget and its partners may contact you regarding relevant content, products and special offers.

You also agree that your personal information may be transferred and processed in the United States, and that you have read and agree to the Terms of Use and the Privacy Policy.

Two years ago, O'Reilly ran Symantec Corp.'s NetBackup for servers in its two data centers and the open-source backup utility Amanda at a colocation facility. But the NetBackup licenses had fallen out of date, and the shop was running 3.4 when it began looking into upgrading.

Senior systems administrator Chris Stone said he first explored a NetBackup update, but "the service and maintenance upgrade procedure wasn't very flexible, and it was price prohibitive."

The company then spent a year testing Bacula, another open-source tool. "We worked with it a lot to get it going, but it was taking too much time," Stone said. The product couldn't be configured to do tape-to-tape copying, and O'Reilly scrapped the project.

Stone said he never considered Amanda for the multi-terabyte data center environments. At the time, Amanda was scalable enough for a 200 GB environment in the colocation facility, but not for 2 TB and 1.5 TB backup environments in the data centers. The data at each of those facilities has since doubled.

Stone ran across BakBone's product at an industry conference, and it seemed a good compromise between an expensive full-blown NetApp environment and cheaper open-source tools that lacked features. But the choice came with a price -- O'Reilly admins had to learn a new application cold. "This was a whole new product, but our administrators don't get formal training on stuff like this -- they just have to figure it out," he said. "We rolled this out to 100 servers over three sites, configured offsite duplicates, and made our backups work like they used to work, without requiring external scripts."

Server and client-side agents were delivered as a TARball -- a group of files handled as a single file -- to the company's servers. The software also automatically configured the drives in O'Reilly's physical tape libraries, cutting down setup time further.

But Stone said he'll probably always use more than one tool for backup. O'Reilly still uses another open-source tool, BackupPC, to back up workstations to a server that is in turn backed up by NetVault. Database administrators handle RMAN dumps for mission-critical databases, and O'Reilly uses native tools that come with MySQL instead of BakBone's application backup agents for that database.

Stone said he misses a few NetBackup features, including the ability to centrally manage separate domains. "The plan was for us to run one NetVault master server and a smart client at our secondary location, but it turned out that BakBone couldn't cross the firewall -- [NetBackup] did," he said. "We ended up having to pay for two master servers rather than one, and we don't have a unified catalog or administration between the two sites."

Another advantage NetBackup had over BakBone was the ability to drill down to the file level and get metadata before restoring. "With NetVault you can't see the metadata, things like how big the file is, before you restore," Stone said.
Dig Deeper on Backup and recovery software