News
Stay informed about the latest enterprise technology news and product updates.
Sun, IBM cross 1 TB tape drive line
IBM and Sun unveil 1 TB tape drives, while HP and Sony renew low-end DAS/DDT tape partnership.
Sun Microsystems Inc. and IBM have announced that they will break the 1 TB barrier for tape drives with their next generation of enterprise drives.

Download this free guide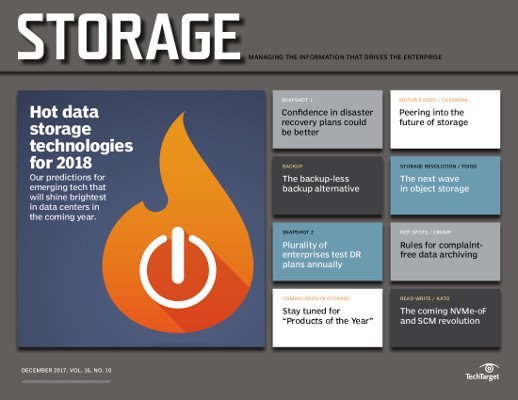 Snapshot of top 2018 backup tech: CDM, complaint-free archiving, ransomware detection vendors
The SearchStorage.com team names the most promising ransomware detection products, 4 rules for complaint-free archiving, how to use copy data management for effective recovery, and more. Download your e-zine copy here.

By submitting your personal information, you agree that TechTarget and its partners may contact you regarding relevant content, products and special offers.

You also agree that your personal information may be transferred and processed in the United States, and that you have read and agree to the Terms of Use and the Privacy Policy.

Sun revealed Monday it will ship the Sun StorageTek T10000B this month, while IBM followed today by launching the IBM System Storage TS1130 due to ship in September. Sun and IBM have a lock on the enterprise tape market, which consists largely of mainframe customers and open system companies in the life science, high-performance computing and financial services markets.

Breaking 1 TB barrier shows tape is not dead

IBM claims a faster data transfer rate than Sun with its 1 TB tape drives. IBM's drive has a transfer rate of 160 Mbps compared to Sun's transfer rate of 120 Mbps. Pricing for the TS1130 starts at $39,050, including encryption. Sun prices the T10000B starting at $37,000, but charges extra for encryption.

IDC analyst Robert Amatruda said the new drives show tape vendors are advancing the technology as tape faces increasing competition from backup and archiving alternatives, such as SATA drives, virtual tape libraries (VTL), removable disk and optical media.

"The terabyte barrier is significant," Amatruda said. "For both to announce new products drives home the point that the tape market is not dead and gone. People still have sizeable investments in the tape market, and they're doing it at the request of customers."

Bruce Master, IBM's senior program manager for worldwide tape marketing, said customers are requesting bigger tape drives largely for compliance.

"They're feeling the pressures from compliance regulation," he said. "They need to keep more and more data for longer periods of time. There's a lot of pressure for storage managers to meet performance goals, but after moving data to disk, the data doesn't need to be accessed much, so they move it to tape."

HP, Sony go DAT way

In other tape news today, Sony revealed it is getting back into the DAT/DDS market by reconnecting with Hewlett-Packard. The vendors that created the DAT format in 1989 will jointly develop the DAT 320 format.

HP and Sony signed a joint agreement to create DAT 320 tape drives and cartridges for small and medium-sized businesses (SMB), which are expected to ship in 2009. With backup speeds of up to 86 GB per hour with 2:1 data compression, the DAT 320 will offer up to 320 GB of capacity on a single cartridge, compared with 160 GB on the current DAT 160.

Sony got out of DAT with its fifth generation, DAT 72, in 2003. HP went ahead with DAT 72 and DAT 160. DAT 320 will be backward compatible with DAT 160. Sony still ships AIT tape drives, which compete with the DAT format.

"Sony helps validate the roadmap for DDS and DAT products," Amatruda said. "HP was the only vendor to introduce DAT 160, and it really became proprietary to some degree. DAT 320 will be appropriate for customers using DAT technology. They know it and understand it."

HP and Sony will develop separate products with features that they believe will distinguish the product. For instance, Bob Conway, HP's manager of tape product marketing, said the company plans to offer encryption when its first DAT 320 drives ship.

"The market we're trying to address has been declining over the last several years but continues to be relatively strong," Conway said. "We continue to see demand for low-cost tape to provide basic data protection that people need. People want to have the biggest and fastest, but when it comes down to cost, DDS/DAT have offered enough performance for the cost. "
Dig Deeper on Tape backup and tape libraries