News
Stay informed about the latest enterprise technology news and product updates.
Quantum adds management app to its data dedupe platform
As data deduplication products become more common, Quantum tries to make its enterprise system easier to manage by rolling out Quantum Vision and upgrading its DXi7500 disk backup platform.
Quantum Corp. is upgrading its DXi7500 data deduplication system to give it a smaller entry point and to make it easier to manage in the wake of increased competition in the data deduplication market.

Download this free guide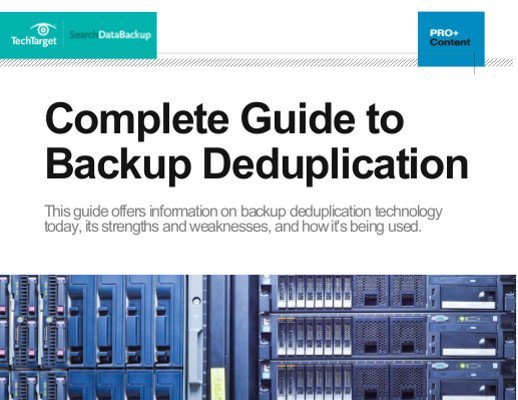 Free Download: Complete guide to backup deduplication
Access all of the 31 articles in our Data Deduplication Essential Guide by downloading our comprehensive PDF version so that you can access all of this expert content in one, easy-to-read resource.

By submitting your personal information, you agree that TechTarget and its partners may contact you regarding relevant content, products and special offers.

You also agree that your personal information may be transferred and processed in the United States, and that you have read and agree to the Terms of Use and the Privacy Policy.

The DXi7500 is the flagship of Quantum's data deduplication family, and it finally hit the market in June – 11 months after Quantum announced it. Quantum today rolled out a management application called Quantum Vision and a DXi7500 configuration that starts at 9 TB of usable data. The DXi7500 previously started at 18 TB. The high-end remainsat 180 usable TB data (240 TB raw data).

The major feature of the DXi7500 enterprise disk backup platform is it gives customers a choice to dedupe data inline (while writing to disk) or post process (after writing to disk). Quantum refers to the methods as adaptive (inline) and deferred (post process). Its smaller data deduplication appliances, the DXi3500 and DXi5500, only perform post-process deduplication and competing deduplication products support one or the other deduplication method.

Quantum recommends adaptive deduplication to back up small offices, virtual servers and mailboxes, and deferred deduplication to back up applications with large amounts of new data or large OLAP databases.

Today's upgrades come as Quantum tries to carve a place for itself in a crowded data deduplication market. When Quantum rolled out the DXi3500 and DXi5500 in early 2007, Data Domain was the only major dedupe target competition. Now, EMC, IBM, Hewlett-Packard, FalconStor, Sun, Hitachi Data Systems, Sepaton, Copan, Exagrid, Overland and NEC all have data deduplication backup products through their own IP or partnerships. NetApp offers dedupe as part of its operating system for primary data, and industry sources say it is close to bringing out deduplication for its virtual tape library (VTL) products.

Quantum even competes with its own data dedupe code because EMC licenses it to run on EMC disk libraries.

"There's more competition and the stakes are higher now," said analyst Brian Garrett, Enterprise Strategy Group. "Quantum's been at it for a while, and they've learned a lot of lessons."

Quantum hasn't had much success with its data deduplication products yet, and the management interface received complaints from customers. But the Vision console includes GUIs showing performance and capacity trends, historic and current dedupe ratios, replication status, and monitoring and usage reports for arrays and tape libraries, network switches and backup applications. Along with the DXi devices, Vision shows information on Quantum's tape and nondedupe disk systems on the same console.

"We haven't had a single tool that lets you see multiple systems," said Steven Whitner, Quantum's product marketing manager for disk systems.

Vision is the more interesting of today's releases, Garrett said. "Their trending stuff is really rich. Just showing dedupe rates over time is a key value. That's conspicuously absent from dedupe products," he said. "They do a good job of reporting on how it's going right now, but what about last week at this time? How much am I saving over time?"

As for the smaller DXi7500, Whitner pointed out the DXi5500 maxes out at 11 TB of usable data and there was a gap between that and the previous smallest DXi7500. "This is a way of keeping the whole product line smoothly scalable," he said.

Pricing for the 9 TB DXi7500 begins at $135,000 for NAS and data deduplication licenses, and Quantum Vision starts at $7,500 for a two-system license.
Dig Deeper on Data reduction and deduplication