News
Stay informed about the latest enterprise technology news and product updates.
Record sales reported for data deduplication products
Data Domain, ExaGrid and EMC Avamar all report surging sales for their data deduplication products this week.
The wider U.S. economy remains in the dumps, but the companies beating Wall Street estimates or reporting record sales this week have one thing in common: They offer data deduplication for small and medium-sized customers.

Download this free guide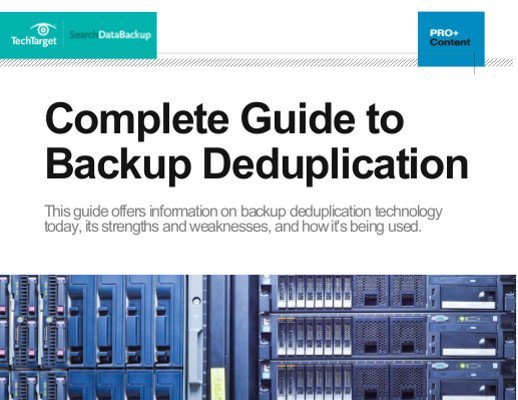 Free Download: Complete guide to backup deduplication
Access all of the 31 articles in our Data Deduplication Essential Guide by downloading our comprehensive PDF version so that you can access all of this expert content in one, easy-to-read resource.

By submitting your personal information, you agree that TechTarget and its partners may contact you regarding relevant content, products and special offers.

You also agree that your personal information may be transferred and processed in the United States, and that you have read and agree to the Terms of Use and the Privacy Policy.

While the hype about data deduplication has been going on for more than a year, it was only this quarter that a real explosion in this market occurred, according to W. Curtis Preston, GlassHouse Technologies Inc. vice president of data protection. "This market is really just beginning," he said. Users not only needed to see the technology proven in the field, but in many cases also had to wait until older equipment was ready to be replaced. "But it's happening every day, right now"

Among the companies reaping the benefits of this boom are Data Domain Inc., which reported revenues well above Wall Street's estimates last night, at $61 million for the quarter. Profit was $1.7 million, marking Data Domain's second profitable quarter. This quarter's sales were also a 131% improvement over the second quarter of 2007. Data Domain has now crossed the 2,000 customer mark.

Earlier in the week, EMC Corp. said that its Avamar data deduplication software and appliance for remote offices led its products in sales growth for the quarter, with adoption up "triple digits" and the appliance's inventory sold out before the quarter's end.

Some analysts also credit the entry of vendors like EMC with driving the data deduplicaton market's growth. "Now that most of the majors have it on their price lists, it's a validated technology, and one I think will go into mainstream use in the next 12 months," said Taneja Group analyst Eric Burgener.

Although not publicly traded, ExaGrid Systems Inc. volunteered this week that its second quarter sales were up 41% compared to the previous quarter and up 164% versus the same quarter last year.

The companies partly attributed the increased success of their products to the efficiency that data reduction brings. "The economic justification for our product is usually tied to lower total cost of ownership" as compared to tape autoloaders, said Data Domain CEO Frank Slootman. Data Domain also "rides the wave" of accelerating speeds in the processor market to boost its boxes' performance "with a minimum SATA disk configuration, rather than over-provisioned disk," he said.

Data Domain did not see changes to sales demand this quarter and is not making any adjustments to its forecasts for the next quarter or the full year, Slootman said.

The three vendors have also announced recent product updates. The latest came from ExaGrid, which is going after the bigger fish in its small and medium-sized customer base with a 50% boost in overall system capacity, from 20 TB to 30 TB. The company also said that its EX Series of systems will now support cross replication among up to nine of its data center locations.

Data deduplication reporting features

But what's really piquing user interest is the addition of data deduplication reporting features that will show users their data deduplication ratio and replication status by backup job. This is similar to reporting features already offered by Sepaton, but Sepaton generally sells into larger accounts than ExaGrid.

"The reporting is certainly of interest to us," said Edward Ruffolo, IT director for Miron Construction. The company already uses reports from its CA ArcServe backup product daily. "Now we can match those with daily reports from ExaGrid, and that will help us avoid any potential problems with restores."

Data Domain and EMC Avamar also attributed much of their recent success in the data deduplication arena with recently released products, notably the DD690 array and Avamar version 4.0, respectively.

As the market expands, the diversification of product lines has also begun to increase. Data Domain has repackaged its system for use as both nearline NAS and archiving, as well as a backup target. "Mixed use is on the rise," Slootman said. "There are further efficiencies to be gained by consolidating backup and archive storage."

Better integration between data deduplication and other types of products has also probably contributed to the recent boom, Burgener said. "EMC [has integrated] the Avamar technology into the networker client, making it much easier for people to start using it, [since] they don't have to reinstall; they just have to shut down, make a few configuration changes and reboot," he said.

Competition will only get hotter

Among those companies losing the most market share to data deduplication technologies are makers of tape autoloaders, which used to be the most popular backup media for SMBs. Although it's bringing its newer disk-based backup products to the forefront, Quantum is also among the vendors with a legacy autoloader business and finds itself with its stock hovering in the $1 range. It also finds itself the subject of acquisition talk for EMC. Overland Storage, which recently partnered with Diligent Technologies for its own data dedupe push, also finds its stock in a similar range.

Another company that seems to have been left behind in this increasingly volatile market is FalconStor, whose Single Instance Repository data deduplication product didn't pass muster with its major OEMs -- EMC and IBM -- both of which turned to other partners for data deduplication capability.

It also remains to be seen which way Quantum will go. EMC says it has gotten "excellent feedback" in a few weeks of availability, but "I don't think we've seen that product in the wild yet," said Slootman.

Despite Data Domain's promising financials, Wall Street analysts were concerned about how the company will fare with increased competition, especially from titans like IBM, Hewlett-Packard and EMC with huge sales forces. "It's no longer an option for large vendors to be on the sidelines of this opportunity," Slootman acknowledged. But Data Domain has been adding salespeople in preparation for what he called the "ground war" on the company's earnings call.

Coming advances in data deduplication are expected to make the market even hotter. For example, Data Domain and Diligent still haven't released multinode clustered versions of their products, which would allow customers to scale their data dedupe solutions without buying multiple boxes. When that happens, "things will really get interesting," Preston said. "When the major players come out with multinode systems, then it becomes a pricing war."
Dig Deeper on Data reduction and deduplication