News
Stay informed about the latest enterprise technology news and product updates.
Simpana converts claim better backup
CommVault customers say archiving and centralized management helped them improve backup times and success rates without changing backup hardware.
Three customers of CommVault Simpana software say the product's centralized management and ability to archive older files have cut down on backup windows and management time.

Download this free guide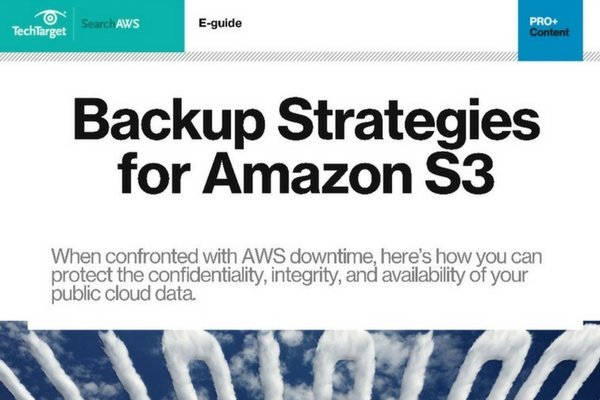 Amazon S3 in the spotlight: Your 34-page backup guide
In this guide curated by the SearchAWS.com editors, you'll evaluate and overcome the DR tradeoffs associated with Amazon S3, with guidance on solidifying an AWS backup plan and securing S3 buckets. Download your copy now.

By submitting your personal information, you agree that TechTarget and its partners may contact you regarding relevant content, products and special offers.

You also agree that your personal information may be transferred and processed in the United States, and that you have read and agree to the Terms of Use and the Privacy Policy.

Bill Mathews, director of IS for Wilton Products, wanted to standardize on a backup application after Wilton merged IT departments of four arts and crafts products and services companies under a private equity firm. Wilton had been using CA Inc.'s ARCserve backup software, and had upgraded as far as version 11.5 before seeking an alternative last year.

Some ARCserve customers complained about service and reliability problems before version 12 came out last February. Mathews had seen enough to switch before that. "We spent quite a lot of time babysitting just the backup job scheduling," he said.

CommVault's policy-based management intrigued Mathews. "ARCserve was job-based," he said. "The policy-based system of managing backups and a single console for backup, email and file archiving meant ease of management, and not having to learn new interfaces."

Wilton has EMC Clariion and AX4 arrays split over two data centers and several remote offices for all four companies. The AX4s are used for backup to disk at remote and branch offices. They replicate back to one of two main data centers. The company has yet to implement disk-based backup at most sites, but has begun trimming its backup windows by using Simpana archiving to remove old files from the backup schedule.

"We have about 17 terabytes in our environment, and we were backing up the same data over and over again," Mathews said. "We've reduced our full backup times to tape from 54 to 36 hours with CommVault."

CommVault gives him one place to administer backup and archiving at multiple sites, and Mathews said the software's compatibility with Microsoft products also appealed to him. For instance, CommVault can recognize Active Directory objects, back up SharePoint documents, and restore at the file level.

School district moves to cut backups almost in half

The Wall Township School District in New Jersey is taking a similar tack for reducing backup windows and the amount of data on EMC primary storage. Wall Township schools have used CommVault for backup since 2004, and recently upgraded to Simpana 7.0, which features the converged data management platform for backup and archiving.

Director of technology Jeff Janover said the schools are still determining archiving policies. "We're always on a limited budget and so it's difficult to deploy everything at once," Janover said. "But as our data grows and file storage expands, I don't like the idea of limiting how much storage is available to students and staff."

The school system plans to archive data more than a year to a cluster of Windows 2003 file servers. "We're looking at shaving off 40 percent of our backup windows and close to 40 percent of the data on production storage by replacing original files with stubs," Janover said. The district currently backs up around 15 TB of data.

Centralized reporting also key feature for users

Dan Wons, vice president of network and infrastructure for public relations research company Cision, said his staff is spending less time on the company's 6 TB nightly backups because of Simpana's centralized reporting.

Cision had been using Symantec Corp.'s Backup Exec version 11d and NetBackup version 5 before switching to CommVault in the fall of 2007. The software is rolled out to seven Cision locations in the U.S. and Canada.

Wons said Cision struggled to manage the Symantec products, although he acknowledged he did not evaluate newer versions of the two products, such as NetBackup 6.0. "We're a mostly Windows shop and NetBackup is built on a Unix engine that we found difficult to work with," he said. Backup Exec is a Windows-focused product, but Wons found it difficult to manage multiple locations, multiple software modules and multiple licenses.

He says having one console leads to more successful backups and less time spent wrangling backup systems, though Wons didn't have specific data about how much time Simpana has saved the company. "The visibility across our whole environment is the key," he said. "You have one console that tells you, 'this is where you had problems yesterday.' You don't have to go through and check all the backup servers."

Wish lists and roadmap

While happy with the product, CommVault customers still have items on their wish lists. Wons said he's looking for more intuitive, automated reporting, like a metric "that tells you, 'you don't have enough tapes for this week's full backup,'" he said. A CommVault spokesperson said trending, reporting and analysis features have been added to the latest service pack for Simpana.

Mathews said he'd like to see CommVault provide block level data deduplication in addition to the file-level single instancing it offers now. CommVault CEO Bob Hammer has promised this is coming, most recently at the company's annual meeting of shareholders this week. Hammer said CommVault's roadmap also includes desktop/laptop data protection, brushed-up tape management features, new management features for virtual servers and "much more comprehensive" records management. He did not specify a timeframe for these features.
Dig Deeper on Backup and recovery software