News
Stay informed about the latest enterprise technology news and product updates.
Storage vendors push data protection at VMworld
As production server virtualization deployments increase, Symantec, Hewlett-Packard and other storage vendors at VMworld are tackling the next frontier -- how to back it all up.
LAS VEGAS – Storage vendors are concentrating on new data protection offerings for virtual machine data at the VMworld conference this week.
Backup software streamlines recovery for virtual machines
Symantec's process of sharing intellectual property between its NetBackup and Backup Exec product teams began bearing fruit earlier this year. Now Backup Exec 12.5 has drawn from NetBackup's access to VMware APIs to offer VMware backup without the need for separate agents on each guest host. Backup Exec's Granular Recovery Technology also allows customers to make full-machine and file-level restores from a single-pass backup.

Download this free guide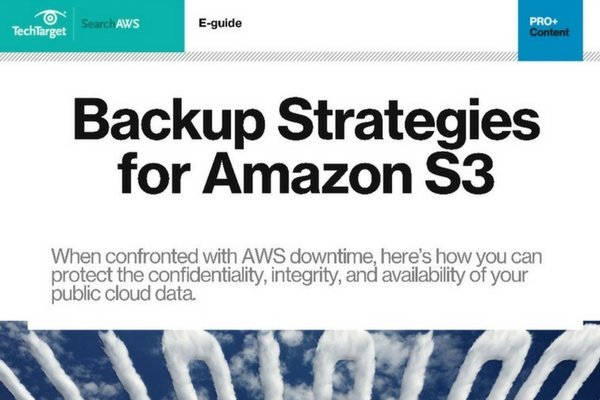 Amazon S3 in the spotlight: Your 34-page backup guide
In this guide curated by the SearchAWS.com editors, you'll evaluate and overcome the DR tradeoffs associated with Amazon S3, with guidance on solidifying an AWS backup plan and securing S3 buckets. Download your copy now.

By submitting your personal information, you agree that TechTarget and its partners may contact you regarding relevant content, products and special offers.

You also agree that your personal information may be transferred and processed in the United States, and that you have read and agree to the Terms of Use and the Privacy Policy.

Hewlett-Packard is integrating the Zero Downtime Backup and Instant Recovery features in its Data Protector software with VMware Consolidated Backup (VCB) to offer backup from EVA clone images of data, rather than production servers. Like Symantec's Backup Exec, Data Protector previously required agents on each virtual machine.

"You're going to see all backup vendors [increasing integration with VCB], and many of them already have it done," said Taneja Group analyst Eric Burgener. Backup Exec 12.5 also contains what Burgener termed "incremental improvements," such as snapshot integration with SQL 2008 and support for remote Linux servers. Backup Exec System Recovery (BESR) 8.5 now includes "cold imaging" for nonbootable or corrupt file systems and support for the latest versions of ESX Server.

Cutting disaster recovery hardware costs with virtual offerings

Vendors in the replication, hosted backup and disaster recovery spaces are simplifying their offerings using virtual servers. For instance, Double-Take is rebranding its Server Recovery Option software for physical and virtual machine system restore as LiveWire and positioning it as a separate product. LiveWire users will be able to restore data and system images to virtual servers without requiring them to have a preinstalled copy of Windows, which is still required for recovering servers to physical hardware.

Managed service provider Consonus announced a partnership with backup software maker Asigra and Symantec for BESR that will allow it to offer a turnkey disaster recovery service that recovers data and systems to virtual machines, minimizing hardware compatibility issues.

Virtual appliances and VMware-compatible SANs

When FalconStor Software released version 6 of its IPStor software suite earlier this year, the company said its software would run on any type of server hardware or operating system, including as a virtual machine. The virtual version of its Network Storage Server (NSS) storage virtualization appliance was positioned as a target for remote office backup and disaster recovery because the storage server with replication and application-aware snapshots could be run on the same server as other applications.

At VMworld, FalconStor said that VMware has certified this approach to ROBO disaster recovery and data protection. NSS snapshots are also integrated now with Virtual Center to quiesce applications for transaction consistency.

LeftHand Networks, which certified its Virtual SAN Appliances (VSA) with VMware last year, positions its product in much the same way. But according to Gartner analyst Dave Russell, LeftHand and FalconStor are approaching the VMware market from different sides of the storage infrastructure. LeftHand extends its replication among clustered storage nodes to virtual SANs based on internal server storage; FalconStor certifies backup-specific technologies, such as continuous data protection (CDP) and snapshots with VMware.

"If users are really concerned about traditional backup and recovery -- the ability to pull single files out of backups and perform recovery in a consistent, quiesced state through server-based software agents -- the FalconStor product will probably be a better fit," Russell said. "For LeftHand, a user might use Symantec for that kind of functionality but extend their SAN cluster for disaster recovery and distance replication."

LeftHand is also rolling out version 8 of its SAN/iQ software that turns servers into SANs with an emphasis of optimization for VMware. One new feature, SmartClone, creates space-efficient clones of virtual machine and desktop images, otherwise known as a "golden copy." Customers can specify SmartClone volumes when provisioning storage for virtual machines and desktops, and then make separate clones for testing and development. Or they can store changes made by individual VMs with pointers back to the golden image of unchanged data. This, along with the clusters' parallelization of data, helps maintain system performance during boot storms when many virtual machines are started up at once during the beginning of the business day.

LeftHand is also introducing SAN/iQ 8 Virtual Connection Manager, for provisioning SmartClone volumes, and SAN/iQ 8 Integrated Performance Manager, to identify performance bottlenecks and to map connections between virtual machines, iSCSI HBAs, physical machines, data paths and SAN volumes.

LeftHand is repackaging its NSM hardware nodes into three options: The Starter SAN, a $30,000 package starting with 9 TB SATA disk; Virtualization SAN, starting at $90,000 with 10.8 TB of 15,000 rpm SAS disks; and Multi-Site SAN, starting at $170,000 for 21.6 TB 15,000 rpm SAS disks. Multi-Site SAN includes LeftHand's Multi-Site HA/DR Solution Pack software and active-active site failover. All packages also include two seats for SAN/iQ basic or advanced training.

NetApp Inc. rolled out a package of software, hardware and services called the NetApp Storage Solution for VMware VDI to help customers with virtual desktop deployments on NetApp filers. NetApp also updated FlexClone software with the ability to clone and restore individual files, enabling the restoration of individual virtual machines from their VMware VMDK files; the ability to store virtual machine images in its 16 GB performance acceleration module cards; a plug-in to Virtual Center for the SanScreen VM Insight software NetApp acquired with Onaro; and integration of NetApp cloning, snapshot and replication with VMware Site Recovery Manager.

Another vendor joining the virtual appliance fray is StorServer, which offers backup appliances for Tivoli Storage Manager. While its V-Series virtual appliances are priced similarly to its hardware appliances, the V-Series software will support the addition of capabilities, like replication, without requiring separate hardware -- saving money in the long run.

Burton Group analyst Chris Wolf said data protection for VMware environments has grown more advanced, but eventually storage vendors and VMware will have to collaborate beyond VCB. "If I'm a storage vendor, I don't want an API telling me how to deal with data – that's my expertise," Wolf said. "VCB is fine, but VMware also needs to continue opening up its infrastructure for data protection and offer things, such as snapshots, for virtual machines independent of VCB."
Dig Deeper on Backup for virtual servers