News
Stay informed about the latest enterprise technology news and product updates.
Dell launches backup bundle with Symantec and CommVault
Symantec and CommVault have connected backup software to Dell's MD1000i hardware to create Dell's first disk-to-disk backup appliance.
Dell Inc. is bringing out its first dedicated external disk-to-disk storage box with partners Symantec Corp. and CommVault Systems Inc. providing software to back up data and configure storage.

Download this free guide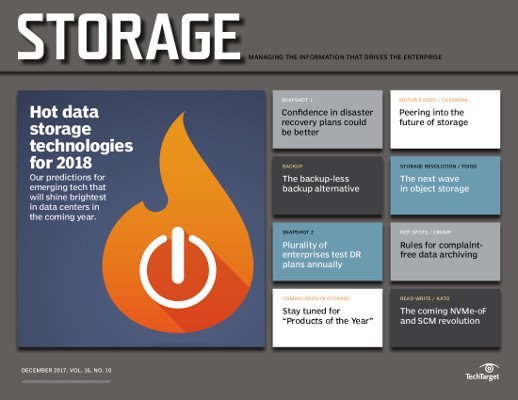 Snapshot of top 2018 backup tech: CDM, complaint-free archiving, ransomware detection vendors
The SearchStorage.com team names the most promising ransomware detection products, 4 rules for complaint-free archiving, how to use copy data management for effective recovery, and more. Download your e-zine copy here.

By submitting your personal information, you agree that TechTarget and its partners may contact you regarding relevant content, products and special offers.

You also agree that your personal information may be transferred and processed in the United States, and that you have read and agree to the Terms of Use and the Privacy Policy.

The PowerVault DL2000 consists of either Symantec's Backup Exec 12.5 or CommVault's Simpana 7 software bundled on Dell's MD1000i systems. Because of co-development work between Dell and the backup vendors, the software can provision disks on the MD1000i storage enclosures.

Dell already offers the PowerVault RD1000 removable disk, which can be direct attached to individual PowerVault servers for small deployments. But Brett Roscoe, senior manager of product marketing, said the PowerVault DL2000 kicks off new data protection product development for Dell.

"We will develop new products for data protection and data management as a whole going forward," he said. "There's a lot still on the roadmap that will help users with tiering, protection and discovery of data," though he declined to be more specific.

The PowerVault DL2000 uses from one to 12 shelves of MD1000i storage, scaling from 3 TB to 144 TB usable capacity. Dell offers several versions of the PowerVault DL2000 with either Simpana or Backup Exec.

Specialized code developed between Dell and Symantec, and Dell and CommVault produced software that controls the configuration of the back-end disk pool, as well as the system's backup process, Roscoe said. CommVault's senior director of worldwide OEM partners Mike McMahon said the integration centers around APIs for Microsoft's Virtual Disk Services (VDS). The companies would not divulge further details of the integration, except to say that each of the companies involved contributed new code.

A wizard co-developed by the backup software vendors and Dell allows customers to automate functions, such as RAID striping, LUN creation and setting individual LUNs as backup targets for the backup software, Roscoe said.

This is similar to Symantec's OpenStorage API for its enterprise NetBackup product. OpenStorage API allows NetBackup to control writes to back-end disk repositories through network-attached storage (NAS) or virtual tape library (VTL) interfaces. The difference, Roscoe said, "is that with the OpenStorage interface, you still have to configure the storage hardware properly. We're trying to take that a step further with this product and configure the back-end storage subsystem for the user, as well."

Simpana and Backup Exec customers can plug the PowerVault DL2000 into their centralized management consoles for those products, and the software can automate the configuration process when new storage is added to the DL2000.

"I think this kind of combination was inevitable, because customers have been waiting for them to come up with something all-in-one to make the purchase and deployment of disk-based backup easier," said Enterprise Strategy Group analyst Lauren Whitehouse.

Whitehouse expects Dell and its partners to add more features from Simpana and Backup Exec that could be made activated with a license key. For example, Dell could add support for Simpana's replication and archiving software along with current support for backup.

Customers have the choice of PowerVault DL2000 configurations when it becomes available later this month (Dell declined to be more specific about the release date). The CommVault version will come in a standard edition, as well as an Advanced Deduplication version that will include its file-level single-instancing feature.

Dell will offer four Backup Exec versions: the Starter Edition, with support for two servers; the File Server edition, with a bundle of five file server and two application server licenses; the Application Edition, with a bundle of three file server and two application licenses; and the Comprehensive Management Edition, which allows the PowerVault DL2000 to be managed by Backup Exec's Central Administration server.

Customers can also buy additional software agents a la carte, and can add PowerVault TL2000, PowerVault TL4000 or PowerVault ML6000 tape libraries.
Dig Deeper on Disk-based backup