News
Stay informed about the latest enterprise technology news and product updates.
Overland replication appliance integrates with backup catalog
Overland's REO Compass replication device for virtual and physical tape data tracks remote copies through Backup Exec's catalogs.
Overland Storage Inc. unveiled a replication appliance called REO Compass that will deduplicate and replicate virtual or physical tape images and allow them to be tracked using Symantec Corp.'s Backup Exec catalog.

Download this free guide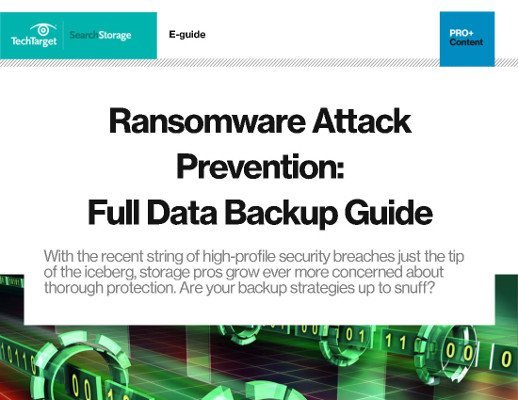 SearchStorage writers evaluate backup's role in ransomware detection
WannaCry, NotPetya, the list of dangerous ransomware viruses goes on and on, well beyond the most highly-publicized attacks. Use this guide to learn about the extent of the threat posed by ransomware, and bolster protection of your data, apps, and systems by using the backup strategies detailed within.

By submitting your personal information, you agree that TechTarget and its partners may contact you regarding relevant content, products and special offers.

You also agree that your personal information may be transferred and processed in the United States, and that you have read and agree to the Terms of Use and the Privacy Policy.

REO Compass is a 1U or 2U appliance that uses hashing keys to compare data at both ends of the wire. It then sends only new blocks from remote offices to a central data center for backup, keeping data synced and deduplicated across Overland virtual and physical tape libraries at multiple locations. Data can also be encrypted after deduplication and before being sent over the wire.

Collaboration between Overland and Symantec allows REO Compass to keep the backup catalog in Backup Exec version 11d, version 12 and version 12.5 up to date on remote copies. The product is not yet certified by Symantec, but Overland senior product manager Kevin Wise said that will follow after the product becomes generally available.

It's somewhat similar to what wide area network (WAN) optimization devices, such as Riverbed's Steelhead appliances do and also similar to Data Domain's replication features, although the REO device handles only virtual and physical tape images.

Currently, REO Compass only supports Overland hardware and Backup Exec software. Ravi Pendekanti, Overland's vice president of worldwide sales and marketing, said that combination covers about 80% of Overland's customer base. Further interoperability is planned with Quantum virtual tape libraries (VTL) and Sun StorageTek tape libraries, as well as Symantec NetBackup, CommVault Simpana, CA ARCserve and BakBone NetVault software.

Restoring data from remote copies made by a data deduplication device, especially a VTL, can be tricky, according to W. Curtis Preston, vice president of data protection services at GlassHouse Technologies. "If you have deduplicating virtual tape libraries that handle the replication to secondary sites and you want to make copies at the secondary site, you can't have a single [tape] bar code that sits in two different places," Preston said.

In addition to centralizing management of remote data copies using the backup catalog, the REO Compass will offer centralized policy-based management. REO Compass must be set up with at least one control site, though the appliance hardware remains the same at all sites and up to 10 sites can point to one control.

The REO Compass management console will include a status bar for ongoing replication and a view of the synchronized backup catalog, and will control and execute policies for retention of media sets. Customers can also set automatic policies to move data from one system to another according to retention period and set up backup schedules according to time of day or day of the week.

"We're not first to the game" with data deduplication and replication, Wise said. "But we have the luxury of seeing where competitors have missed the ball."

Preston would like to see this kind of integration become standard instead of something that is done separately by every dedupe/replication vendor with each backup software product. "I don't want Overland to have to do whatever integration they've done one at a time, then next month see Diligent doing it one at a time," he said. "They all have a similar problem, and it seems like they could band together to solve it."

He compared this to the early days of NetApp, before the development of NDMP, and suggested a similar standards-based process might work this time around, too.

The REO Compass is generally available now starting at an MSRP of $5,107.
Dig Deeper on Remote data protection