News
Stay informed about the latest enterprise technology news and product updates.
Firm switches from tape to centralized backups at its remote sites
Tired of lugging tapes off-site from its remote offices, Investors Real Estate Trust is switching from tape-based backups to centralized backups using Robobak's Data Protection Suite.
Seeking a cost-effective way to cut its reliance on tape backups at its remote offices, real estate firm Investors Real Estate Trust (IRET) is switching from Symantec Backup Exec to Robobak's Data Protection Suite.

Download this free guide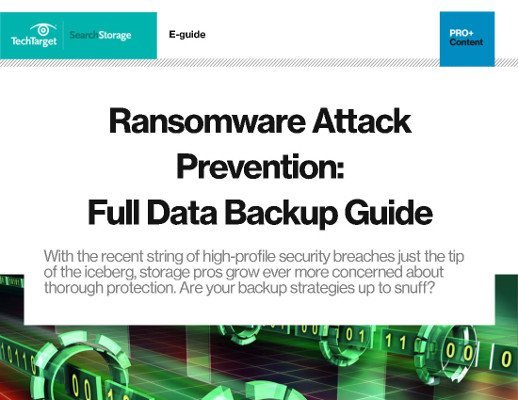 SearchStorage writers evaluate backup's role in ransomware detection
WannaCry, NotPetya, the list of dangerous ransomware viruses goes on and on, well beyond the most highly-publicized attacks. Use this guide to learn about the extent of the threat posed by ransomware, and bolster protection of your data, apps, and systems by using the backup strategies detailed within.

By submitting your personal information, you agree that TechTarget and its partners may contact you regarding relevant content, products and special offers.

You also agree that your personal information may be transferred and processed in the United States, and that you have read and agree to the Terms of Use and the Privacy Policy.

IRET, a commercial and multi-family residential real estate firm with properties in 13 states, backs up around 500 GB per day, according to vice president of IT Brad Abel. The 80-person firm is switching over from a tape-based backup to centralizing its remote office backups at its Minot, N.D. headquarters.

Using Symantec's Backup Exec, IRET currently does daily backups and uses tape to store them off-site. "Every day we take those tapes to a bank," said IRET network administrator Josh Johnson. "The daily process for us is we have to actually travel to a bank to drop off those tapes and pick up the next day's tapes."

Abel said IRET's goal is to have backups completely centralized and automated by the time it opens its new corporate office in Minot next spring. "We're looking to automate that process and get away from physically having to swap out tapes," Abel added.

IRET will still use tape to back up data in the main office because regulations require it to keep records long term. But Robobak software allows the company to back up all of its data to a centralized server instead of dealing with tape at each location. Johnson and Abel said they looked at software from Symantec and others before settling on Robobak, mainly because Robobak had the features they required at a lower price. Pricing for Data Protection Suite starts at $10,000 per terabyte of protected data.

Robobak backs up data to the central office by placing agents on the servers in remote offices. The software deduplicates the data, "making backups as small as possible so there's not as much data going across the wire," Johnson said.

"One of the concerns I had is, because we run financial applications and a property management application in our central database, we needed a way to get that information to remote offices," Abel said. "How could we push a 500 Gb database through a very small pipe? The answer to that is, we can't. We needed some type of block-level backup we could push through the WAN and not choke us out on bandwidth."

Abel sees no slowdown in the rate his data will grow, especially if IRET goes ahead with plans to digitize paper documents, some of which are 38 years old.

"A lot of the information we store has to be original documents, and we have to keep any revisions or amendments to leases," he said. "We can have five or six revisions of a lease by the time it gets finalized. There seems to be more documentation in our business. Other businesses get an invoice and it's final, and they move on to the next transaction. With our business, you may change a document through its business lifecycle three or four times."
Dig Deeper on Remote data protection