News
Stay informed about the latest enterprise technology news and product updates.
IBM adds dedupe, DB2 integration to TSM
TSM 6 integrates IBM's DB2 database on the back end for increased scalability and performance, and also offers sub-file dedupe on TSM storage pools.
IBM Corp. today rolled out Tivoli Storage Manager (TSM) 6, adding integration with the DB2 database, sub-file level data deduplication on TSM storage pools, and automated image-level backups of VMware virtual machines to the backup software application.

Download this free guide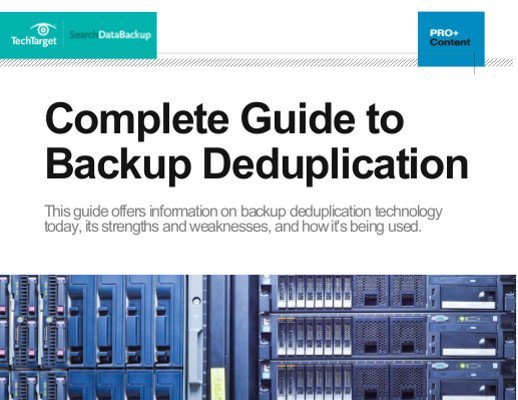 Free Download: Complete guide to backup deduplication
Access all of the 31 articles in our Data Deduplication Essential Guide by downloading our comprehensive PDF version so that you can access all of this expert content in one, easy-to-read resource.

By submitting your personal information, you agree that TechTarget and its partners may contact you regarding relevant content, products and special offers.

You also agree that your personal information may be transferred and processed in the United States, and that you have read and agree to the Terms of Use and the Privacy Policy.

DB2 integration

IBM improved the performance and scalability of TSM 6 by using DB2 instead of a proprietary relational database to track objects in its catalog. The new database can hold up to one billion objects in a single system. Previously the database supported two threads at one time, but the new database can support 10.

According to TSM product manager John Connor, IBM has demonstrated up to a 50% faster rate when eliminating -- or expiring -- files that have passed their retention period. The new database also means customers no longer need to take down the TSM server to do an audit, and they now have the option of kicking off expiration processes for specific groups of servers or files and setting policies to limit the time it takes to reclaim space from expired files.

TSM architect Jim Smith says the improved performance should mean that customers won't have to split TSM into multiple server instances for load balancing as they often had in the past. Splitting TSM into instances often required a long migration process.

"The claim of a 50 percent decrease in expiration time would be extremely welcome news to every TSM user I know," independent backup and recovery expert W. Curtis Preston said. "I hope other processes like reclamation will also improve. Fifty percent also means there's plenty of room for further improvement, and hopefully there will be further enhancements to the product going forward."

Reporting and monitoring

At the release of TSM 5.5 in November 2007, customers asked for better reporting and monitoring tools. With TSM 6, customers can take advantage of new pre-canned reports developed by IBM. They will also now have the option of using open source tools called Eclipse Business Intelligence and Reporting Tools (BIRT) developed by IBM's Eclipse community.

Data deduplication

Customers of TSM 6 Extended Edition will get sub-file post-process data deduplication on TSM storage pools free of charge. Connor said Extended Edition is frequently deployed by customers with larger tape libraries, or those who want features such as NDMP or disaster recovery reporting.

IBM also offers target-based inline data deduplication with the ProtecTier VTLs it acquired with Diligent Technologies last year, but Connor said putting dedupe in TS Extended gives customers dedupe without the VTL interface or if they want to reduce data in existing TSM storage pools.

"Some people, even if they use VTL or physical tape, continue to use the disk pool as the primary target with TSM," Preston said. "The ability to dedupe that pool is a great thing." However, Preston said customers experiencing long expiration and reclamation processes with TSM may see that problem relieved with the new DB2 integration, but it might not free up enough cycles to add another process like data deduplication.

TSM 6 will not write deduplicated data to tape as does CommVault Systems, Inc.'s new Simpana 8 that launched last week. IBM's Smith said data written to tape through TSM will be re-inflated as it is with most other backup products.

This is because of another TSM process called collocation, which puts incremental backups from multiple files together on tape cartridges to use them most efficiently. This means that restoring a single file system can potentially require many tape cartridges, a problem that might be exacerbated by trying to restore even smaller pieces of deduped data. "We want to preserve collocation in TSM and maintain the restore scenario," Smith said.

Still, Gartner analyst David Russell pointed out that by definition data deduplication would result in fewer tapes. "I wouldn't be surprised if in a follow on release they offer this as an option," he said. "They could still come up with a scenario using fewer tapes while maintaining collocation, reclamation and dedupe."

Brush-ups to VMware, NAS backups

TSM 5.5 worked with VMware's Consolidated Backup (VCB) image-level backups, but required customers to do scripting themselves. The new version automates the process within the GUI. Host-level Hyper-V support is planned for subsequent releases, according to Smith, but this release includes item-level Exchange and Active Directory restores. Better integration with NetApp filers offloads indexing of changed blocks to the filers themselves rather than requiring the TSM server to do the indexing.

In addition to expanded Hyper-V support, Russell said he'd like to see even tighter integration with VMware hosts in future versions. "A few other backup products are integrated more deeply with vCenter, so users can see within their management console if a virtual machine is on, off, newly added, etc." He also sees room for improvement with FastBack and CDP for Files integration. "I can see it developing into a multi-tier protection strategy based off one platform."
Dig Deeper on Data reduction and deduplication