News
Stay informed about the latest enterprise technology news and product updates.
Health care provider chooses Copan Systems to consolidate data backups
When its primary data doubled and amount of claims it processes more than tripled after acquisitions, MultiPlan streamlined backups with Copan VTLs.
Health care records processor MultiPlan Inc. turned to Copan Systems virtual tape libraries (VTLs) to tame growing backups, decrease tape and save up to $1 million by moving data off expensive tier one disk after acquisitions significantly boosted its storage requirements.

Download this free guide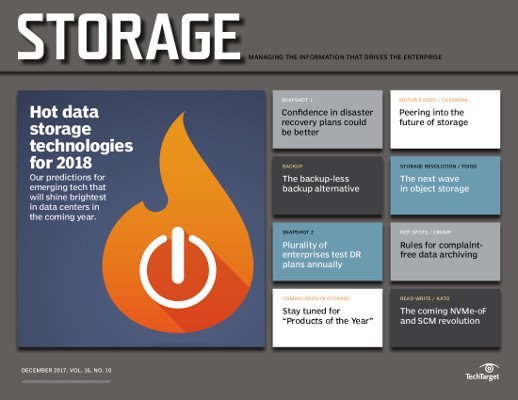 Snapshot of top 2018 backup tech: CDM, complaint-free archiving, ransomware detection vendors
The SearchStorage.com team names the most promising ransomware detection products, 4 rules for complaint-free archiving, how to use copy data management for effective recovery, and more. Download your e-zine copy here.

By submitting your personal information, you agree that TechTarget and its partners may contact you regarding relevant content, products and special offers.

You also agree that your personal information may be transferred and processed in the United States, and that you have read and agree to the Terms of Use and the Privacy Policy.

MultiPlan made a series of acquisitions over the past five years, with the largest coming in October of 2006 when it bought Waltham, Mass.-based Private Healthcare Systems (PHCS). MultiPlan's storage capacity has since doubled, and the number of claims it processes jumped from around 18 million to close to 60 million annually.

To keep up, SVP of Information Technology Keith Bush decided to cut back on tape and implement VTLs to streamline backups after completing the migration of PHCS's data in early 2008.

"We knew it would increase our storage capacity by 100%," Bush said of the PHCS acquisition. "We're an Oracle shop, and we were backing up using RMAN to disk. That store will grow as well and it becomes an inefficient way of backing up data. It's great from a performance standpoint, but it's a costly way to do it. You can utilize that disk for a lot of transaction-based processing or allocate it to the enterprise."

MultiPlan is an EMC storage shop with Symmetrix DMX for primary storage. The New York-based company had 14 TB before acquiring Private Health, and now has 28 TB of primary storage. Last October, it installed Copan Revolution 300T VTLs in its data centers in Waltham and Rockville, Md., with replication between the two.

After MultiPlan decided to go with a VTL, Bush said he also looked at EMC and Quantum before settling on Copan. He said he liked the density and footprint Copan achieves with its MAID disk spin down, as well as its deduplication and replication (via an OEM deal with FalconStor).

"We saw it as 'This is their core competency,'" Bush said. "MAID gave them a density advantage over the others. They put a lot more disk in a single frame because they don't have them spinning all at one time."

Bush estimates MultiPlan's savings at $1 million over three years "based on offsite storage costs, recouping more expensive DMX disk as we would grow. We could recover that more expensive disk, and use it for our transaction systems."

Bush says he gets an 8-1 deduplication ratio, which he expects to rise to 10-1 as he dedupes more data.

MultiPlan used CommVault for backup, but companies it acquired backed up with EMC Legato and Hewlett-Packard Data Protector. Bush says MultiPlan kept them all.

"Instead of choosing one over the other, we got something platform agnostic," he said.

MultiPlan, a Sun StorageTek tape customer, still uses tape for backup -- but not as much.

"Our preference was to back up to disk first, then go to tape based on our archive policy," Bush said. "We do incrementals, weeklies, monthlies. That hasn't changed, but we've dramatically decreased the amount of tape we're using. Who wants to go to tape if and when there's a failure? We wanted to back up to less expensive disk."
Dig Deeper on Disk-based backup